The area near or around our house is known as neighbourhood. Our neighbours live in houses near ours. Many such houses and the people living in them form a neighbourhood. Neighbours help each other in many ways. They also celebrate festivals together.
Places in the Neighbourhood
➤ Market
A shop is a place where we buy things. The owner of the shop is called a shopkeeper. A market is a place where people buy things from various shops. There are different
kinds of shops. For example, grocery shop, medical shop stationery shop, etc.
Grocery shop: We can buy food items and articles of daily use from here.
Medical shop: We can buy medicines from here.
Stationery shop: A stationery shop sells pencils, pens, erasers, etc.
Milk booth: We can buy milk, ice-creams and other milk products from here.
➤ Park
A park has lots of trees and plants. It also has many swings, see-saws, slides, etc. We get fresh air in the park. We meet many of our friends there. Many people exercise here. We should keep our park clean.
➤ Post Office
We can send letters to other places through a post office. We can buy stamps, inland letters, post cards, etc., from a post office. Letters are kept in stamped envelopes while posting.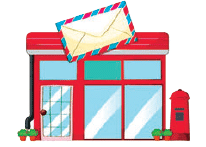 Post office
➤ Hospital
A hospital is a place where sick and injured people are taken care of by doctors and nurses. Hospitals have ambulance services. An ambulance is a special vehicle that takes a patient to the hospital in case of an emergency.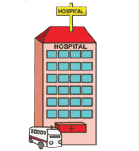 Hospital
➤ Police Station
Police maintain law and order in an area. We need police to protect our life and property. Traffic policemen control traffic on the roads.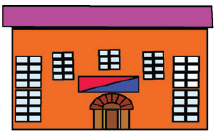 Police station
➤ School
A school is an important and useful service in the neighbourhood. A school has a big building with many rooms in it. There are many teachers who teach in the school. Children go to school to study. They also learn good manners and good habits in the school. We must keep our neighbourhood clean. We must not throw garbage in the lanes. We must not make too much noise while playing at home. It can disturb our neighbours. We must grow trees in our neighbourhood.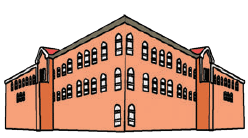 School