Religions of the World
There are many religions in the world.
These are the universal teachings of all religions:
We should be tolerant, helpful, truthful and kind to others.
We should love each other.
In India, people of all religions offer their prayers to God at home and at religious places. They celebrate festivals and every religion follows its religious/sacred book and teachings. All religions teach good values and ways of leading a good life. We must respect all religions.
Places of Worship
Hindus offer prayers to different gods and goddesses in the temples and at their homes. The holy book of the Hindus is the Bhagavad Gita, and their most important festival is Diwali. Other festivals celebrated are Ram Navami, Dussehra, Janmashtami, Holi and many others. The epics Ramayana and Mahabharata are read by most Hindus.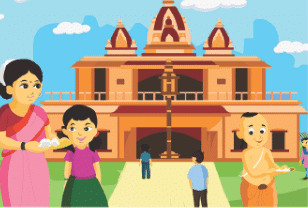 Muslims pray in the mosque and also at home. Their holy book is called the Quran Sharif. They offer prayers five times a day. These prayers are called namaz. Their important festival is Eid. Christians offer prayers in a church. They offer their prayers to Jesus Christ. Every Sunday morning, prayers are held in the church. The holy book of the Christians is the Holy Bible. The most important festival of the Christians is Christmas. Christians sing carols and hymns on Christmas. Sikhs pray in a gurdwara. The holy book of Sikhs is called the Guru Granth Sahib.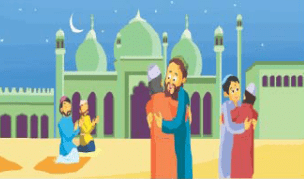 The Guru Granth Sahib has thousands of hymns or prayers which are called the gurubani. These hymns are sung in the gurdwara. The most important festival of the Sikhs is Gurupurab. The most famous holy place of the Sikhs is the Golden Temple in Amritsar.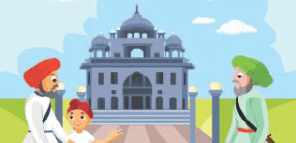 Now I Know
There are many religions in the world.
All religions are good and we must respect them.
All religions teach us good things and people follow the teachings of their holy books.
People pray in the church, mosque, temples, gurdwaras and also at home.