All family members work hard. Parents earn money for the family. Some mothers maintain the house, and also go to the office. Children study and also help their parents in the household work.
Recreation
Recreation is any activity that people do for enjoyment, when they are not working.
Recreational Activities
After working continuously, we feel tired. We all need to relax for some time and that is why we need recreation. Singing, dancing, cooking, drawing, painting, reading, playing, swimming and watching television are some recreational activities. These activities lead to creativity, increased knowledge and also make us happy.
Indoor Recreation
Recreational activities done at home or an enclosed building are known as indoor recreational activities. There are many ways of indoor recreation, for example, watching TV programmes, sharing jokes and stories to each other, playing games, etc.


Watching TV, Playing chess, Drawing
Outdoor Recreation
Recreational activities done outside home or an enclosed building are known as outdoor recreational activities. Sometimes, we go out on vacation. Sometimes, all members of the family go for a picnic. These are a few examples of outdoor recreation. An ideal place for recreation can be a zoo, park, cinema, etc.


Park, Playground, Zoo
When all the members of a family go on a picnic, they play and eat together and enjoy themselves. When we visit a zoo, we see different types of animals. We get to know many things about them. Sometimes we go to cinema, circus or a fair to enjoy ourselves.
Celebration at Home
Our parents celebrate our birthdays at home. We invite our friends and relatives to the party. Father decorates the house with balloons and mother prepares delicious dishes. Children sing and dance. We also celebrate various festivals at our homes. Many special dishes are prepared on the day of the festival. We also visit homes of our relatives and friends.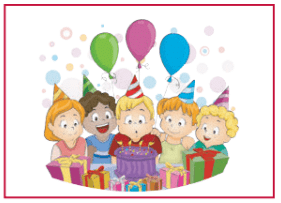 Birthday party