Class 5 : Notes: Rocks and Minerals Class 5 Notes | EduRev
The document Notes: Rocks and Minerals Class 5 Notes | EduRev is a part of the
Class 5
Course
Science Class 5
.
All you need of Class 5 at this link:
Class 5
Rocks and Minerals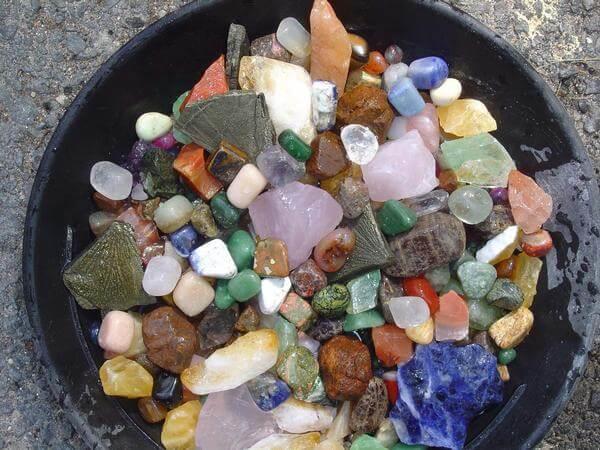 Fig: Rocks and Minerals
Lithosphere Lithosphere of the earth mainly consists of rocks and soil. Rocks and soil both are natural resources. Rocks are made up of grains called minerals. One or more than one minerals are present in one kind of rock. Minerals can be seen or can't be seen with the naked eyes. Minerals are very important natural resource as they contain ores, from which metals and non-metals can be obtained profitably.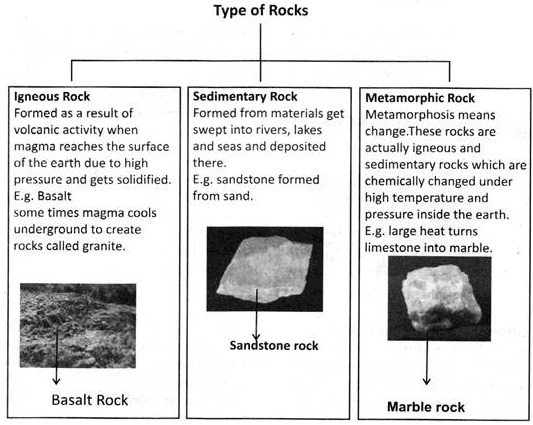 | | | | |
| --- | --- | --- | --- |
| Examples | Rock type | Property | Uses |
| Basalt | Igneous | Dense and dark fine grains | |
| Granite | Igneous | Light colored, larger grains | Making building, Statues and roads |
| Pumice | Sedimentary | Light colored containing together | Scrubber |
| Sandstone | Sedimentary | Grains of sand cemented together | Building making |
| Conglomerate | Sedimentary | Mass of pebbles cemented together | |
| Shale | Sedimentary | Smooth made up clay | Tiles and bricks |
| Limestone | Metamorphic | Thick sediments of chalk | Cement and brick metallurgy |
| Slate | Metamorphic | Low grade metamorphic rock formed from shale etc | Slate, black beard, building |
| Marble | Metamorphic | Colorful, can be polished and carved | Statues and building |
| Gneiss | Metamorphic | Formed from granite | omamental stones |
| Quartzite | Metamorphic | Made from metamorphosis of sandstone | Construction of building |