Obituary
Australian golfer Peter Thomson also called "the thinking man's golfer" dies at 88
On 20th June 2018, Australian golfer Peter Thomson, passed away after fighting Parkinson's disease, at his residence in Melbourne, Australia.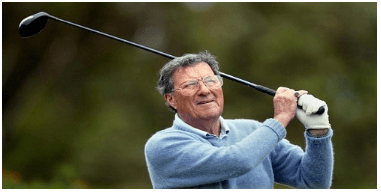 Death of Peter Thomson:
i. Peter Thomson was 88 years old. He was the first Australian to win the British Open. He won the British Open five times also including three consecutive wins.
ii. He was president of the Australian PGA (Professional Golfers' Association) for 32 years. He was patron of the Australian Golf Writers Association.
iii. The World Golf Hall of Fame named him "the thinking man's golfer". He won the Victorian Amateur Championship in 1949.
iv. He was made Commander of the Order of the British Empire (CBE) in 1979. He became an Officer of the Order of Australia (AO) in 2001.
Some important stadiums in India:
Shaheed Veer Narayan Singh International Cricket Stadium – Raipur, Chhattisgarh
International Hockey Stadium – Rajnandgaon, Chhattisgarh
Important Days
World Music Day – June 21
On 21st June 2018, World Music Day was celebrated all over the world.
World Music Day:
i. World Music Day is also known as Fête de la Musique or Make Music Day.
ii. It is celebrated every year on 21 June. On Music Day people play music in public areas. Free concerts are also organized.
iii. These celebrations were initiated by the French Minister of Culture, Jack Lang, and by Maurice Fleuret. It was first celebrated in Paris in 1982. This day is celebrated in 120 countries throughout the world.
Some important temples in India:
Mahakaleshwar Temple – Ujjain, Madhya Pradesh
Kamakhya Temple – Guwahati, Assam
Bhimashankar Temple – Pune, Maharashtra
4th International Yoga Day – June 21
On 21st June 2018, 4th International Yoga Day was celebrated all over the world.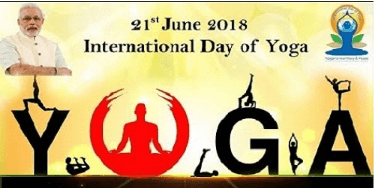 International Yoga Day:
i. The main event of 4th International Yoga Day celebrations (IDY-2018) was held at Forest Research Institute in Dehradun, Uttrakhand.
ii. Prime Minister Narendra Modi participated in the event at Dehradun. Nearly 50,000 people took part in the activities there.
iii. The first International Day of Yoga was celebrated in 2015. The idea of International Day of Yoga was first proposed by Narendra Modi during his speech at the United Nations General Assembly (UNGA) on 27 September2014.
iv. The theme for International Yoga Day 2018 is: "Yoga for peace". Yoga demonstrations were also held in several foreign countries.
v. India's Permanent Mission to the UN celebrated International Yoga Day at the North Lawn in the UN Headquarters in New York.
vi. In Sri Lanka, an event was organized by Indian High commission in Colombo and consulates located at Jaffna, Hambantota and Kandy.
vii. In Nepal, monks and local citizens did Yoga exercises at 12,500 feet in Muktinath.
viii. In China, Indian envoy Gautam Bambawale took part in an event in Beijing. Celebrations were also done in South Korea, Croatia and Finland.
ix. Indian President Ram Nath Kovind, who is on a three-nation visit took part in the Yoga Day celebration in Paramaribo, Suriname, along with Suriname President Desire Delano Bouterse.
Some important dams in India:
Lakhwar Dam – Yamuna River
Idukki Dam – Periyar River
Bhakra Dam – Satluj River