LEARNING OUTCOMES:
After studying this unit, you would be able to:
• Note the various ingredients of incapacity to contract.
• Be clear about the legal consequence of contracting with a minor.
• Be familiar with the concept of 'consensus ad idem' i.e. parties agreeing upon the same thing in the same sense.
• Try to grasp the characteristics of different elements vitiating free consent and particularly to distinguish amongst fraud, misrepresentation and mistake.
• Understand the circumstances when object and consideration become unlawful.
• Be aware of the agreements opposed to public policy.
It has already been discussed that an agreement results from a proposal by one party and its acceptance by the other party. We have already discussed offer, acceptance and consideration in detail. We shall now discuss in detail the elements which constitute a valid contract enforceable in law.
Section 10 of the Indian Contract Act, 1872 provides that an agreement in order to be a contract, must satisfy the following conditions:
(1) The parties must be competent to contract;
(2) It must be made by the free consent of the parties;
(3) It must be made for a lawful consideration and with a lawful object;
(4) It should not have been expressly declared as void by law.


CAPACITY TO CONTRACT:
Meaning: Capacity refers to the competence of the parties to make a contract. It is one of the essential element to form a valid contract.
Who is competent to contract (Section 11) "Every person is competent to contract who is of the age of majority according to the law to which he is subject, and who is of sound mind and is not disqualified from contracting by any law to which he is subject".
Analysis of Section 11
This section deals with personal capacity of three types of individuals only.
Every person is competent to contract who
(A) has attained the age of majority,
(B) is of sound mind and
(C) is not disqualified from contracting by any law to which he is subject.
(A) Age of Majority: In India, the age of majority is regulated by the Indian Majority Act, 1875. Every person domiciled in India shall attain the age of majority on the completion of 18 years of age and not before. The age of majority being 18 years, a person less than that age even by a day would be minor for the purpose of contracting.
Law relating to Minor's agreement/Position of Minor
1. A contract made with or by a minor is void ab-initio: A minor is not competent to contract and any agreement with or by a minor is void from the very beginning. In the leading case of Mohori Bibi vs. Dharmo Das Ghose (1903), "A, a minor borrowed ` 20,000 from B and as a security for the same executed a mortgage in his favour. He became a major a few months later and filed a suit for the declaration that the mortgage executed by him during his minority was void and should be cancelled. It was held that a mortgage by a minor was void and B was not entitled to repayment of money.
It is especially provided in Section 10 that a person who is incompetent to contract cannot make a contract within the meaning of the Act.
2. No ratification after attaining majority: A minor cannot ratify the agreement on attaining majority as the original agreement is void ab initio and a void agreement can never be ratified.
Example: X, a minor makes a promissory note in the name of Y. On attaining majority, he cannot ratify it and if he makes a new promissory note in place of old one, here the new promissory note which he executed after attaining majority is also void being without consideration.
3. Minor can be a beneficiary or can take benefit out of a contract: Though a minor is not competent to contract, nothing in the Contract Act prevents him from making the other party bound to the minor. Thus, a promissory note duly executed in favour of a minor is not void and can be sued upon by him, because he though incompetent to contract, may yet accept a benefit.
A minor cannot become partner in a partnership firm. However, he may with the consent of all the partners, be admitted to the benefits of partnership (Section 30 of the Indian Partnership Act, 1932).
Example: A mortgage was executed in favour of a minor. Held, he can get a decree for the enforcement of the mortgage.
4. A minor can always plead minority: A minor can always plead minority and is not stopped to do so even where he has taken any loan or entered into any contract by falsely representing that he was major. Rule of estoppel cannot be applied against a minor. It means he can be allowed to plea his minority in defence.
5. Liability for necessaries: The case of necessaries supplied to a minor or to any other person whom such minor is legally bound to support is governed by section 68 of the Indian Contract Act. A claim for necessaries supplied to a minor is enforceable by law. But a minor is not liable for any price that he may promise and never for more than the value of the necessaries. There is no personal liability of the minor, but only his property is liable.
To render minor's estate liable for necessaries two conditions must be satisfied.
(i) The contract must be for the goods reasonably necessary for his support in the station in life.
(ii) The minor must not have already a sucient supply of these necessaries.
Necessaries mean those things that are essentially needed by a minor. They cannot include luxuries or costly or unnecessary articles. Necessaries extend to all such things as reasonable persons would supply to an infant in that class of society to which the infant belongs. Expenses on minor's education, on funeral ceremonies come within the scope of the word 'necessaries'.
The whole question turns upon the minor's status in life. Utility rather than ornament is the criterion.
6. Contract by guardian: How far enforceable: Though a minor's agreement is void, his guardian can, under certain circumstances enter into a valid contract on minor's behalf. Where the guardian makes a contract for the minor, which is within his competence and which is for the benefit of the minor, there will be valid contract which the minor can enforce. But all contracts made by guardian on behalf of a minor are not valid. For instance, the guardian of a minor has no power to bind the minor by a contact for the purchase of immovable Property. But a contract entered into by a certified guardian (appointed by the Court) of a minor, with the sanction of the court for the sale of the minor's property, may be enforced by either party to the contract.
7. No specific performance: A minor's agreement being absolutely void, there can be no question of the specific performance of such an agreement.
8. No insolvency: A minor cannot be declared insolvent as he is incapable of contracting debts and dues are payable from the personal properties of minor and he is not personally liable.
9. Partnership: A minor being incompetent to contract cannot be a partner in a partnership firm, but under Section 30 of the Indian Partnership Act, he can be admitted to the benefits of partnership.
10. Minor can be an agent: A minor can act as an agent. But he will not be liable to his principal for his acts. A minor can draw, deliver and endorse negotiable instruments without himself being liable.
11. Minor cannot bind parent or guardian: In the absence of authority, express or implied, an infant is not capable of binding his parent or guardian, even for necessaries. The parents will be held liable only when the child is acting as an agent for parents.
12. Joint contract by minor and adult: In such a case, the adult will be liable on the contract and not the minor. In Sain Das vs. Ram Chand, where there was a joint purchase by two purchaser, one of them was a minor, it was held that the vendor could enforce the contract against the major purchaser and not the minor.
13. Surety for a minor: In a contract of guarantee when an adult stands surety for a minor then he (adult) is liable to third party as there is direct contract between the surety and the third party.
14. Minor as Shareholder: A minor, being incompetent to contract cannot be a shareholder of the company. If by mistake he becomes a member, the company can rescind the transaction and remove his name from register. But, a minor may, acting though his lawful guardian become a shareholder by transfer or transmission of fully paid shares to him.
15. Liability for torts: A tort is a civil wrong. A minor is liable in tort unless the tort in reality is a breach of contract. Thus, where a minor borrowed a horse for riding only he was held liable when he lent the horse to one of his friends who jumped and killed the horse. Similarly, a minor was held liable for his failure to return certain instruments which he had hired and then passed on to a friend.
(B) Person of sound mind: According to section 12 of Indian Contract Act, "a person is said to be of sound mind for the purposes of making a contract if, at the time when he makes it is capable of understanding it and of forming a rational judgement as to its effect upon his interests." A person who is usually of unsound mind, but occasionally of sound mind, may make a contract when he is of sound mind.
A person who is usually of sound mind, but occasionally of unsound mind, may not make a contract when he is of unsound mind.
Example 1: A patient in a lunatic asylum, who is at intervals, of sound mind, may contract during those intervals.
Example 2: A sane man, who is delirious from fever, or who is so drunk that he cannot understand the terms of a contract, or form a rational judgement as to its effect on his interests, cannot contract whilst such delirium or drunkness lasts.
Position of unsound mind person making a contract: A contract by a person who is not of sound mind is void.



(C) Contract by disqualified persons: Besides minors and persons of unsound mind, there are also other persons who are disqualified from contracting, partially or wholly, so that the contracts by such person are void. Incompetency to contract may arise from political status, corporate status, legal status, etc. The following persons fall in this category: Foreign Soverigns and Ambassadors, Alien enemy, Corporations, Convicts, Insolvent etc.

FREE CONSENT: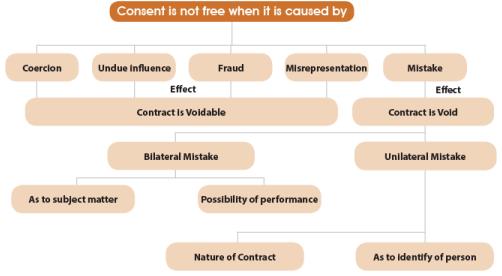 Definition of Consent according to Section 13:
"two or more persons are said to consent when they agree upon the same thing in the same sense."
Parties are said to have consented when they not only agreed upon the same thing but also agreed upon that thing in the same sense. 'Same thing' must be understood as the whole content of the agreement. Consequently, when parties to a contract make some fundamental error as to the nature of the transaction, or as to the person dealt with or as to the subject-matter of the agreement, it cannot be said that they have agreed upon the same thing in the same sense. And if they do not agree in the same sense, there cannot be consent. A contract cannot arise in the absence of consent.
If two persons enter into an apparent contract concerning a particular person or ship, and it turns out that each of them, misled by similarity of name, had a different person or ship in his mind, no contract would exist between them as they were not ad idem, i.e., of the same mind. Again, ambiguity in the terms of an agreement, or an error as to the nature of any transaction or as to the subject-matter of any agreement may prevent the formation of any contract on the ground of absence of consent. In the case of fundamental error, there is really no consent whereas, in the case of mistake, there is no real consent.
As has been said already, one of the essential elements of a contract is consent and there cannot be a contract without consent. Consent may be free or not free. Only free consent is necessary for the validity of a contract.
Definition of 'Free Consent' (Section 14)
Consent is said to be free when it is not caused by:
1. Coercion, as defined in Section 15; or
2. Undue Influence, as defined in Section 16; or
3. Fraud, as defined in Section 17; or
4. Misrepresentation, as defined in Section 18 or
5. Mistake, subject to the provisions of Sections 20, 21, and 22.
When consent to an agreement is caused by coercion, fraud, misrepresentation, or undue influence, the agreement is a contract voidable at the option of the party whose consent was so caused. When the consent is vitiated by mistake, the contract becomes void.