Question 1:The fluidity of molten metal of cast alloys (without any addition of fluxes) increases with increase in
[ME 2019,Set-2]
Question 2:In full mould (cavity-less) casting process, the pattern is made of
[ME 2015:Set-3]
Question 3:The hot tearing in a metal casting is due to
[ME 2014,Set-3]
Question 4:Match the casting defects (Group A) with the probable causes (Group B):
Group-A
P. Hot tears
Q. Shrinkage
R. Blow holes
S. Cold shunt
Group-B
1. Improper fusion of two streams of liquid metal
2. Low permeability of the sand mould
3. Volumetric contraction both in liquid and solid stage
4. Differential cooling rate
[ME 2014,Set-3]
Question 5:During solidification of a pure molten metal, the grains in the casting near the mould wall area
[ME 2013 :Set-2]
Question 6:Green sand mould indicates that
[ME 2011]
Question 7:Two streams of liquid metal which are not hot enough to fuse properly result into a casting defect known -as
[ME 2009]
Question 8:While cooling, a cubical casting of side 40mm undergoes 3%, 4% and 5% volume shrinkage during the liquid state, phase transition and solid state, respectively. The volume of metal compensated from the riser is
[ME 2008]
Question 9:Which of the following engineering materials is the most suitable candidate for hot chamber die casting?
[ME 2007]
Question 10:An expendable pattern is used in
[ME 2006]
Question 11:Misrun is a casting defect which occurs due to
[ME 2004]
Question 12:The primary purpose of sprue in casting mould is to
[ME 2002]
Question 13:In centrifugal casting, the lighter impurities are
[ME 2002]
Question 14:Shrinkage allowance on pattern is provided to compensate for shrinkage when
[ME 2001]
Question 15:Disposable patterns are made of
[ME 2000]
Question 16:Centrifugally casted products have
[ME 1993]
Question 17:In a green sand moulding process, uniform ramming leads to
[ME 1992]
Question 18:Increase in water content in moulding sand causes
[ME 1989]
Question 19:Which of the following casting processes uses expandable pattern and expandable mould?
[PI 2011]
Question 20:In sand casting fluidly of the molten metal increases with
[PI 2011]
Question 21:Hot chamber die casting is not suited for
[PI 2009]
Question 22:In hollow cylindrical parts made by centrifugal castings, the density of the part is
[PI 2008]
Question 23:Which one of the following is not a property of a sand mould?
[PI 2003]
Question 24:Electrical switches made out of thermoset materials are produced by
[PI 1992]
Question 25:Ceramics slurry is used in making the moulds for
[PI 1991]
Question 26:For casting of turbine blades made of high temperature and high strength alloys, the most suitable process is
[PI 1990]
Question 27:Green strength in powder metallurgy refers to the strength of
[PI 1989]
Question 28:For the same material, powder metallurgy process in superior to casting for
[PI 1989]
Question 29:The process by which shell like casting (like toys) are made is
[PI 1989]
Question 30:Negative allowance is provided on the pattern to take care of
[PI 1989]
Question 31:50. In sand casting of hollow part of lead, a cylindrical core of diameter 120 mm and height 180 mm is placed inside the mould cavity. The densities of core material and lead are 1600 kg/m
3
and 11300 kg/m
3
respectively. The net force (in N) that tends to lift the core during pouring of molten metal will be
[PI 2008]
Question 32:The mould filling time is seconds is
[PI 2007]
Question 33:The volume flow rate (in mm
3
/s) is
[PI 2007]
Question 34:Cold shut is a defect in casting due to
[PI 2006]
Question 35:The shape factor for a casting in the form of an annular cylinder of outside diameter 30 cm, inside diameter 20 cm and height 30 cm (correction factor k = 1.0) will be
[PI 2005]
Question 36:Wood flour is added to core sand to improve
[PI 2004]
Question 37:A casting of size 100 mm × 100 mm × 50 mm is required. Assume volume shrinkage of casting as 2.6%. If the height of the riser is 80 mm and riser volume desired is 4 times the shrinkage in casting, what is the appropriate riser diameter in mm?
[PI 2003]
Question 38:Gating ratio of 1 : 2 : 4 is used to design the gating system for magnesium alloy casting.This gating ratio refers to the cross-section areas of the various gating elements as given below:
1. Down sprue
2. Runner
3. Ingates
The sequence of the above elements in the ratio 1 : 2 : 4 is
[PI 2003 : 2 Marks]
Question 39:A 10 mm thick steel bar is to be horizontally cast with two correctly top risers of adequate feeding capacity. Assuming end effect without chill, what should be the theoretical length of the bar?
[PI 2002]
Question 40:Proper gating design in metal casting
P. Influences the freezing range of the melt
Q. Compensates the loss of fluidity of the melt
R. Facilitates top feeding of the melt S. Avoids misrun
[PI 2002]
Question 41:The permeability of moulding sand was determined using a standard AFS sample by passing 2000 cc of air at a gauge pressure of 10 g/cm
2
. If the time taken for the air to escape was 1 min, the permeability number is
[PI 2002]
Question 42:The height of the down sprue is 175 mm and its CS are at the base is 200 mm
2
. The CS area of the horizontal runner is also 200 mm
2
.Assuming no losses, indicate the correct choice for-the time (second) required to fill a mould cavity of volume 10
6
mm
3
. (Use g = 10 m/s
2
)
[PI 2002]
Question 43:Chaplets are placed between mould in order to
[PI 1992]
Question 44:The primary function of a riser is to
[PI 1992]
Question 45:The optimum pouring time for a casting depends on several factors. One important factor among them is
[PI 1991]
Question 46:A cylindrical job with diameter of 200 mm and height of 100 mm is to be cast using modulus method of riser design. Assume that the bottom surface of cylindrical riser does not contribute as cooling surface. If the diameter of the riser is equal to its height, then the height of the riser (in mm) is
[ME 2016,Sat-1]
Question 47:The part of a gating system which regulates the rate of pouring of molten metal is
[ME 2016,Set-1]
Question 48:In a gating system, the ratio 1:2:4 represents
[ME 2010]
Question 49:A 200 mm long down sprue has an area of crosssection of 650 mm
2
where the pouring basin meets the down sprue (i.e. at the beginning of the down sprue). A constant head of molten metal is maintained by the pouring basin. The molten metal flow rate is 6.5 × 10
5
mm
3
/s. Considering the end of down sprue to be open to atmosphere and acceleration due to gravity of 10
4
mm/s
2
, the area of the down sprue in mm
2
at its end (avoiding aspiration effect) should be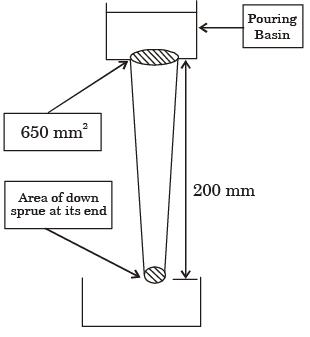 [ME 2007]
Question 50:In a sand casting operation, the total liquid head is maintained constant such that it is equal to the mould height. The time taken to fill the mould with a top gate is t
A
. If the same mould is filled with a bottom gate, then the time taken is t
B
. Ignore the time required to fill the runner and frictional effects, Assume Atmospheric pressure at the top molten metal surfaces. The relation between t
A
and t
B
is
[ME 2006]
Question 51:A mould has downsprue whose length is 20 cm and the cross sectional area at the base of the downsprue is 1 cm
2
. The downsprue feeds a horizontal runner leading into the mould cavity of volume 1000 cm
3
. The time required to fill the mould cavity will be
[ME 2006]
Question 52:Gray cast iron blocks 200 x 100 x 10 mm are to be cast in sand moulds, Shrinkage allowance for pattern making is 1%. The ratio of the volume of pattern to that of the casting will be
[ME 2004]
Question 53:Hardness of green sand mould increases with
[ME 2003]
Question 54:Light impurities in the molten metal are prevented from reaching the mould cavity by providing
[ME 1996]
Question 55:Converging passage is used for feeding the liquid molten metal into the mould to
[ME 1991]
Question 56:The pressure at the in-gate will be maximum with the gating system
[ME 1990]
Question 57:Riser is designed so as to
[ME 1987]