Question 1:A bar of uniform cross section and weighing 100 N is held horizontally using two massless and inextensible strings S
1
and S
2
as shown in the figure.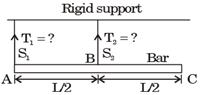 [2018]
Question 2:A force F is acting on a bent bar which is clamped at one end as shown in the figure.

The CORRECT free body diagram is
[2016]
Question 3:A rigid ball of weight 100 N is suspended with the help of a string. The ball is pulled by a horizontal force F such that the string makes an angle of 30° with the vertical. The magnitude of force F(in N) is ______.
[2016]