Personal pronouns are used to replace a person, people or animals.
1. Subject Pronouns
2. Object Pronouns
3. Possessive Pronouns
1. Subject / Nominative Pronouns
I, you, he, she, it, we, and they are subject pronouns. They are used as the subject of a verb. They do the action.
It is cold. (It is the subject of is)
She paid today. (She is the subject of paid)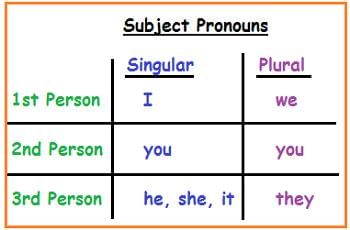 Subject Pronouns
Examples:
(a). Tony and Timothy are basketball players.
They are basketball players.
(b). Miss White is very clever.
She is very clever.
(c). Richie is an English teacher.
He is an English teacher.
(d). Lion is the king of the jungles.
It is the king of the jungle.
2. Object / Objective Pronouns
Me, you, him, her, it, us, them. They are always the object of the verb, preposition, or infinitive. To whom / what the action is being done to.
She paid him today. (him is being paid, not paying.)
She wanted her to come to the cinema with me.
(I am the subject of wanted; her is the object of wanted; him is the object of the preposition with)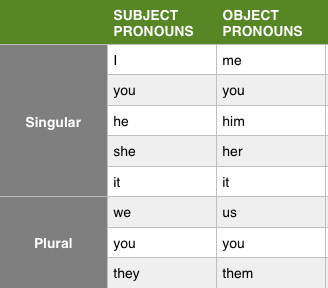 We use Object Pronoun as direct objects, indirect objects, and objects of prepositions.
Me - Tell me the truth, please!
You - Your daughter can help you in the kitchen.
Him - I want to play soccer with him
Her - I can take her out to dinner.
It - Oh, what a nice car! Look at it.
You - Your mother can take you to the park tomorrow.
Us - Please show us your new game.
Them - Ted can teach them English.

3. Possessive Pronouns
Mine, yours, his, hers, its, ours, theirs. They show ownership, answering the question "Whose?"
That car is mine.(Whose car is it? It is my car. It is mine).
We use possessive pronouns as subject or object of a verb. Notice that "its" usually used as possessive pronoun.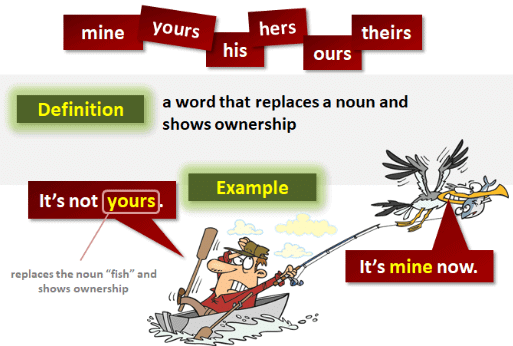 Possessive Pronouns
Examples
a. This is my tie - This is mine.
b. Her umbrella is beautiful. - Hers is beautiful.
c. These are his shoes. - These are his.
d. These are their wallets. - These are theirs.
e. It is my book. - It is mine.
f. That is our school. - That is ours.
g. This is our house. - This is ours.
h. That is my radio. - That is mine.
i. Those tickets are Kimberley's. - Those are hers.
j. This is Henry's suitcase. - This is his.
k. They are my mother's keys. - They are hers.
l. It's Lucy's chocolate. - It's hers.
m. My cousins' grades are better. - Theirs are better.
n. Elizabeth's cakes are delicious. - Hers are delicious.
NOTES:
It's in example 'l' is short form of It is and should not be confused with its.
My cousins' grades in 'm' is not the same as my cousin's grades. In fact it means grades of my cousins and it is plural so we use the plural possessive pronoun theirs.

Apostrophe in It's and Possession
It's beautiful = It is beautiful (With Apostrophe ('))
Its color is blue = Color of its is blue (Without Apostrophe)
Its in the first sentence is a possessive adjective (Its color)
Its in the second sentence is a possessive pronoun (color of its)
My cousins' grades = Grades of my cousins (2 or more cousins)
My cousin's grades = Grades of a particular cousin (1 cousin)
Double Possessive Pronouns
Examples
Jack is an old colleague of mine.
Have you seen the movie of Brad's?
I fell in love with those green eyes of yours.
Two days ago an associate of --- warned --- to take immediate steps to prevent virus from spreading.
a) your / yours
b) yours / your
c)us / us
d) ours / us
e) his / his


Double Possessive Structure
A/an/the/some + (adj) + Noun + of + Possessive Pronoun
A + good + friend + of + mine + came to see me.
An + old + student + of + mine is ill.
Some + toys + of + yours are missing.

Do NOT Confuse Possessive "s" or "of" Below
The girl's book (singular) is...
The girls' books (plural) are...
My son's book (singular) is...
The cover of the book is...
I wish I had a room of my own.

Attention:
A photograph of me (that's me in the photo / I may not own the photograph)
A photograph of mine (I'm the person who took the photo, I may not be in it)
Attention!
-Be careful to choose the right pronoun when making comparison.
Carol loved chocolate more than him.
Carol loved chocolate more than she loved him.

Carol loved chocolate more than he.
Carol loved chocolate more than he loved chocolate.

You can avoid misunderstandings by writing:
Carol loved chocolate more than James did.
Carol loved chocolate more than she loved James.