1.1. MISSION ANTYODAYA
Why in News?
Department of Rural Development released the ranking of Gram Panchayats under Mission Antyodaya.
Context
Article 243G of the Indian Constitution mandates preparation of plans for economic development and social justice by Panchayats and through this process Panchayats are expected to evolve into institutions of local selfgovernance.
However, due to multiple layers of planning, administration and resource allocation to tackle deprivations, the efforts are often dispersed in time and space, leading to suboptimal results.
Variance in selection criteria across schemes as well as spatial and temporal mismatch in supporting the same individual/household through government scheme results in different schemes targeting different individuals/households resulting in under-utilization of capacity and sub-optimal outcomes.
Further, despite substantial public investment being made for strengthening rural economy and livelihoods base of the poor; due to multidimensionality of poverty, there is a need to optimize efforts through inter-sectoral approach.
Hence, it is necessary to develop a model framework-along with enhanced financial allocation- based on convergence, accountability and measurable outcomes to ensure that the resources are effectively spent in providing 'sustainable livelihoods for every deprived household'.
Example of Convergence of schemes-
Dept. of Rural Development's MNREGAfor building physical assets, & DAY-NRLMto create social capital for livelihood promotion.
Ministry of Tribal Affairs approved Minimum support price for non-timber forest produce to help tribal people who, under DAY-NRLM, collectively coordinate the procurement and payment process.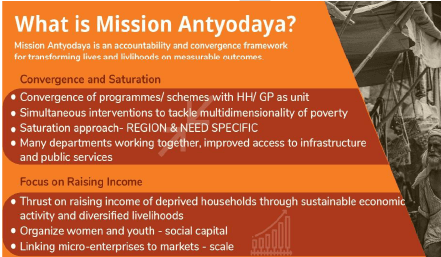 Importance of GP level planning
It captures felt local needs and provides better appreciation for local potential and ensures easy access to resources, entitlements and services.
It provides space for integration of people's knowledge and wisdom into local development efforts.
It responds to differential needs of different groups while mobilizing all the sections and encourages their participation in the local governance.
It helps to forge better bond between the panchayats and local citizens while ensuring responsive governance.
It improves overall service delivery and motivates volunteerism.
Framework for Implementation for Mission Antyodaya
The framework makes use of Information & Communication Technology to ensure that the benefits reach those who are most deserving as per SECC Data.
Through a robust Management Information System linked to schemes data bases, it would be possible to ensure endto-end targeting against defined set of indicators to measure progress against the base line.
Over 25 Departments and ministries of central and state governments will be participating in this mission.
The data from different schemes would be put in public domain for complete transparency.
The states have selected Gram Panchayats (GPs)/clusters which are either GPs with achievements like ODF, crime/dispute free GPs award winning GPs, or are covered under other schemes.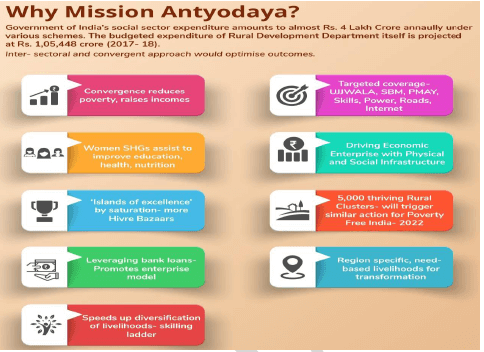 Key Outcomes envisaged
Strong infrastructure base for selected GPs/clusters through prioritised implementation of schemes in line with the GPDPs/cluster development plans.
Effective social capital promoting participatory planning and implementation of the schemes engaging wide range of stakeholders at GP/cluster.
Enhanced economic opportunities through diversified livelihoods including non-farm sector, skilling of rural youth and women, development of value chains and promotion of enterprise.
Strengthened democratic processes through capacity building of PRIs, public disclosures, GP level formal and social accountability measures such as social audit.
Ranking of Gram Panchayats
The broad parameters used areo Infrastructure Parameters

Economic development and Livelihood
Health, nutrition and sanitation
Women Empowerment
Financial Inclusion

Tellapur gram panchayat in Telangana has been found to be the best village in the country followed by Parapatla in Andhra Pradesh.
The most developed panchayats include 33 from Andhra Pradesh and 21 in Tamil Nadu.
Just 7 Gram panchayats from north India figure among the top 83 panchayats.
Key Processes under Mission Antyodaya
Carry out baseline survey of households and monitor the progress periodically.
Ensure convergence of programmes/ schemes targeted towards development of rural areas.
Institutionalize partnerships at Gram Panchayat/cluster between PRIs, community organizations, NGOs, SHGs, institutions and field level functionaries of different departments (e.g., ASHA workers, Anganwadi Workers, etc.)
Promote enterprise through partnership with institutions and professionals.
1.2. MUNICIPAL REFORMS
Why in News?
The Union ministry of housing and urban affairs has prepared a comprehensive road map for municipal reforms.
Background
Beginning with the Jawaharlal Nehru National Urban Renewal Mission (JnNURM) (2005), Urban Local Bodies (ULBs) in India have received attention from both Central & State governments for improving their infrastructure and service delivery.
During 2015-17, various basic reforms were undertaken in 500 cities under the Atal Mission for Rejuvenation and Urban Transformation (AMRUT) likeo 104 cities in 14 states collected more than 90% of user charges,

21 states have established municipal cadres,
256 cities started offering online citizen services,
21 states established state finance commissions, and
363 cities have completed credit rating.

The 14th Finance Commission also stipulated that a detailed procedure for the disbursal of the Performance Grant to ULBs based on various reforms in areas like accounting, auditing, reporting, etc.
Challenges to Urban Governance
Financial paucity- Their chief sources of income are the varied types of taxes, most of which is levied by the union and state governments and, the taxes collected by the urban bodies are not sufficient to cover the expenses of the services provided.
Corruption- The administrative machinery, at the disposal of these local bodies is insufficient and ineffective. The staff which is often underpaid indulges in corrupt practices which lead to loss of income.
Excessive State Control- The state governments have the power to supersede and dissolve municipal bodies under certain circumstances. Further, state governments have powers like

They approve municipal budget (except that of corporation).
Even the modified local tax structure needs government's prior approval and later ratification.
Control through accounting and audit system, etc.

Unplanned urbanization- The municipal services have failed to cope with the increasing needs of the population, both qualitatively and quantitatively. The situation is worsening because the rural influx in town and cities has increasingly converted them in ghettos.
Multiplicity of Agencies- Usually works are not well allocated among different agencies which causes overlap of authority and responsibility. This further leads to diffused accountability.
Dilution of Efforts- Due to multiple layers of planning, administration and resource allocation to tackle deprivations, the efforts are often dispersed in time and space, leading to suboptimal results.
Headed by bureaucrats- The single purpose agencies are all dominated by bureaucrats, which goes against the basic philosophy of local government. The people's representatives have a secondary role to play.
Substandard Personnel- Urban government increasingly needs professional services of experts.
Land titling in urban areas- A study has reported that most, over 90% by one estimate, of the land titles in India are 'unclear' and land market distortions and unclear land titles cost India around 1.3% of gross domestic product.
Low level of People's Participation- People's apathy towards participating in the governance system pushes such institutions into a state of complacency and irresponsibility.
Ecological challenges- The growth of population and industries presents an unprecedented challenge of ecological degradation and pollution of water, air and land.
About AMRUT
It focuses at transforming 500 cities and towns into efficient urban living spaces over a period of five years.
It follows a project oriented development approach in contrast to the area based approach of Smart Cities Mission.
It is a centrally sponsored scheme with 80% budgetary support from the Centre.
It aims to:

ensure that every household has access to a tap with assured supply of water and a sewerage connection;
increase the amenity value of cities by developing greenery and well maintained open spaces (e.g. parks); &
reduce pollution by switching to public transport or constructing facilities for nonmotorized transport (e.g. walking and cycling).
Trust and verify model
In the current verify and trust model, cities generally inspect first and give approvals later which results in time delays and cost overruns, and opens up opportunities for rent seeking,
Inverting this process gives us the trust and verify process in which permission is issued first and inspection taken up later, as all the required documents are already submitted online.
About the Road Map
The road map, consisting of three tiers of reforms along three main avenues:
Governance,
Planning, and
Finance



1.3 . SPECIA L COURTS FOR TRYING POLITICIANS
Why in News?
The Supreme Court accepted Centre's scheme to set up 12 fast track courts to exclusively prosecute and dispose 1,581 criminal cases pending against MPs & MLAs within a year.
Impact of Criminalization
The law-breakers get elected as law-makers- The people who are being tried for various offences are given the opportunity to make laws for the whole country, which undermines the sanctity of the Parliament.
Loss of public faith in Judicial machinery- It is apparent that those with political influence take advantage of their power by delaying hearings, obtaining repeated adjournments and filing innumerable interlocutory petitions to stall any meaningful progress. This questions the credibility of the judiciary.
Politics dominated by muscle and money power- Where the rule of law is weakly enforced and social divisions are rampant, a candidate's criminal reputation could be perceived as an asset. This brings in the culture of muscle and money power in the politics.
What is Criminalization in Politics?
When politics or political power is used by self-interest seeking persons for pecuniary gains or various other advantages such as to get special position in administration or to rise to the higher stage of administration which is normally not feasible.
Important Data (ADR)- (2014 Lok Sabha elections)
Out of the 542 winners analysed, 185(34%) winners have declared criminal cases against themselves.
112 (21%) winners have declared serious criminal cases including cases related to murder, attempt to murder, communal disharmony, kidnapping, crimes against women etc.
The chances of winning for a candidate with criminal cases in the elections are 13% whereas for a candidate with a clean record it is 5%.
Affects the efficiency of the parliament- People with such tainted backgrounds have been seen to disrupt the functioning of the Parliament, affecting its efficiency in the long run.
Self-perpetuating- Since the parties focus on winnability of the candidate (also hampering the inner party democracy) they tend to include more and more influential elements. Thus, criminalization of politics perpetuates itself and deteriorates the overall electoral culture.
Analysis
The decision of the higher judiciary to establish Special Courts for politicians is one with good intention. It has the potential of ensuring speedy justice in cases involving influential politicians, which otherwise takes years to deliver. Also, it would be primarily in their own interest to clear their names quickly, lest their candidature be tainted.
The time bound nature of the new scheme will also provide better information to voters about their representatives.
However, creating a court for a class of people such as politicians is discriminatory. Also, such a step would question the credibility of the regular courts, as it would seem that justice could not be delivered with regular means.
Another matter of concern is that such special courts are susceptible to having their verdicts overturned on appeal.
Already multiple experiments with fast track courts have not materially changed the quality of justice delivery in India.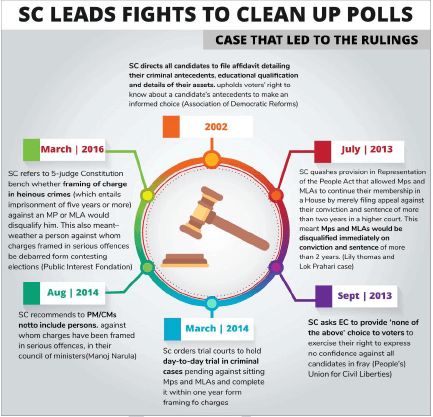 1.4. SECTION 29A OF RPA
Why in News?
The Supreme Court has recently decided to examine the powers of Election Commission in terms of disqualifying convicted persons from forming political parties or becoming office-bearer of a party.
About Section-29A
Section 29A of Representation of People's Act, 1951, lays down various provisions in regards to the registration and recognition of political parties in India.
Before its introduction, in 1988, the process was fully regulated by the Election Symbols (Reservation and Allotment) Order, 1968 which is operated by the Election Commission.
Under the Symbols Order, an association needed to achieve tangible proof of 1% of the valid votes to be secured by applicant party for registration.
By virtue of section 8, 8A, 9, 9A, 10 and 11 of the Act of 1951, it has already been held that candidates convicted under criminal laws are disqualified from contesting elections with immediate effect.
Issues Raised
The Goswami Committee (1990), had shed light on various issues related to the section-

Now any association to be registered as a political party needs to conform in form only to the provisions of the Constitution, especially to the preamble. Hence, the powers of the Election Commission in regard to registration of political parties under the Symbols Order has been taken away.
This has further led to ruthless mushrooming of many political parties in the country since the Election Commission had no option except to register. This has created many practical and administrative problems and difficulties at the time of election.
Recent Issues
It is argued that if a convicted person in a criminal case gets disqualified to contest election, he should not be allowed to head a political party, a stance which stands conflicted by the Section 29A.
Allowing a convicted person to be an office bearer may in long run be dangerous for the inner party democracy.
It also threatens the fundamental right guaranteed under the Article 19 by using money and muscle power (criminalization of politics).
The growing number of political parties registered with the Election Commission avail all the facilities like, tax exemption, political fund contributions, whereas the number of political parties which regularly contest elections is limited to certain number of registered political parties.
Of the more than 1100 parties registered with the Election Commission in 2009, only about 360 actually contested the general election that year.
Way Forward
According to Dinesh Goswami Committee the new provision in section 29A do not serve any purpose towards improving the electoral functioning in the country. Thus, it recommended the deletion of the section.
Further, under the existing section 29A, another clause may be introduced authorising the Election Commission to issue necessary orders regulating registration and de-registration of political parties.
1.5. CANDIDATES CONTESTING FROM TWO SEATS
Why in news?
Election Commission has favoured amendments to the Section 33(7) of Representation of the People Act (RoPA) that allows a candidate to fight from two seats at the same time.
Background
After independence, the provision of contesting from any number of seats was exploited by the leaders of political parties.
Dinesh Goswami committee,1990 recommended that a person should not be allowed to contest elections from more than two constituencies of the same class
Following the Dinesh Goswami committee, 1990, Section 33(7) was introduced in RoPA.
Further as per Section 70 of RoPA candidate has to vacate one seat if he ends up winning both. The byeelection is conducted in that constituency.
Law Commission (170th and 255th report) has also proposed to bar candidates from contesting from more than one constituency.
Why it is opposed?
If the dictum of 'One person, one vote' is the norm in democracy then 'one candidate, one constituency' should also be followed.
It violates Citizen's right to know under article 19 of the Constitution of India as citizens vote after knowing the candidate's character, qualification and criminal records etc. and there is an element of betrayal when candidate vacates the seat later.
There is also an additional financial burden on public exchequer, government manpower and other resources for holding a by-election against the resultant vacancy.
This is also unfair to upcoming leaders, who have to vacate space so that the bigger leaders can get their second seats
It is discriminatory for independent candidates and candidates with relatively lower financial clout.