POLITY
1.1. SIMULTANEOUS ELECTIONS
Why in news?
Prime Minister has re-emphasized on the idea of holding Simultaneous elections for the Lok Sabha and State assemblies.
Need
 Governance
 Allows governments to devote four years for governance. If elections are frequent winning elections becomes the first priority of all politicians during elections.
 As a result, running an administration and attending to people's grievances take a back-seat for politicians and the bureaucracy rules the roost.
 Legislative working
 Results in logjam in assemblies/ Lok Sabha as every party wants to be in the spotlight.
 Vicious circle of continuous elections affects stability. If local elections are included there is always an election taking place in our country.
 Economy
 Reduce the huge economic burden of frequent elections.
 Pace of economic development is hampered as Model code of conduct is in operation wherein new welfare schemes and measures are usually not announced.
_______________________________
Examples from the World
Law commission had recommended an amendment of the rule of no-confidence motion (Rule 198 of Rules and Conduct of Business of the Lok Sabha), on the lines of the German Constitution:
In this system the opposition party leader moves both the no-confidence motion and a confidence motion, and he would become the new leader if the both the motions are passed.
In this way premature dissolution would be avoided without diluting the cardinal principle of democracy. It will also be consistent with the notion of collective responsibility of the government to the House as mentioned in Article 75 (3) of the Constitution.
Simultaneous elections are also held successfully in South Africa and Sweden.
_______________________________
Challenges
 It is almost impossible to achieve in practice as Assemblies
might get dissolved at an untimely manner due to political realities. Earlier dissolution, which breaches the principle of simultaneous elections, is brought about by several methods like
 The PM or CM advises the president or the governor, as the case may be, to prematurely dissolve the Lok Sabha or state assembly and force snap elections to gain electoral advantage.
 By passing the no-confidence motion against a government or defeating the government's confidence motion.
 Central government has misused its powers under Article 356 by imposing the president's rule in states ruled by opposition parties and dissolving assemblies resulting in premature elections.
 According to Article 85 and Article 174, elections to Lok Sabha and Legislative assemblies have to be held within six months (respectively) of dissolving either of them. This is not feasible if elections are held only at fixed durations. Also, if elections are not held within six months, it would be a travesty of democracy.
 Founding fathers of the Constitution envisaged a federal polity of a sui-generis nature. So, multi-party system with elections is the most fundamental manifestation of this will of the popular sovereign.
 Frequent elections bring the politicians back to the voters and enhance the answerability and accountability of politicians to the public.
 Will keep the politicians in touch with 'pulse of the public' and the result of elections at various levels can ensure the government the necessary 'course correction'.
 May mix up issues of local and national issues in the minds of the voters, This may give a boost to regional and local issues, while national issues can take a set-back.
 The issue of logistics and requirement of security personnel, election and administrative officials: there is a dearth of enough officials to conduct simultaneous elections throughout the country in one go.
1.2. CHILD LABOUR (PROHIBITION AND REGULATION) AMENDMENT BILL, 2016
Why in news?
The Lok Sabha passed the Child Labour (Prohibition and Regulation) Amendment Bill, 2016. Earlier it was passed by Rajya Sabha.
Salient features
 The Bill amends the Child Labour (Prohibition and Regulation)
Act, 1986, which prohibits the employment of children younger
than 14 in 83 hazardous occupations and processes.
 The amendment:
 Extends this ban on employment of children under 14 across all sectors,
 Prohibits the employment of adolescents aged 14-18 years in hazardous occupations and
 Introduces more stringent jail term and fines for offenders: a jail term of six months to two years and a fine upto Rs 50,000
 The bill brings down the list of hazardous occupations from the earlier 83 to just three: mining, inflammable substances, and hazardous processes under the Factories Act, and the centre will decide which processes are hazardous.
 The Bill has a provision of creating Rehabilitation Fund has also been made for the rehabilitation of children.
Pros
 The Bill is aligned with the statutes of the International Labour Organization (ILO) convention.
 Since there is complete ban on child labour (children under age 14), they can get compulsory primary education in light of Right of Children to Free and Compulsory Education Act, 2009.
 It takes into account the realities of family enterprises where children help their parents in miscellaneous ways. But as UNICEF India commented, this could lead to more children working in unregulated conditions.
 The number of child laborers decreased by 65% - from 1.26 crore to 82.2 lakh (aged between 5 – 14 years) between Census 2001 to and Census 2011. This is due to programmes like RTE, MNREGA, Mid Day Meal scheme. So the scourge of child labour can only be eliminated with overall development and creation of opinion, along with rehabilitation. The Child Labour Bill and penalties are only a spoke in the wheel.
 50% of child labour is in Bihar, UP, Rajasthan, MP and Maharashtra. Over 20% is in UP alone. So special focus is needed here.
Cons
 Children under 14 years will be allowed to work in family businesses, outside of school hours and during holidays, and in entertainment and sports. This can be blatantly misused by many and lead to "victimization of children" in their poverty.
 The definition of 'family' has not been defined.
 Even in family enterprises, there is no skilling done. It is mostly against child's will and is almost slavery. So care has to be taken while implementing the law to not go against the spirit of the law.
 Dilution of penalties against parents and guardians who "force" children into child labour can go against the spirit of the law, i.e., to prevent child labour.
1.3. THE LOKPAL AND LOKAYUKTAS (AMENDMENT) BILL, 2016
 During Monsoon session of the parliament, Lok Sabha has approved an amendment to the Lokpal and Lokayukta Act, 2013.
 Amendment: It will allow extension of the time given to public servants and trustees and board members of Non-Governmental Organisations (NGO) receiving government funds of more than Rs. 1 crore or foreign funding of more than Rs 10 lakh to declare their assets and those of their spouses.
 Impact: It will provide immediate relief to public servants facing the July 31 deadline declare their assets.
Background
 According to the rules notified under the Lokpal and Lokayuktas Act, 2013, every public servant shall file declaration, information and annual returns pertaining to his assets and liabilities as well as of his spouse and dependent children as on March 31 on or before July 31 of that year.
 The extension given now is the fifth since the Act came into force in January 2014.
1.4. CAMPA BILL
Why in News?
 Eight years after this bill was introduced, the Rajya Sabha has passed the Compensatory Afforestation Management and Planning Authority bill. This bill has already been passed by Lok Sabha.
Criticism
 Afforestation doesn't mean just planting of trees; it should also specify which type of trees. For example, the Bhadra eco-system in Karnataka has been annihilated by the planting of non-native trees.
 As per civil society groups, bill in its present form is fundamentally opposed to Forest Rights Act (FRA), 2006 and did not address legal rights of scheduled tribes and other traditional forest dwellers (OTFDs).
 FRA legally recognizes and vests forest rights of STs and OTFDs in about 1,77,000 villages over 40 million hectares of forest land. All these beneficiaries should have been included in CAMPA Bill as well.
 Under the Bill, forest bureaucracy dominates both the national and state level CAMPA authorities with no representation to tribals and forest dwellers.
 The CAF bill is totally silent about rights and compensation of local communities.
 Funds should be used to further strengthen local rights and empower communities to restore forests and degraded lands.
 Using CAMPA funds to support community-based afforestation will also lead to major positive social and ecological outcomes.
Note: To know the provisions of the bill, please refer the April, 2016 Vision Current Affairs. Here, we have presented the criticism part of the bill.

1.5. INTER-STATE COUNCIL MEETING
Why in News?
 Recently, the eleventh meeting of the Inter-State Council (ISC) was held after a gap of 10 years.
What is ISC?
 Article 263 provides the establishment of an Inter-State Council to effect coordination between the states and between Centre and states.
 It is not a permanent constitutional body for coordination between the States of the Union. It can be established 'at any time' if it appears to the President that the public interests would be served by the establishment of such a Council.
 First time it was set up on the recommendation of the Sarkaria Commission and established the ISC by a presidential ordinance on May 28, 1990.
 The ISC is proposed to meet thrice a year, but in 26 years, it has met only 11 times.
Composition
 Prime Minister acts as the chairman of the council.
 Members:
 Union Ministers of Cabinet rank in the Union Council of Ministers nominated by the Prime Minister.
 Chief Ministers of all states.
 Chief Ministers of Union Territories having a Legislative Assembly and Administrators of UTs not having a Legislative Assembly.
Issues Discussed during the meeting
 Consideration of the recommendations of the Punchhi Commission on Centre-State relations.
 Use of Aadhaar as an identifier and use of Direct Benefit Transfer (DBT) for providing subsidies, benefits and Public services.
 Improving quality of school education with focus on improving learning outcomes, incentivizing better performance.
 Internal security.
Significance
 The forum is the most significant platform to strengthen Centre-state and inter-state relations and discuss policies.
 This works as an instrument for cooperation, coordination and evolution of common policies.
 It can act to bridge trust deficit between centre and states.
1.6. NATIONAL HUMAN RIGHTS COMMISSION (NHRC)
Why in News?
 Recently NHRC chairperson Justice H.L. Dattu called NHRC "a toothless tiger".
 Also Supreme Court bench proposed to consider the grievances of the NHRC due to which it become difficult for the statutory body to discharge its functions.
______________________________
About NHRC
It is a statutory body established in 1993 under the provisions of Protection of Human Rights Act 1993.
This apex body is responsible for protecting and promoting human rights related to life, liberty, equality and dignity of individuals as guaranteed by the constitution of India and international covenants.
It consists of a Chairman and 4 members. Chairman should be a retired Chief Justice of India. Members should be either sitting or retired judges of the Supreme Court or a serving or retired Chief Justice of a High Court and 2 persons having practical knowledge in the field of human rights.
Ex officio members are the chairpersons of National Commission for Scheduled Caste, National Commission for Scheduled Tribes, National Commission for Minorities and National Commission for Women.
________________________________
Issues faced by NHRC
 NHRC investigates matters related to human right violations and then recommends remedial measures. However its recommendations are not binding and thus not taken seriously by state authorities which results in no or delayed implementation.
 Paucity of resources – human, financial and material that results in inefficient and ineffective functioning.
 NHRC cannot investigate a case if complaint was made more than one year after the incident.
 The act does not extend to the state of Jammu & Kashmir. Hence NHRC cannot investigate incidents of human rights violation there.
 NHRC powers with respect to investigating cases of human rights violation by armed forces are limited.
 Protection of human rights act 1993 does not categorically empower NHRC to investigate matters of human rights violation by private parties.
 NHRC do not have any kind of contempt powers thus it cannot penalize authorities who do not implement its recommendations in a time bound manner.
 Staff often involved in executing NHRC functions are not experts or experienced in the field of human rights as they are often drawn from various Government departments on deputation.
 Non-judicial posts are often filled by retired bureaucrats in place of relevant experts in the field.
Way Forward
 The functioning of protection of human rights act needs to be revised as 15 years has passed since its passage and current demands and challenges needs to be accommodated.
 Various structural as well as functional changes need to be made so as to make NHRC's functioning efficient and effective.
 The commission needs to be given more teeth (i.e. empowered) and its recommendations must be implemented by the government in a time bound manner.
 Independent recruitment and management of staff.
 Be allowed to independently investigate complaints against armed forces personnel.
 Separate body to investigate cases where police are allegedly involved in human rights violation.

1.7. ADVERTISING STANDARDS COUNCIL OF INDIA (ASCI)
What is it?
 A self-regulatory voluntary organization of the advertising industry in India, founded in 1985.
 The three main constituents of the industry viz. advertisers, advertising agencies and media came together to form this independent NGO.
 The aim of ASCI is to maintain and enhance the public's confidence in advertising. Their mandate is that all advertising material must be truthful, legal and honest, decent and not objectify women, safe for consumers esp children and fair to their competitors.
 It deliberates upon individual complaints against any advertisements for its compliance with ASCI code and other laws.
Why in news?
 ASCI and Food Safety and Standards Authority of India (FSSAI) have signed a MoU to check misleading advertisements in the food and beverages sector.

Important points about the MoU
 ASCI gets a suo motu monitoring mandate by FSSAI to process complaints against misleading advertisements of food and beverages along with the complaints from FSSAI.
 The review will include violation of the Food Safety Standards Act 2006 and regulations related to advertisements making misleading, unsubstantiated or false claims.
 ASCI would report to FSSAI about the non-compliance as per provisions of the FSS Act.
1.8. ARUNACHAL PRADESH GOVERNMENT RESTORED
Why in News?
 Supreme Court had restored the Congress government in Arunachal Pradesh and declared all decisions of Governor as "unconstitutional".
 Governor's decision had led to imposition of President's rule in the state and later formation of a new government.
Details
 This judgment is historic since it is the first time the Supreme Court has restored a government after it was dismissed and a new government was sworn in.
 SC directed that a Governor cannot have the freedom to determine when and in which situation he can take a decision at his own discretion without the aid and advice of the Chief Minister and his Council of Ministers.
 The court said that a Governor is not an elected representative, but only an executive nominee whose powers flow from the aid and advice of the Cabinet.
 As per the judgment, Governor can act without the aid and advice only when a government has lost its majority in a floor test.
 Judgment also ruled that the Governor is not the conscience-keeper of the "Legislative Assembly" and that he had to stay away from the business of the Assembly.
 The court said that the Constitution does not assign any role to a Governor to interfere in the activities of the Assembly.
 Hence it would be outside the domain of his powers to fix a date for an Assembly session or to decide how the Assembly functions. Impact
 The main significance of this verdict is that it provides clarity on the Governor's role.
 The Governor has no authority to resolve disputes within a political party.
 He has no discretionary power to advance an Assembly session without the aid and advice of the Council of Ministers nor can he fix its agenda.
 In future, Judgment will be helpful in avoiding the misuse of the Governor's power under Article 356.
Note: For more details on this issue, please refer Vision February, 2016 Current Affairs.
1.9. SC RULING ON SPEAKER'S POWER TO DISQUALIFY MEMBERS
Why in News?
 As part of judgment on the Arunachal Pradesh crisis, SC observed that a Speaker should refrain from deciding the disqualification of MLAs for defection under the Tenth Schedule of the Constitution while a notice of resolution for his own removal from the office of Speaker is pending.
Impact
 A Speaker under the threat of losing his position, may choose to disqualify the MLAs to alter the composition of the House in his favour.
 Hence, this ruling will act as a safeguard against a Speaker using the disqualification proceedings of legislators for his own political ends.
1.10. SC RULING: POWER OF PARDON
 Constitutional bench of Supreme Court held that power of the executive to grant pardon to convicts cannot be exercised by the Supreme court unless there is a violation of fundamental rights.
 SC also observed that Article 32 (the right to Constitutional remedies whereby individuals may seek redressal for the violation of their fundamental rights) can be only invoked when there is violation of any fundamental right or where the Court takes up certain grievance which falls in the realm of public interest litigation.
Related Info
Pardoning power of President and Governor:
 The President's powers to pardon in Article 72 are different from those granted to the Governor in Article 161. The President enjoys extensive powers under Article 72 as compared to what is available to the State Governor.
 In case where the convict is sentenced to death penalty, only the President can exercise the right to pardon him/her. The governor does not have the right to pardon death sentences, she can only suspend, commute or provide remission in case of death sentences.
 The President has the right to pardon punishments of sentences given under Court Martial, whereas the governor does not have this power.
 Both the President and Governor have concurrent powers in cases of suspension, commutation and remission of a death sentence.
1.11. FUNDS MEANT FOR SCHEDULED CASTES UNDERUTILIZED
 As per the latest annual report by the National Commission for Scheduled Castes (NCSC), almost all states have failed to honour their budgetary commitments toward the SC community.
 The Central Govt. guidelines to States clearly mentions that only the schemes which ensure direct benefits to individuals or families belonging to SCs should be included under Scheduled Caste Sub-Plan (SCSP).
 Many States have generally allocated funds to the Scheduled Caste Sub-Plan (SCSP) at par with the Scheduled Castes (SC) population of the States.
 However, as per the Commission, the actual expenditures under SCSP is only between 2% and 8% of allocation in most States except West Bengal, Karnataka and Telangana and the unspent SCSP fund is often re-appropriated.
 State officials on the other hand blame the commission for "faulty auditing" and claim that it was difficult to segregate funds for SCs, as infrastructure schemes such as roads, toilet, schools and drinking water also cover beneficiaries from the community.
1.12. SUPREME COURT RULES OUT CONSECUTIVE LIFE TERMS
 A five judge Constitution Bench of the Supreme Court has held that there is no point in awarding life sentences twice and thrice over to those found guilty of heinous crimes.
 Interpreting Section 31 (sentence in cases of conviction of several offences at one trial) of the Criminal Procedure Code, the Constitution Bench clarified that like any human being, a convict too has only one life and cannot serve consecutive sentences of life imprisonment.
 The Supreme Court explained that in cases where a prisoner twice condemned to life gets remission or his first life sentence is commuted, the second life sentence
immediately kicks in and deprives him of the ability to enjoy the benefit of the remission or commutation of the first life sentence.
 In another case, if an offender is given life imprisonment coupled with 'term' sentences of fixed years, say seven or 10 years, the court laid down that in such cases the convict would complete his term sentence before graduating to his life sentence.
 The court finally held that instead of life terms running consecutively, they would superimpose over each other so that any remission or commutation granted by the competent authority in one case does not ipso facto result in remission of the sentence for the other.
1.13. SC ACCEPTS STRUCTURAL REFORMS IN BCCI
Background
 The SC appointed Lodha Committee, on January 4 2016.
 The committee recommended sweeping reforms and an administrative shake-up at the troubled BCCI following which the BCCI and some of the State cricket associations, former players and cricket administrators approached the apex court with regard to the implementation of Lodha panel recommendations.
 The court dismissed BCCI's plea, and upheld the committee's major proposals.
Recommendations Accepted
 SC rejected the BCCI's objection against recommendation of one-State-one-vote. It said that States that have more than one cricket association will have voting rights on a rotational basis.
 This means that states with more than one cricket association, as in the case of Gujarat (Saurashtra, Gujarat and Baroda) and Maharashtra (Mumbai, Maharashtra and Vidarbha), will have voting rights on a "rotational basis"-one at a time.
 The SC order also barred serving civil servants and ministers from being on BCCI's board or that of their respective state associations.
 The SC also accepted a recommendation which stipulated that office-bearers of BCCI must not be over 70 years of age.
 It accepted the recommendation that one person should hold one post in cricket administration to avoid any conflict of interest and scrapping of all other administrative committees in the BCCI after the CAG nominee comes in.
 The court also upheld the term-limit recommended by the committee. Each of the office-bearers, would have a three-year term and could contest a maximum of three terms, with a mandatory cooling-off period after each term.
 SC accepted the recommendation that there should be a players association in the BCCI and SC ordered BCCI to establish a players' association and fund it.
 SC accepted the committee's proposed recommendation that a nominee from the office of the Comptroller and Auditor General of India (CAG) be made a part of BCCI's managing committee.
Recommendations left to decision of parliament
 The SC left it to Parliament to decide whether the functioning of the BCCI can be brought under RTI as recommended by the Lodha panel.
 SC also left parliament to decide whether to legalise betting in cricket or not.
Recommendations left to board
 Board to decide whether there is need for any change in the existing agreement relating to broadcasting rights.
 It left it to the Board to decide whether a franchise member should be in the Board to avoid any conflict of interest.
 Board to also decide the extent of funding of players association in the BCCI.
SC requested the three-member Lodha panel, to oversee the transition of administrative structure in the BCCI which has to take place within six months.
Way Forward
 The SC order effectively overhauls the BCCI's organisational set-up, memberships and functioning for the sake of transparency and accountability.
 Prima facie it looks like judicial activism, but considering the sad state of affairs in BCCI, SC order was need of the hour to bring transparency and accountability in the functioning of BCCI.
 The judgement has implications for sport in general. The BCCI is the best-run sports body in the country, and generates its own funds. Yet it needed straightening out.
 There should be a call to apply the Supreme Court's rulings in general in other sports bodies too, that rely on government hand outs and run by politicians as personal fiefdoms.
[Note- For more details please refer January 2016, current affairs.]
1.14. SUPREME COURT WARNS JUDGES AGAINST JUDICIAL OVERREACH
Why in news?
 Recently, the Supreme Court cautioned judges against judicial overreach and said that judges must remain within the limits of the law and not peddle individual perceptions and notions of justice.
What is the difference between judicial activism and judicial overreach?
 Under our constitutional scheme, judiciary has to enforce the laws laid down by the legislature in accordance with our constitution for which it has wide powers ranging, from issuing writs of certain nature to the entertainment of petitions by special leave etc.
 Further, new innovations like the concept of PIL in recent times, has led to an enormous expansion of unaccountable judicial power in the nation's politics.
 Thus the exercise of judicial powers in a manner which leads to redefinition of power equations between different organs of the state and the judiciary is called as judicial activism.
 However, judicial activism doesn't necessary mean that judiciary is inclined to expand its powers. Its more about the positive role played by the judiciary owing to the factors like a near collapse of responsible government, a legislative vacuum due to coalition governments and public confidence in the judiciary.
 Judicial Activism when overtly exercised results in usurping the powers of the Executive or the Legislature, which are the other two important organs of governance and is called as Judicial overreach.
 The power to legislate is squarely conferred on the Legislature by the Constitution. No such legislative power is given to the Courts by the Constitution. Judicial Activism cannot be used for filling up the lacunae in Legislation or for providing rights or creating liabilities not provided by the Legislation.
What did the Supreme Court say in its recent judgement?
 The court said that judges should not peddle individual perceptions and notions of justice. A judge's solemn pledge has to remain embedded to Constitution and the laws.
 The apex court said if a judge considered himself or herself a "candle of hope" and took decisions under the influence of such a notion, it might do more harm than good to the society.
 While using the power one has to bear in mind that 'discipline' and 'restriction' are the two basic golden virtues within which a judge functions as per the Supreme Court.
Way Forward
 There is a very fine line between Judicial activism and overreach. It would be would be in the best interest of our country if judges understand this and restrain themselves from crossing this line too often.
 The judiciary cannot rule the nation by legislating as well as executing through its judgements. Its simply not meant to do that. It can rightly be argued that a legitimate judicial intervention is the one which clearly falls within the permissible scope of judicial review.
 Purely political questions and policy matters not involving decision of a core legal issue should therefore remain outside the domain of judiciary.
1.15. SUPREME COURT RULING ON AFSPA
Recent SC Ruling
 Recently SC ruled that every death caused by armed forces in a disturbed area involving either a common person or an insurgent must be thoroughly enquired into so as to find out whether the killing was extra-judicial or not.
 Thus there is no absolute immunity for armed forces personnel who commit a crime even in a disturbed area.
 Supreme Court was hearing the plea demanding probe into 1528 deaths alleged to be fake or extra-judicial encounters by
the armed forces in the state of Manipur.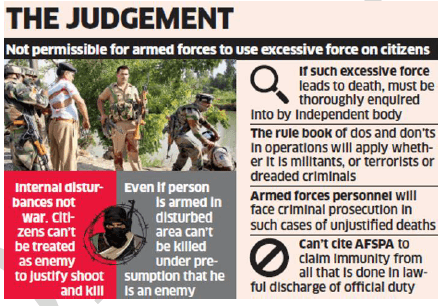 About AFSPA
 Armed Forces (Special Powers) Act was enacted in the year 1958 by the parliament of India grants extra-ordinary powers and immunity to the armed forces to bring back order in the disturbed areas.
 Some of these extra-ordinary powers include:
 Fire upon anyone after giving warning who is acting against law & order in the disturbed area.
 Arrest anyone without warrant.
 Stop and search any vehicle or vessel.
 Armed forces personnel have legal immunity for their actions.
 Presently AFSPA is enforced in the 6 states of North East and J&K. Tripura recently decided to lift this act.
Arguments against AFSPA
 It has been alleged that immunity granted by the act has led the armed forces to misuse the powers given to them by this act and commit offences like fake encounters and sexual assault.
 This gross human rights violation weakens people's faith in the democracy and leads to vicious circle syndrome.
 It leads to suspension of fundamental rights and liberties guaranteed to the citizens by the constitution. Thus weakens democracy.
 It has been alleged that the sweeping powers without accountability has resulted in making armed forces unprofessional and insensitive.
 Critics argue that this act has failed in its objective of restoring normalcy in disturbed areas although being in existence for about 50 years.
 Government of Tripura recently decided to lift this controversial act from the state. However power to lift this act lies with the Governor or the Centre.
Arguments in favour of AFSPA
 It is essential for the armed forces to function effectively in insurgency and militancy affected areas.
 Provisions of this act have played a crucial role in maintaining law and order in disturbed areas. Thus protecting sovereignty and security of the nation.
 Hundreds of armed forces personnel loss their lives every year at the hands of insurgents and militants. It is crucial to empower them. Withdrawal would result in poor morale.
Way Forward
 Committee to Review the Armed Forces (Special Powers) Act formed in 2004, in its report, recommended the repeal of the AFSPA, calling it "a symbol of oppression, an object of hate and an instrument of discrimination".
 This act being in effect for about 50 years has not been able to achieve its desired objective.
 Thus the strategy to deal with issues of insurgency and militancy needs to be revised where people are not alienated but plays an active participatory role.
1.16. WORLD BANK: INTERNATIONAL SOLAR ALLIANCE
 The World Bank group has agreed to help in the development and deployment of affordable solar energy under the International Solar Alliance project. It will support it by:
o Mobilizing $1 trillion in investments by 2030.
o Developing a roadmap to mobilize financing for the project.
o Working with other multilateral development banks and financial institutions to develop financing instruments to support solar energy development.
 Further it will lend more than $1 billion to support India's ambitious initiatives to expand solar energy generation, including a $625 million grid-connected rooftop solar programme.
Significance
 Finance is the biggest challenge before the ambitious project. Inclusion of World Bank would give it the necessary stimulus.
 It will also help in getting support from other multilateral financial institutions and countries.
 This gives the project an international character and recognition.
About ISA
 International Solar Alliance brings together developing and developed countries to expand energy access by accelerating solar power deployment.
 It aims to utilize the solar energy potential of countries situated between the Tropics of Cancer and Capricorn which receive abundant sunshine for around 300 days a year.
 It was launched at the UN Climate Change Conference in Paris in 2015 by India and France.
 Its HQ is situated in India. Further, India is providing land and $30 million to form a secretariat for the Alliance, and also support it for five years.
 Among the tasks that the Alliance would pursue are, cooperation in training, building institutions, regulatory issues, common standards, and investment including joint ventures.

1.17. FREEDOM OF SPEECH: BAN ON MURUGAN'S BOOK REVERSED
Background
 Perumal Murugan, an award-winning Tamil writer had come under sustained attack from local caste-based groups for his fictional novel Mathorubhagan (translated into English as One Part Woman) for hurting their sentiments.
 He was forced to write an 'unconditional apology' at the instance of police, local officials and protestors. He later publicly announced to give up writing.
 The Madras HC has rejected the demand for banning the book or prosecuting the author.
High Court Verdict
 It is a liberal and progressive judgment that emphasises and upholds the freedom of writers to write.
 The HC lambasted the practice of self-appointed super censors in the society to decide on what the people should read or watch. In Court's opinion those professing to be hurt by a book should just avoid reading it. This should set a precedent among others.
 The Bench also reminded the state authorities, like police and the local officials, of their duty to secure freedom of expression and not to succumb to mob demands in the name of preserving law and order.
Issue of Judicial Censorship
 Indian Criminal law prescribes a two-step safeguard on freedom of speech in case of banning a book:
 First is the application of mind by the government when it bans a book under S.95 and 96 of the CrPC
 Second is the judicial review of the government's move by a writ petition.
 The trouble is the frequent manner of straightway approaching the court for a ban. This by-passing of the two-way safeguard is being increasingly entertained by the Courts.
 This is an issue as a sole decision over the suitability of the book by the Court is not what the constitution or the law warrants. This form of analysis is heavily judge-centric, depending almost entirely on what an individual judge feels about a controversial work.
 Thus, the courts must take care of this fact as well or there will be huge uncertainty over the status of freedom of speech vis-a vis banning a book.

1.18. RULES TO CHECK NEPOTISM BY CIVIL SERVANTS
Why in news?
To check nepotism and corruption, the central government has clarified that the civil servants shall not use their position to grant any benefit to their immediate family or any other person related to any of them by blood or marriage.
Need
The order by the department of personnel and training (DoPT) came after doubts were raised over the definition of "members of family" under the Central Civil Services (Conduct) Rules, 1964.
Benefits of checking Nepotism
 For impartiality, objectivity and Non-Partisanship: Rule 4(1) of the CCS (Conduct) Rules, no government servant shall use their position or influence directly or indirectly to secure employment for any member of their family in any company or firm.
 For Probity in governance and Integrity: Rule 4(3) states that, "No government servant shall in the discharge of his official duties deal with any matter or give or sanction any contract to any company or firm or any other person if any member of his family is employed in that company or firm.
 For Efficiency and Quality of service delivery: To review the performance of every official when they reach the 50-55 age bracket and complete 30 years in service.
 Also to reduce corruption: the centre last year introduced a rule to allow civil servants to be removed from service in public interest even if the evidence against them is not sufficient to initiate disciplinary proceedings.
1.19. BENEFITS TO ASYLUM SEEKERS
Why in news?
 The Union Cabinet has approved proposals for extending several benefits to "persecuted" minorities from Pakistan, Afghanistan and Bangladesh living in India on long-term visas.
 They can now take up self-employment, buy property, open bank accounts and get driving licences, PAN card and Aadhaar.
What is Asylum?
 Protection or safety, especially that given by a government to people who have been forced to leave their own countries for their safety or because of war.
 India is offering asylum to considerable number of refugees however India is not the signatories of the 1951 Refugee convention of the UN.
 There is a considerable increase in number of people seeking asylum in India. India does not have national asylum legislation. In India foreigners are generally dealt under
 The Registration of Foreigners Act, 1939
 The Foreigners Act, 1946
 The Foreigners Order, 1948
Proposed changes
 Many members of the Hindu, Sikh, Buddhist, Jain, Parsi and Christian communities have come to India fearing persecution in their home countries.
 The registration fees for citizenship will be reduced to Rs. 100 from Rs. 3,000-15,000.
 The Citizenship Rules, 2009, will be amended soon to help such persons get citizenship.
 The beneficiaries can buy property for self-occupation or use in self-employment.
 The beneficiaries are allowed free movement within the State of their stay, and can get their long-term visa papers transferred from one State to another.
 The government has permitted them to apply for long-term visas from the place of their current residence, even if they have moved to the present place without seeking permission.
 The government has waived the penalty on late application for extension of their short- or long-term visas.
 The Collector or District Magistrate would be empowered to authorise an officer not below the rank of Sub-divisional Magistrate for administering the oath of allegiance to the applicant.
 The powers will be delegated to the Collectors of 16 districts in Chhattisgarh, Gujarat, Madhya Pradesh, Maharashtra, Delhi, Rajasthan and Uttar Pradesh for two years for registration as citizens of India.
Way forward
The Centre has taken several measures in the past two years to alleviate the problems of the persecuted minorities from the neighbouring countries who have been living here for long. The proposed changes will have positive effect on the lives of the asylum seekers who have been exploited and subjected to violence.
The changes should be made applicable to all the communities irrespective of religion they belong to.
_______________________________
Previous Year Question
Which one of the following authorities recommends the principles governing the grant-in-aid of the revenues to the states out of the Consolidated Fund of India? Prelims 2002
(a) Finance Commission (b) Inter-State Council
(c) Union Ministry of Finance (d) Public Accounts Committee
________________________________
1.20. NATIONAL ELECTORAL ROLL PURIFICATION 2016 (NERP 2016)
 The Election Commission of India (ECI) has launched the National Electoral Roll Purification (NERP) programme across the country to correct errors in electoral rolls and enrolment of all eligible citizens, among other things.
 It will ensure single electoral register entry for every eligible elector with unique Elector Photo Identity Card (EPIC) number, removal of all absent, shifted or dead electors' entries and repeat entries.
 Geographic Information System (GIS) would be used to standardise sections, polling station boundaries and locations.
 The Commission has launched the intensive field implementation phase of NERP 2016 which would culminate well before the next draft publication of
Electoral Rolls for annual summary revision with January 1, 2017 as qualifying date.
 Provision has been made to provide the information electronically on National Voters Service Portal (NVSP).
_____________________________
The NERP-2016 strives to improve the fidelity of the rolls through effective use of technology and SVEEP (Systematic Voters' Education and Electoral Participation) strategies.
Information Technology is being extensively used in information collection, processing, sharing and efficient decision making.
Comprehensive training for Booth Level Officer has been done on NERP and the orientation of the members of Booth Awareness Groups (BAGs) will be done to conduct an effective SVEEP campaign.
_____________________________
1.21. MADHYA PRADESH BECOMES FIRST STATE TO HAVE 'HAPPINESS DEPARTMENT' IN MADHYA PRADESH
 Madhya Pradesh recently became the first State in the country to set up a 'Happiness Department', on the lines of the neighbouring country Bhutan.
 A panel of experts will be formed in the newly-constituted department which will give suggestions to ensure happiness in the lives of the people.
About Gross National happiness of Bhutan
 The Gross National Happiness (GNH) index was proposed by Bhutan in 1971 to champion a novel approach to measure prosperity by measuring spiritual, physical, social and environmental well-being of its citizens and environment.
 The four pillars of GNH are:
 Sustainable and equitable socio-economic development,
 Conservation of the environment,
 Preservation and promotion of culture,
 Good governance.
 The Centre for Bhutan Studies identifies nine indicators which were used in the survey:
 Standard of Living,
 Health of the population
 Education
 Ecosystem vitality and diversity
 Cultural vitality and diversity
 Time use and balance
 Good governance
 Community vitality
 Emotional well-being