Online Dispute Resolution
Why in news?
Recently, NITI Aayog has planned to launch a new first-of-its-kind Online Dispute Resolution (ODR) handbook in India.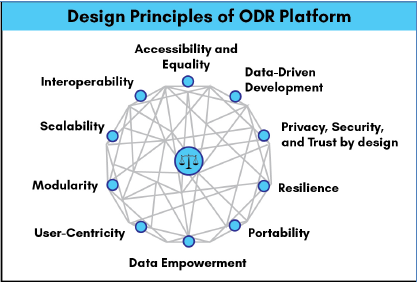 What is Online Dispute Resolution (ODR)?
ODR is the resolution of disputes outside courts, particularly of small and mediumvalue cases, using digital technology and techniques of alternate dispute resolution (ADR), such as negotiation, mediation, and arbitration.
ODR realizes the notion that 'courts should be a service not a place'.
The developments in information and communication technology (ICT) and increased access to internet has played a key role in ODR.
ODR play a key role in achieving the ideal enshrined in Indian constitution of 'access to justice' for all.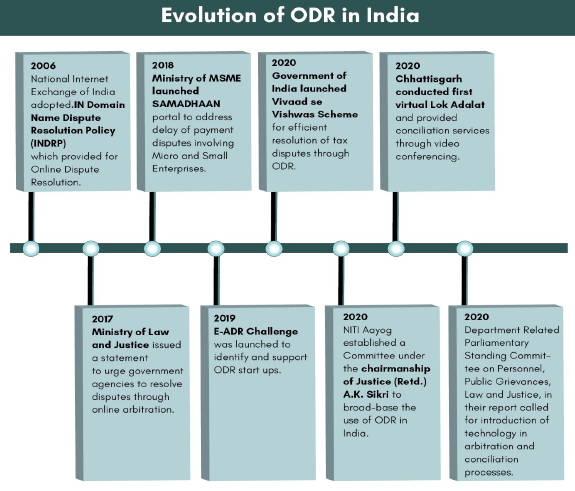 Present status of ODR in India
e-Courts Mission Mode Project: Under the leadership of the E-Committee for monitoring the use of Technology and Administrative Reforms in the Indian Judiciary, the project continues to advocate and work towards greater reliance on ICT tools in the justice delivery process.
Conducting e-Lok Adalats: The COVID-19 pandemic has provided an impetus to the authorities to use online mechanisms in their daily functioning. As a consequence, India saw the organisation of various e-Lok Adalats across States. The first e-Lok Adalat organised by the Chhattisgarh.
Virtual Courts: The Supreme Court has observed that some cases could partly or entirely be concluded 'online' and recommended the resolution of simple cases like those concerning traffic challans and cheque bouncing through online mechanisms.
RBI's ODR Policy on Digital Payments: In 2019, the Nandan Nilekani led High level Committee on Deepening Digital Payments, established by Reserve Bank of India recommended the setting up of a two-tiered ODR system to handle complaints arising out of digital payments.
Draft National E-Commerce Policy: The policy suggests the use of an electronic grievance redressal system including dissemination of compensation electronically for disputes arising from e-commerce.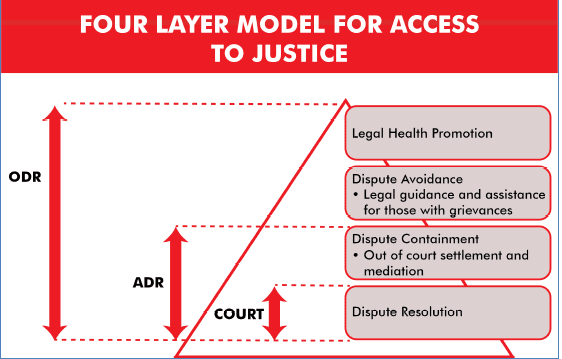 Benefits of ODR
Cost effective: ODR offers a cost-effective mode of dispute resolution for the disputants as well as the neutrals. ODR has the potential to reduce legal costs by reducing time for resolution and by doing away with the need for legal advice.
Convenient and quick dispute resolution: ODR can address delays by providing a faster and more convenient process for resolution of disputes, also eliminates the need for travel and synchronization of schedules.
Increased access to justice: ODR tools such as online negotiation and mediation are premised on mutually arriving at an agreement and hence they make the dispute resolution process less adversarial and complicated for the parties which in turn increase access to justice.
Removes unconscious bias: ODR processes lessen the unconscious bias of the neutral while resolving disputes. ODR platforms detaches audio visual cues relating to the gender, social status, ethnicity, race, etc. and helps in resolving disputes based on the claims and information submitted by the disputing parties, rather than who these parties are.
Improved legal heath of the society: Greater access to dispute resolution processes will result in improved legal health of the society where individuals and businesses are aware of their rights and have the means to enforce them which will result in improved 'Ease of Doing Business' rankings for India especially on the 'enforcement of contracts' parameter.
Complete transformation of the legal paradigm: The new paradigm provides an opportunity to accord dignity and respect to every citizen in an effective, efficient and expeditious manner and it allows for a comprehensive vision of justice, which is fair in its decisions and processes, transparent in its conduct, enforceable and legitimized by the State, and above all accessible to all advancing equity.
Challenges faced in adoption of ODR:
Structural Challenges:

Digital literacy: In India, digital literacy often varies across age, ethnicity and geography. This digital divide needs to be addressed to ensure that ODR is adopted by the society at large and not remain limited to urban areas.
Digital infrastructure: A broad base adoption of ODR will require essential technology infrastructure across the country which includes access to computers, smart phones and medium to high bandwidth internet connection for at least the length of time it takes to conduct meaningful hearings.
Gender divide in access to technology: As per Internet India Report 2019, women constitute only 1/3rd of internet users in India and 28 percent in rural areas. Such gender divide in accessing the internet might result in uneven access to ODR services, thereby exacerbating the gender divide that already exists in terms of access to justice through traditional courts.

Behavioural Challenges:

Lack of awareness regarding ODR: The lack of awareness regarding ODR translates into litigants and businesses having low confidence in ODR processes and restricted application of ODR in sectors with huge potential for such as MSME, consumer disputes etc.
Role of the government and the PSUs: According to the Ministry of Law and Justice, government departments are a party to around '46 percent' of court cases. Adoptions of ODR to resolve inter and intra Governmental disputes would be a key step in boosting confidence in the process.

Operational Challenges:

Privacy and confidentiality concerns: Greater integration of technology and reduced face to face interactions create new challenges for privacy and confidentiality which include online impersonation, breach of confidentiality by circulation of documents and data shared during ODR processes, tampering of digital evidence or digitally delivered awards/ agreements.
Archaic Legal Processes: The archaic process does not work well with the end-to-end online process of dispute resolution and create barriers for ODR. Further, in India there is no provision for online notarization of documents. As per the Notaries Rule 1956, notarization of documents can only be done in person.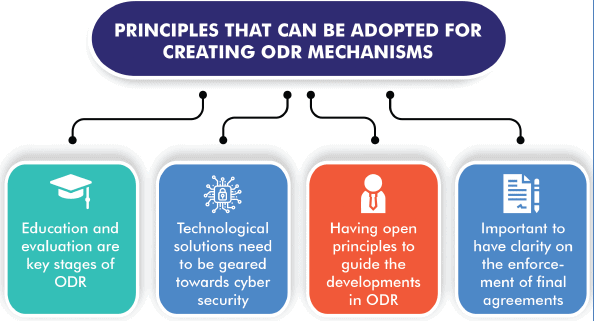 Way forward
Increase physical access to infrastructure and technology: It can only be achieved by the combined efforts of two key stakeholders namely, the Government and Judiciary.
Increase digital literacy: To unlock the true potential of ICT, users of such technology should be digitally literate.
Capacity building: It is important that various actors undertake collaborative efforts to introduce training and certification programmes for enhancing capacity of mediators to scale up mediation in the country.
Adopt ODR for Government litigation: The Government can mandate certain categories of disputes be resolved through ODR before approaching courts.
Regulation of ODR: With new players entering the field of ODR, it is necessary that the regulatory model protects the rights of the end users while ensuring that over-regulation does not stifle innovation.
Parliamentary Functioning
Why in news?
Recently, many high impact Bills were introduced and passed in the Parliament in a haste which has raised multiple questions regarding fading business inside the Parliament.
Recent instances of reduced Parliament Functioning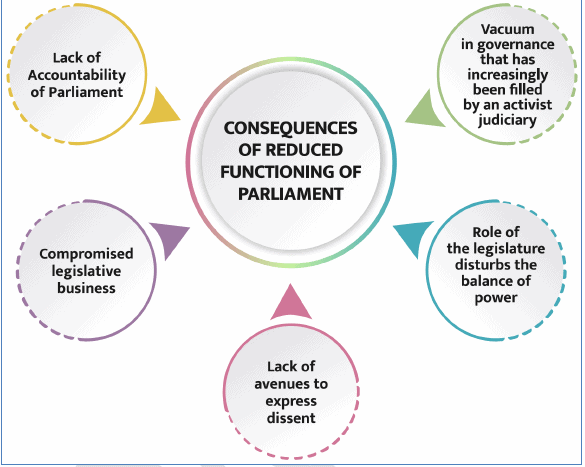 No Bill scrutiny in Budget session: There has been the absence of careful scrutiny of Bills. During the budget session 2021, 13 Bills were introduced, and not even one of them was referred to a parliamentary committee for examination.

For example, hasty passage of Government of National Capital Territory of Delhi (Amendment) Bill, 2021, the Mines and Minerals (Development and Regulation) Amendment Bill, 2021, etc, indicates a sign of renunciation by the Parliament of its duty to scrutinise Bills, rather than as a sign of efficiency.

Decreasing trend of bills referred: The 14th and 15th Lok Sabha saw 60% and 71% of bills referred to committees. This number has dipped sharply to just 27% in the 16th Lok Sabha and just 11% in the 17th Lok Sabha (2019-present).
Reducing attendances: Average attendance in the Lok Sabha dipped to 71% and in the Rajya Sabha to 74%.
Use of Money Bill route: The last few years have seen the dubious practice of marking Bills as 'Money Bills' and getting them past the Rajya Sabha.

The Finance Bills, over the last few years, have contained several unconnected items such as restructuring of tribunals, introduction of electoral bonds, amendments to the foreign contribution act as well as labelling of Aadhaar Act as money bill.

Lack of discussion of Union Budget: The Constitution empowers the Lok Sabha to approve the expenditure Budget of each department and Ministry. The Lok Sabha, in recent budget session, had listed the budget of just five Ministries for detailed discussion and discussed only three of these.

76% of the total Budget was approved without any discussion.

Absence of Deputy Speaker: Article 93 of the Constitution states that the House of the People shall choose two members of the House to be respectively Speaker and Deputy Speaker. However in the current Lok Sabha there has been lot of absence of a Deputy Speaker.
Why it is important to ensure proper functioning of the parliament?

Central role in Democracy: Parliament has the central role in our democracy as the representative body that checks and balances the work of the government.
Examine Legislative proposals: Parliament is expected to examine all legislative proposals in detail, understand their nuances and implications of the provisions, and decide on the appropriate way forward.
Fulfilling constitutional mandate: In order to fulfil its constitutional mandate, it is imperative that Parliament functions effectively.

Articles 75 of the Constitution provides that the Council of Ministers shall be collectively responsible to the House of the People.

Representative body: Being a diverse country, a well functioned Parliamentary system in India must uphold the grounds of representativeness, responsiveness and accountability.
How Parliamentary Functioning can be improved?
Increase the number of sittings: Parliament should have more sitting dates and a clear plan of those dates. The National Commission to Review the Working of the Constitution has recommended the minimum number of sittings for Lok Sabha and Rajya Sabha be fixed at 120 and 100 respectively.
Research support to Members of Parliament: Institutional research support will allow committees to examine issues that are technical in nature and serve as expert bodies to examine complex policy issues.
Committee referrals: Requiring that all bills and budgets are examined by committees and extend the tenure of committee members so as to fully utilise their technical expertise on a particular subject in legislative work.
Regular Monitoring: There is a need to formulate mechanism for a regular assessment of the performance of the committee.
Responsible Opposition: Members must question, object and suggest alternative courses of action, but they must do so through reasoned and persuasive argument.

Shadow Cabinet allows for detailed tracking and scrutiny of ministries and assists MPs in making constructive suggestions.

Public feedback: A widespread debate, over Parliamentary functioning in the country, must be undertaken by the government, which would encourage people's participation in the long run.
Conclusion
There is need to examine all legislative proposals in detail, understand their nuances and implications of the provisions, and decide on the appropriate way forward. In order to fulfil its constitutional mandate, it is imperative that Parliament functions effectively by imbibing the spirit of 3Ds i.e., Debate, Discussion and Deliberation.
State and Regulation of Temples
Why in News?
In the midst of the recent electoral campaign in Tamil Nadu, a movement to free Hindu temples from state control
under Hindu Religious and Charitable Endowments (HR&CE) laws gained some traction.
Background
The practice of State control over religious institutions began during the colonial rule in the Bengal and Madras Presidency in 1817.

Madras Hindu Religious Endowments Act of 1925 which was the first enactment that related purely to Hindu religious endowments.

Since then several States, like Tamil Nadu, Karnataka, Andhra Pradesh, Telangana, Kerala, Maharashtra, Odisha, Himachal Pradesh, Bihar, Madhya Pradesh and Rajasthan, among others, have put in place some form of legislation for the management of Hindu Religious Institutions.
These laws mostly involve setting up of administrative bodies such as HR&CE departments with functions involving overseeing the functioning & administration of temples, appointment of non-hereditary trustees, approval of budgets, etc.

In some cases, they are also empowered to appoint Executive Officers, or government officers to directly oversee and manage temple administration.

However, in recent times several questions have been raised on the efficacy, need and constitutional validity of State control over religious institutions, specifically temples.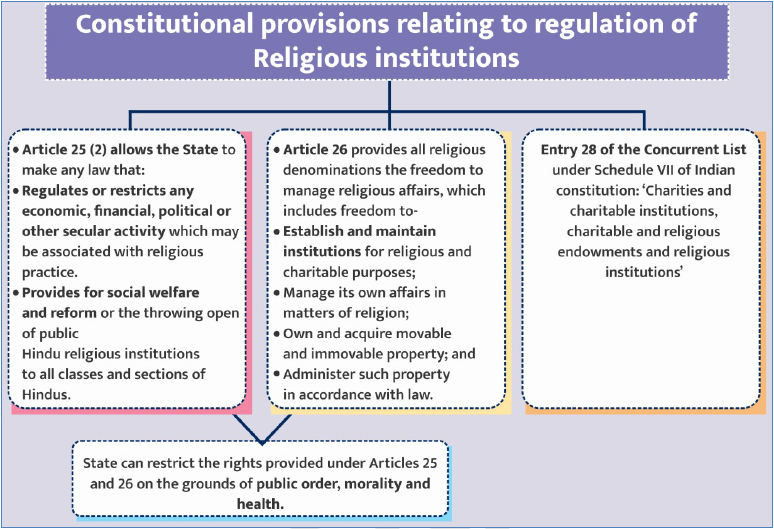 Arguments in favour of State intervention in management of temples
Social reforms: Several reforms have been brought through HR&CE laws such as challenging hereditary priesthood, ensuring non discrimination in entry in public temples etc.
India's secularism does not promote rigid separation of state and religion: The concept of secularism in India is distinct from their western antecedents. India's secularism limits the divide between the state and religion.
Adequate representation of all sections: Temple management bodies have often been prone to be taken over by dominant groups due to historical imbalances in social power, which leads to perpetuation of social evils such as caste discrimination in several cases. Government intervention can help enhance representation of such marginalized sections.

For instance, the Tamil Nadu HR&CE Act, mandates that where a Board of Trustees for a temple needs to be appointed by the HR&CE Department, one of the three persons should be a member of Scheduled Caste or Scheduled Tribe communities.

Efficient management of temples: Charitable Endowment Act exists for better administration and preservation of temples and the endowed properties and to ensure that Hindu public endowments were being put to use for the true purposes for which the endowments were first made
Large volume of funds: Several temples in India manage sizable amounts of movable and immovable assets. A certain level of Government oversight is needed to ensure that their funds are being properly applied and to prevent financial irregularities.
Importance of temples for local economy: The complex and networked temple economy have provided and continue to provide employment opportunities and livelihood to a host of people, such as priests, artists, performers, flower and puja materials vendors, cooks, etc.
Prevalent issues pertaining to state interference in the matters of Temple management
Discrimination with respect to other religions: The Act violates Articles 14 (right to equality) and 15 (prohibition of discrimination on grounds of religion) of the Constitution since there is an absence of such enactments governing institutions belonging to other religious denominations.
Ineffective in ensuring representation of women on temple boards: Absence of women at the highest level of decision-making is disappointing.
Lack of spiritual connect: There is a widespread contention that Government appointed Trustees and Committee Members lacked vision and were appointed without consideration for their commitment to religiosity and maintaining the legacies of temples, and capacities to manage.
Corrupt practices in Management of Temple Property: Cases have been reported where government functionaries were involved in cases of mis-allocation of temple lands or stalls, misappropriation and misuse of temple funds, idol thefts etc.
Erosion of Cultural Capital: State control exercised through centralized power structure has been counterproductive to nurturing cultural capital which requires deep commitment and local management.
Politicization of temple bodies: The memberships of temple boards and trusts and appointments of executive officers are beset with political motives.
Dismal record in maintaining the archaeological nature of the structures: There are critical gaps in effectiveness in archaeological control of work on temples in active use, due to the lack of proper application of available technical knowledge and skill by Government employees.
Undue interference in religious practices and traditions: Government interference has led to grievances like interruption of ancient lineage of priesthood, discontinuing usage of temple collections to set up ved pathshalas and educational institutions for teaching Indian philosophy.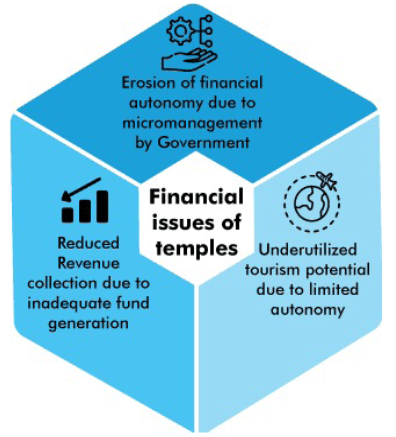 Way Forward
The need of the hour is in creating a Governance and management eco system that ensures better ethical standards, accountability and management of temples; maintenance of their assets and strengthening the cultural capital. This can be achieved through steps such as:
Maintaining a glass wall between spiritual and administrative domains: The administration will play more supporting and enabling role than supervisory and regulatory role.
Building and strengthening institutions internally: The governing principle should be one of maximum restrain by Government and building societal institutions to manage spiritual and administrative functions internally.

Temple Board should be set up with members representing various ecosystem of temples, like mutts, trustees, agama specialists, researchers and academicians, and professionals like CAs and lawyers etc and also ensure representation of women.

Club temples on the basis of hub and spoke model: in which larger and administratively strong temples support smaller temples in the region. The more endowed temples with surplus funds will support less endowed and weaker temples.
Enhancing transparency in government functioning: to hold the state responsible to the administrative standards prescribed under the law.
Public (general public) Partnership: A balanced composition of Board at Apex level and of Committees at temple level that will ensure that no particular segment dominates, and independent voices are heard and independence is maintained.
Restricting role of HR & CE department: to regulatory, and supportive functions such as inventorying, recording, and protecting all the assets of all categories of temples; secretariat functions; laying down rules of appointments; handling Vigilance, Public Grievances and complaints of general public, employees, harassments, and pilgrims etc.