Definition
A noun is a part of speech that is used to name a person, place, thing, quality, or action. Examples: Mango, girl, boy, cat, etc. Any name given to a person, thing, animal or place is called a noun. Nouns are words used to refer to objects, places and living things. Some nouns also refer to feelings and emotions.
Fundamentals
Possessive Case: When a noun or a pronoun is used to show ownership or possession, authority, etc., it is said to be in the Possessive Case.
For example: This is Rohit's bike.
When the noun is Singular, the Possessive Case is formed by adding's (apostrophe 'S) to the noun and when plural noun ends with an 's', we put only an apostrophe after the 'S' to form its possessive case.
Examples: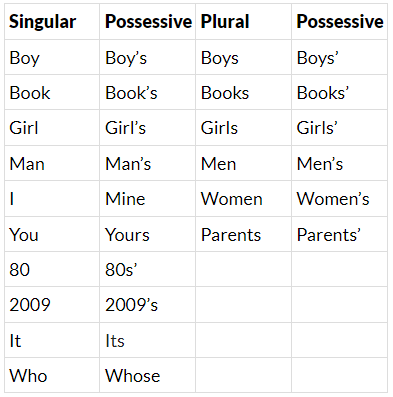 Apostrophe or no apostrophe after noun ends in 's'
When a proper noun ends in s, the possessive form can take either an apostrophe ('s) or only an apostrophe () at the end.
Examples:
This is a portrait of the King Charles's wife.
This is a portrait of the King Charles' wife.
My uncle, James's factory was burnt down last night.
My uncle, James' factory was burnt down last night.
Two possessive nouns one after the other
Sometimes, two possessive nouns appearing one after the other may be necessary to indicate double ownership.
Examples:
She is Vicky's brother's girlfriend.
This is Radhika's father's car.
Apostrophe indicates joint ownership When two nouns are joint owners, only the second noun is in the possessive form of an apostrophe and 's'.
Examples:
On that hill is Jack and Jill's house. The house belongs to both Jack and
Payal and Payal's mother is a doctor.
Compound possessive nouns If it is a hyphenated compound noun, add the apostrophe ('s) to the last word.
Example:
My father-in-law's car hit a van the other day.