Short Answer Type Question
Q.1. The grass looks green, papaya appears yellow. Which cell organelle is responsible for this? [CBSE 2016]
Ans. Plastids
These are found in plant cells only. Plastids are the major cell organelles in plants. On the basis of pigments present in plastids, they are divided into two types (i) the colourless leucoplasts and (ii) the pigmented chromoplasts. The colourless leucoplasts store starch, oil and protein granules whereas the pigmented chromoplasts have different colours and can be of several types. The most important ones are those containing the pigment chlorophyll, known as chloroplasts, which is responsible for the preparation of food by photosynthesis. Other chromoplasts contain non-green pigments, which are responsible for the characteristic colours of fruits and flowers.

Q.2. Draw the diagram of a plant cell and label any three parts which make it different from an animal cell.
Ans.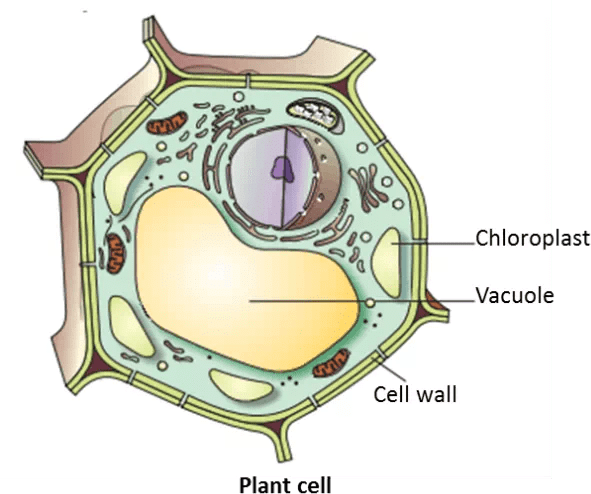 Label: cell wall, large vacuole, chloroplast.

Q.3. Name the cell organelle which is termed as a powerhouse of the cell. [CBSE 2016]
Ans. Mitochondria.

Q.4. 'Every multicellular organism has arisen from a single cell'. Justify this statement. [CBSE 2016]
Ans. Cells divide to produce cells of their own kind. Thus, all cells come from preexisting cells and hence every multicellular organism has arisen from a single cell.

Q.5. Name the process by which unicellular freshwater organisms and most plant cells fend to gain water. [CBSE 2015]
Ans. Osmosis.

Q.6. Give two examples of organisms in which a single cell performs all the functions.
OR
Name two unicellular organisms. [CBSE 2015]
Ans. Amoeba and Paramoecium.
Long Answer Type Questions
Q.1. Describe the structure of the nucleus. [CBSE 2011]
OR
Explain in detail what do you know about the structure of the nucleus. [CBSE 2015]
Ans. Robert Brown in 1831 discovered the nucleus in the cell. The nucleus is the largest cell structure. It is spherical or oval in shape and is a prominent structure. It is usually located in the centre of the cell. Nucleus has the following important parts: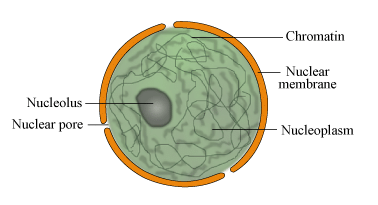 (i) Nuclear membrane: It is a double-layered membrane, which separates nucleus from the cytoplasm.
(ii) Nucleoplasm: It is a homogeneous and granular dense fluid present inside the nucleus, in which chromatin and nucleolus are suspended.
(iii) Chromatin material: It consists of long, coiled network of thread-like structures. The chromatin material is made up of deoxyribonucleic acid (DNA) which is responsible for storing and transmitting the hereditary information from one generation to the other. It condenses into compact rod -like bodies called chromosomes at the time of cell division.
(iv) Nucleolus: It is more or less round structure found inside the nucleus. The nucleolus contains RNA (ribonucleic acid) and proteins. RNA is helpful in protein synthes is in the cytoplasm.