Q 1. Give the structures of the products in the following reaction Sucrose

A+B [IIT 2000]
Ans.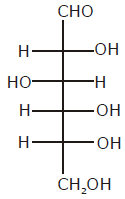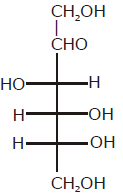 Q 2. Give the structure of the products in the following reaction [IIT 2000]


Ans.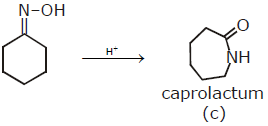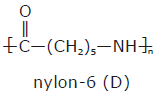 Q 3. Aspartame, an artificial sweetener, is a peptide and has the following structure : [IIT 2001]

(ii) Write the zwitter ionic structure.
(iii) Write the structure of the amino acids obtained from the hydrolysis of aspartame.
(iv) Which of the two amino acids is more hydrophobic?
Ans.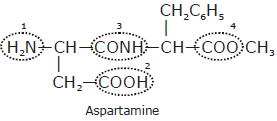 (iv) B is more hydrophobic due to presence of larger organic gp., benzyl gp. (C6H5CH2-).

Q 4. Write the structure of alanine at pH = 2 and pH = 10. [IIT 2002]
Ans.


Q 5. Write down the heterogeneous catalyst involved in the polymerization of ethylene. [IIT 2003]
Ans. nCH2 = CH2

Zieglar Natta catalyst (R3Al + TiCl4) acts as heterogenous catalyst. While Willikinson's Catalyst ((Ph3P)3.RhCl) acts as homogenous catalyst.

Q 6.. Following two amino acids liosine and glutamine form dipeptide linkage. What are two possible dipeptides ?


[IIT 2003]
Ans.
Peptide linkage is

and it is formed by the condensatoin between —NH2 group and —COOH group as follows :
In given amino acids liosine and glutamine the two possible dipeptides are formed as follows:
(i) When both NH2 gp. α to —COOH are condensed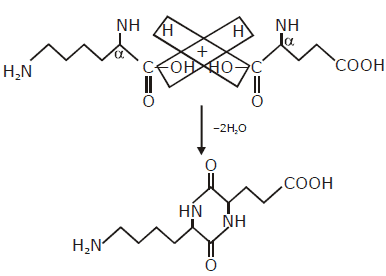 (ii) When α-NH2 of both amino acids is used but in one terminal —COOH gp. lacking α-NH2 gp. is used.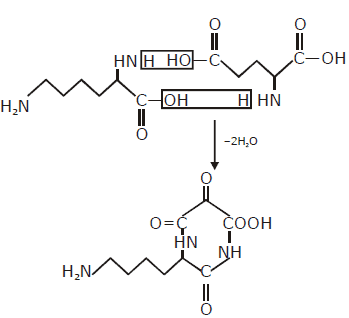 Q 7. The structure of D-glucose is as follows : [IIT 2004]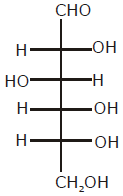 (a) Draw the structure of L-glucose
(b) Give the reaction of L-glucose with Tollen's reagent
Ans. (a) The structure of L-glucose can be drawn by reversing the position of H and OH at the second last C-atom of D-glucose given i.e.,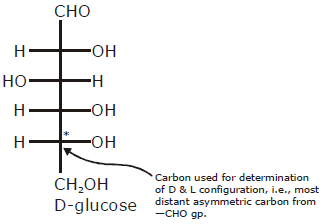 Hence structure of L-glucose will be :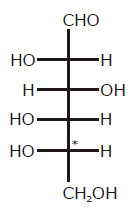 Position of H and OH at C* is opposite to that in D.
(b) With Tollen's reagent the terminal —CHO group oxidised to —COOH group as :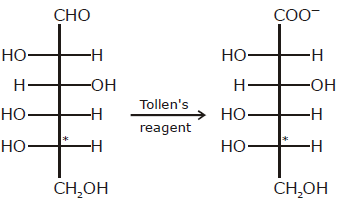 Q 8. Which of the following disaccharide will not reduce Tollen's reagent ?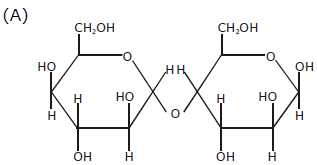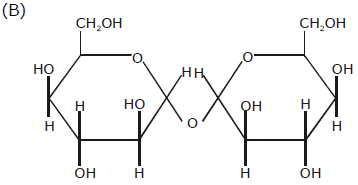 Ans. In structure (a), one ring has a free hemiacetal group, will hydrolyse into open chain in aqueous solution and therefore will reduce Tollen's reagent. Structure 'b' has only acetyl groups, will not hydrolyse in aqueous solution into open chain, will not reduce Tollen's reagent.

Q 9. Monomer A of a polymer on ozonolysis yields two moles of HCHO and one mole of CH3COCHO.
(a) Deduce the structure of A.
(b) Write the structure of "all cis"-form of polymer of compound A. [IIT 2005]

Ans.
Q 10. What is the total number of basic grops in the following form of lysine ? [IIT 2010]


Ans. 2
Q 11. When the following aldohexose exists in its D-configuration, the total number stereoisomers in its pyranose form is [IIT 2012]


Ans. 8
Q 12. The substituents R1 and R2 for nine peptides are listed in the table given blow. How many of these peptides are positively charged at pH = 7.0? [IIT 2012]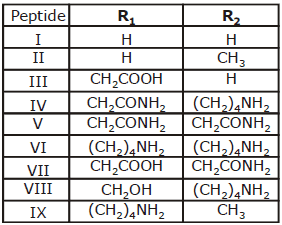 Ans. 4

Q 13. The total number of lone-pairs of electrons in melamine is [IIT(Advance) 2013]
Ans. 0006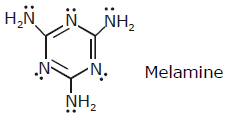 Lone pairs of electrons in malamine is 6.

Q 14. A tetrapeptide has –COOH group on alanine. This produces glycine (Gly), valine (Val), phenyl alanine (Phe) and alanine (Ala), on complete hydrolysis. For this tetrapeptite, the number of possible sequencess (primary structures) with –NH2 group attached to a chiral center is IIT(Advance) 2013]

Ans. 0004
Phe –– Gly –– Val –– Ala
Phe –– Val –– Gly –– Ala
Val –– Gly –– Phe –– Ala
Val –– Phe –– Gly –– Ala
(Glycine has no chiral centre)