Short Answer Questions
Q.1. How has multi-party system strengthened democracy in India? Explain. [2008]
Ans. In India, the multi-party system has allowed various parties to come together in a coalition. Several parties have joined hands in elections to contest and win power.
Example: In India, there have been three such major alliances in 2004 parliamentary elections – the National Democratic Alliance, the United Progressive Alliance and the Left Front.
These alliances may appear messy or unstable but they have allowed a variety of interests and opinions to enjoy political representation.
Long Answer Questions
Q.1. Why is there a lack of internal democracy within the political parties in India? Explain with examples. [2008]
Ans.
There is a lack of democracy within the political parties due to the following reasons:
(i) There is a tendency in political parties towards the concentration of power in one or a few leaders at the top.
(ii) Parties do not hold organisational meetings and do not conduct internal elections regularly.
(iii) Parties do not have the means or the connections needed to influence the decisions.
(iv) Parties do not keep membership register.
All these features can be found in India's parties like Indian National Congress, BJP, BSP, SP, etc.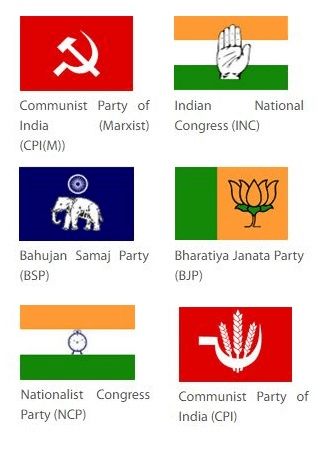 Q.2. Mention different types of party system. Write one merit of each ? Which party systems do we have in India. [2011 (T-2)]
Ans.
There are three types of party system existed all over the world:
(i) One-party system: There is no choice or competition in this system. The party nominate the candidate and the voters have two choices – Either not to vote or write Yes or No to the candidate. This kind of system existed in communist countries or in authoritarian regimes. Example – China, North Korea and Cuba. Supporters of one-party system claim that this system helps the government in mobilising the talents of all citizens towards a common goal.
(ii) Two-party system: In this case, two parties are dominated in the system. The winner required maximum number of vote. The smaller party usually merge with bigger one or drop out from the competition. Example – Great Britain and Canada. Supporters of this system believe that this system help the Government to go smooth, it also prevents danger of fragmentation.
(iii) Multi-party system: In this system, three or more parties are in the competition to gain control of the government separately or in coalition. When not any single party gain majority votes then several parties join and form a coalition government. Example-India. Supporters of this system point out that it allows more points of view to be presented in the government.

Q.3. State any two advantages of the multi-party system. In what way is an alliance different from a coalition Government? [2011 (T-2)]
Ans.
If several parties compete for power, more them two parties have a reasonable chance of coming to power either on their own strength or in alliance with others.
This system allows a variety of interests and opinions to enjoy political representation. In a coalition government, the government is formed by various parties coming together in a coalition. When several parties in a multi-party system join hands for the purpose of contesting elections and arising power, it is called an alliance or a front.
Q.4. Explain any two reforms implemented in our country to improve the political parties. [2011 (T-2)]
Ans.
The constitution was amended (Anti-Defection Act) to prevent elected MLAs and MPs from changing parties. This was done because many elected representatives were indulging in defection to become ministers or for cash rewards.
The supreme court passed an order to reduce the influence of money and criminals. Now, it is mandatory for every candidate who contests elections to file an affidavit giving details of his property.