Q.1. In the above sequence of reactions, A and D, respectively, are: (2019)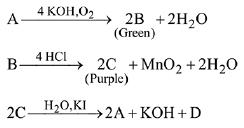 (1) KI and KMnO4
(2) MnO2 and KIO3
(3) KIO3 and MnO2
(4) KI and K2MnO4
Ans. (2)






Q.2. Thermal decomposition of a Mn compound (X) at 513 K results in compound Y, MnO2 and a gaseous product. MnO2 reacts with NaCl and concentrated H2SO4, to give a pungent gas Z. X, Y, and Z, respectively, are: (2019)
(1) K3MnO4, KMnO4 and Cl2
(2) K2MnO4, KMnO4 and SO2
(3) KMnO4, K2MnO4 and Cl2
(4) K2MnO4, KMnO4 and Cl2
Ans. (1)






Q.3. When metal 'M' is treated with NaOH, a white gelatinous precipitate 'X' is obtained, which is soluble in excess of NaOH. Compound 'X' when heated strongly gives an oxide which is used in chromatography as an adsorbent. The metal 'M' is (2018)
(1) Fe
(2) Zn
(3) Ca
(4) Al
Ans. (4)




Q.4. An alkali is titrated against an acid with methyl orange as indicator, which of the following is a correct combination? (2018)



Ans. (4)
Methyl orange is weak organic base. It is used in the titration of WB vs SA



In basic medium, equilibrium lies in backward direction and therefore it shows yellow colour.
In acidic medium, equilibrium shifts in forward direction and therefore, colour changes from yellow to red.

Q.5. A white sodium salt dissolves readily in water to give a solution which is neutral to litmus. When silver nitrate solution is added to the aforementioned solution, a white precipitate is obtained which does not dissolve in dil. nitric acid. The anion is: (2018)
(1) Cl-
(2) S2
(3) SO42-
(4) CO32-
Ans. (1)
NaCl is a salt of strong acid and strong base, hence on dissolution will give neutral solution. As white ppt. is obtained by the addition of AgNO3 to the solution of Na salt, it can be of AgCl. Further, AgCl is also insoluble in HNO3. Hence, the anion is Cl-.

Q.6. For standardizing NaOH solution, which of the following is used as a primary standard? (2018)
(1) Sodium tetraborate
(2) Ferrous Ammonium Sulfate
(3) Oxalic acid
(4) dil. HCl
Ans. (3)
Oxalic acid is used as a primary standard for NaOH standardizing.

Q.7. The incorrect statement is: (2018)
(1) Cu2+ ion gives chocolate coloured precipitate with potassium ferrocyanide solution
(2) Cu2+ and Ni2+ ions give black precipitate with H2S in presence of HCl solution
(3) Ferric ion gives blood red colour with potassium thiocyanate
(4) Cu2+ salts give red coloured borax bead test in reducing flame
Ans. (2)
Due to common ion effect, sufficient S2– concentration is not produced and no ppt formed of NiS.

Q.8. Sodium salt of an organic acid 'X' produces effervescence with conc. H2SO4. 'X' reacts with the acidified aqueous CaCl2 solution to give a white precipitate which decolourises acidic solution of KMnO4. 'X' is (2017)
(1) C6H5COONa
(2) HCOONa
(3) CH3COONa
(4) Na2C2O4
Ans. (4)





Q.9. A solution containing a group-IV cation gives a precipitate on passing, H2S. A solution of this precipitate in dil. HCl produces a white precipitate with NaOH solution and bluish-white prcipitate with basic potassium ferrocyanide. The cation is: (2017)
(1) Mn2+
(2) Zn2+
(3) Ni2+
(4) Co2+
Ans. (2)




Q.10. Observation of "Rhumann's purple" is a confirmatory test for the presence of: (2016)
(1) Reducing sugar
(2) Starch
(3) Protein
(4) Cupric ion
Ans. (3)
Ninhydrin is often used to detect α-Amino acids and also free amino and carboxylic acid groups on proteins and peptides. Ninhydrin produce blue or purple pigment, sometimes called Ruhemann's purple.

Q.11. Which of the following is a bactericidal antibiotic? (2016)
(1) Erythromycin
(2) Tetracycline
(3) Ofloxacin
(4) Chloramphenicol
Ans. (3)
All others are beteriostatic antibiotic.