Isopropanol
Ever since its first commercial introduction in 1920 as one of the first petrochemicals, isopropyl alcohol has found wide use as a solvent and raw material for other chemical products like acetone, isopropyl acetate, glycerol, isopropyl and disopropyl amines, corrosion inhibitor di -soprpopyl ammonium nitrate, floatation agent isopropyl xanthate, isopropyl myristates etc.
Process Technology:
Two major processes for isopropanol manufacture are
Esterification of propylene by sulphuric acid and hydrolysis

Direct catalytic hydration of propylene ( vapor phase, liquid phase and mixed phase)

Although originally isopropyl alcohol was made by esterification of propylene and hydrolysis, problems of corrosion and a high heat requirement has led to the use of direct hydration process.
Direct Hydration of Propylene: In liquid phase hydration of propylene( Tokuyama Process) silico tungstate is used. The catalytic hydration process takes at 250-27oC at 200 atm pressure. Propylene conversion has been reported around 60-70%.
Butanols (N-BUTANOL AND ISO-BUTANOL)
Various routes for making butanol are
Acetaldehyde route
Hydroformylation of propylene
Oxidation of Butane
Condensation of Acetaldehyde: The process involves Aldolization, dehydration, hydrogenation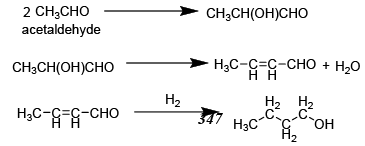 Hydroformylation of propylene
Butanol is manufactured from hydrogenation of n-butyraldehyde and iso-butyraldehyde mixture obtained by hydroformylation reaction of propylene and synthesis gas. Hydrogenation takes place at temperature 150-200 0C and 5-10 MPa pressure using copper or nickel catalyst. The butanols from the hydrogenation reactor go to a series of distillation columns for separation of light effluents and n-butanol and iso-butanol. About 88% of n-butanol and 12% iso-butanol are obtained.


Butadiene [Ch2=Ch-Ch=Ch2]
Butadiene is one of the major petrochemicals with a wide range of uses as feedstock for production of a variety of synthetic rubbers and polymer resins, the bulk of which are related to styrene butadiene rubber (SBR), nitrile rubber, chloroprene rubber, polybutadiene rubber, and acrylonitrile butadiene styrene (ABS) resin. Another major use of butadiene is in the manufacture of adiponitrile which is a raw material for the production of Nylon 66. Global demand growth for butadiene is set to accelerate. Butadiene based synthetic rubbers are mainly used in the automotive industry. It is also widely used for manufacturing of engineering resins.
There are four major routes for production of butadiene:
Steam cracking of naphtha
Catalytic dehydrogenation of butenes
Catalytic dehydrogenation of butanes
Dehydrogenation-dehydration of ethanol (molasses route)
2-Ethyl Hexanol
Major use of 2-ethyl hexanol is in the manufacture of di -2-ethylhexylphthalate which is used as plasticiser for vinyl resins. Other application are in synthetic lubricants, antioxidants and antifoams. 2-Ethyl hexanol is made either by the oxo-synthesis or from acetaldehyde route by condensation and hydrogenation. . 2-Ethyl hexanol is also used in the manufacture of ethyl hexa acrylate. Ethyl hexaacylateprodices soft and tacky film with excellent low temperature flexibilities. Ethylhexanol also find application cable coating compositions, nitrocellulose lacquers, as softener in nitrile rubber compounds, in plastic compounds for water proof agents .
Propylene Route: In first step 4n-butyraldehyde is produced along with 1-isobutyraldehyde. 4n-butyraldehyde is further hydrogenated to 2-ethylhexanol


Propylene Carbonate [C3H6CO3]
Propylene carbonate is prepared by reaction of propylene oxide and carbon dioxide in presence of ion-exchange resins

Uses: Propylene carbonate is used as special solvent. It is used in solvent extraction, plasticisers, organic synthesis, natural gas purification, and fiber spinning solvent.
Acrylic Acid
Acrylic acid is a versatile chemical which find application in the manufacture of glacial acrylic acid and acrylic esters (Acacrylates and metha acrylates), polyacrylic acid which is used in manufacture of super absorbent polymers, flocculants, detergents, paper chemicals and resin. SAP is used for water retention in infants diaper, adult in continence products and feminehygine products . Various acrylic esters are methyl acylate, ethyl acrylate, butyl acylate, 2-ethyl hexyl acrylate.
Process Technology:
Various routes for making acrylic acid are
Acetylene route
Ethylene Oxide Route
Ethylene Route
Chlorination of Propianic acid
Propylene route
Formaldehyde and Acetic Acid Route
Amongst the above process propylene oxidation through acrolein is commonly used
Propylene Route: In this route, acrolein is made in first stage by oxidation of propylene in presence of mixed catalysts (prepared from oxides of bismuth, potassium, cobalt, and iron, nickel, tin, tellurium, tungsten, etc). In the second stage, acrolein is oxidised to acrylic acid in the presence of mixed oxides of molybdenum and vanadium at 250-280 oC in the presence of steam.