INDIAN ECONOMY IN FY 2019-20
In 2019 India's economy became the fifth largest in the world, in terms of GDP at current prices.
The size of the economy was estimated at US$ 2.9 trillion in 2019.
The GDP growth rate for the year 2019-20 was 4.2%.
Top 10 Economies in the world in terms of GDP at current prices are United States, China, Japan, Germany, India, United Kingdom, France, Brazil, and South Korea.
In terms of Purchasing Power Parity (PPP) terms, India is the third largest economy in the world behind US and China. (Purchasing power parity is a measurement of prices in different countries that uses the prices of specific goods to compare the absolute purchasing power of the countries' currencies)
Per Capita income in India was estimated at Rs 11,254 per month during 2019-20(Rs 1, 35,050 per year).
Measuring Development
Although economists were able to articulate the differences between growth and development, it took more time to devise a method of measuring development.
It was an established fact that the goal of development goes beyond mere increase in income but still measuring development was difficult because,
(a) It is difficult to define as to what constitutes development: Factors which show development are many, such as healthcare, nutrition, literacy, social security, peaceful community, pollution free environment etc. it is difficult to achieve consensus among the experts on these determinants of development.
(b) it is difficult to measure qualitative aspect like development: It is easy to measure quantitative aspects like output, money etc but it is very difficult to measure qualitative aspects.
The dilemma of measuring the developmental level of economics was solved to an extent in 1990 when the first Human development Report was published.
Human Development Index (HDI)
The United Nations Development Programme (UNDP) published its first Human Development Report (HDR) in 1990.
The report had a Human Development Index (HDI) which was the first attempt to define and measure the level of development in different countries.
HDI was developed by a team of economists led by Pakistani economist Mahbub ul Haq .
HDI measures human development in a country using 3 indicators.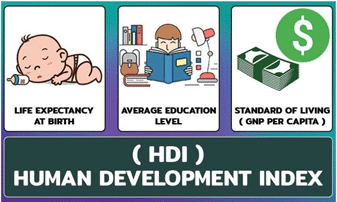 1. Health: The health component is measured using the life expectancy at birth in the country.
2. Education: Education component is measured using
(a) Expected years of schooling for children of school entering age
(b) Mean years of schooling for adults aged 25 years and above.
3. Standard of living: This component is measured using per capita income (in US dollars).
Human Development Index 2019
The Human Development Report of 2019 is titled: "Beyond income, beyond averages, beyond today: inequalities in human development in the 21st Century were released on December 9, 2019 in Bogota, Colombia.
India is ranked 129 out of 189 countries on the 2019 Human Development Index (HDI) improving from the 130th position in 2018.
Top 5 positions in the HDI 2019:
(i) Norway
(ii) Switzer land
(iii) Ireland
(iv) Germany
(v) Hong Kong
The Lowest Ranked countries in the HDI 2019:
189 – Niger
188 - Central African Republic (CAR)
187 - Chad
186 - South Sudan
185 - Burundi.
India's Neighbors: Sri Lanka (71) and China (85) were higher up the rank scale. Bhutan (134), Bangladesh (135), Myanmar (145), Nepal (147), Pakistan (152) and Afghanistan (170) were ranked lower on the list.
Position of BRICS countries in the HDI 2019:
Brazil -79
Russia- 49
China-85
South Africa- 113
India-129
Region Wise Performance: South Asia was the fastest growing region in human development progress witnessing a 46% growth over 1990-2018, followed by East Asia and the Pacific at 43%
India's Performance:
India's HDI value increased by 50% (from 0.431 to 0.647), which places it above the average for other South Asian countries (0.642).
In India, between 1990 and 2018, life expectancy at birth increased by 11.6 years, mean years of schooling increased by 3.5 years and expected years of schooling increased by 4.7 years. Per capita incomes rose by over 250%.
Reports published by the UNDP every year along with Human Development Index (HDI):
1. Inequality-adjusted Human Development Index
The IHDI combines a country's average achievements in health, education and income with how those achievements are distributed among country's population by "discounting" each dimension's average value according to its level of inequality. Thus, the IHDI is distribution-sensitive average level of human development
The IHDI indicates percentage loss in HDI due to inequality.
The IHDI was introduced in 2010.
India's position worsened by one position to 130 (as compared to the HDI Index 2019- 129) with a score of 0.477
2. Gender Development Index
The GDI measures gender gaps in human development achievements by accounting for disparities between women and men in three basic dimensions of human development—health, knowledge and living standards using the same component indicators as in the HDI.
The GDI shows how much women are lagging behind their male counterparts and how much women need to catch up within each dimension of human development.
The GDI is calculated for 166 countries.
The Gender development index was introduced in 1995.
India is only marginally better than the South Asian average on the Gender Development Index (0.829 vs. 0.828).
3. Gender Inequality Index
The GII measures gender inequalities in three important aspects of human Development
(i) Reproductive health: measured by maternal mortality ratio and adolescent birth rates;
(ii) Empowerment: measured by proportion of parliamentary seats occupied by females and percentage of adult females aged 25 years and older with at least some secondary education;
(iii) Economic status: measured by labour force participation rate of female populations aged 15 years and older.
GII was introduced in 2010.
In GII, India is at 122 out of 162 countries. Neighbours China (39), Sri Lanka (86), Bhutan (99), Myanmar (106) were placed above India.
4. Multidimensional Poverty Index
Most countries of the world define poverty as a lack of money. But a person who is poor can suffer from multiple disadvantages at the same time – for example they may have poor health or malnutrition, a lack of clean water or electricity, poor quality of work or little schooling. Focusing on one factor alone, such as income, is not enough to capture the true reality of poverty.
Multidimensional poverty measures can be used to create a more comprehensive picture. They reveal who is poor and how much poor they are.
Multidimensional Poverty Index captures the multiple deprivations that people in developing countries face in their health, education and standard of living.
MPI was introduced in 2010.
According to the MPI ,2019,
(i) 1.3 billion People in the world are still multidimensionally poor.
(ii) India lifted 271 million people out of poverty between 2006 and 2016.
(iii) India still remains home to 28 per cent of the worlds poor.
Gross National Happiness (GNH)
The phrase 'gross national happiness' was first coined by the 4th King of Bhutan, King Jigme Singye Wangchuck, in 1972 when he declared, "Gross National Happiness is more important than Gross Domestic Product."
The concept implies that sustainable development should take a holistic approach towards notions of progress and give equal importance to non-economic aspects of wellbeing.
Since then the idea of Gross National Happiness (GNH) has influenced Bhutan's economic and social policy, and also captured the imagination of others far beyond its borders. In creating the Gross National Happiness Index, Bhutan sought to create a measurement tool that would be useful for policymaking and create policy incentives for the government, NGOs and businesses of Bhutan to increase GNH.
The GNH Index includes both traditional areas of socio-economic concern such as living standards, health and education and less traditional aspects of culture and psychological wellbeing.
The following 4 parameters are used to measure the happiness:
(i) Higher per capita income
(ii) Good Governance
(iii) Environmental protection
(iv) Cultural promotion (i.e., inculcation of ethics and spiritual values in life without which, progress may become curse rather than a blessing).
World Happiness Report- 2020
The Sustainable Development Solutions Network for the United Nations released the World Happiness Report on 20th March, 2020. March 20 is designated as the World Happiness Day by the UN General Assembly in 2012.
The World Happiness Report ranks 156 countries by how happy their citizens perceive themselves to be.
The rankings are based on polling which looks at six variables:
(i) GDP per capita,
(ii) Social support,
(iii) Healthy life expectancy,
(iv) Freedom,
(v) Generosity,
(vi) Absence of corruption.
Finland is ranked as the world's happiest nation for the third consecutive year followed by Denmark, Switzerland, Iceland and Norway.
The countries at the bottom are those afflicted by violent conflicts and extreme poverty, with Zimbabwe, South Sudan and Afghanistan classified as the world's least happy nations.
India previously ranked at 140 dropped to 144th rank. Its rank is way lower than its neighbours. Nepal is ranked 92; Pakistan is at 66, Bangladesh at 107 and Sri Lanka at 130.
India is a new entrant to the bottom-fifteen group.