Butadiene
Butadiene is important raw material for production of a larger number of synthetic rubber and polymers such as styrene butadiene rubber (SBR), poly butadiene, chloroprene rubber, nitrile rubber, acrylonitrile butadiene styrene plastic. Other fastest growing use is in the manufacture of adiponitrile used in the manufacture of Nylon 66, Steam cracker and catalytic dehydrogenation of butenees are the two major sources of butadiene. Butenes can be recovered from C4 stream or produced by dehydrogenation of butanes.
According to SRI consulting global production and consumption of butadiene in 2009 was approximately 9.2 million tones and 9.3 million tones respectively. Butadiene is expected to average growth of 4.9 per year from 2009-2014. Styrene –butadiene rubber accounted for more than 33% of global butadiene consumption in 2009 and butadiene rubber for about 25%.
Polymerisation Grade Butadiene
1,3 Butadi ene % min 99.6%
But enes ppm m ax 4000
Me thyacetylenes ppm.m ax. 25
Vin yl acetate ppm m ax 200
C5 dimers pp m max 2000
Carbonyl compounds (as aldehyde) max. 50
Inh ibitor (p-terti obutyl catech ol) 100- 200
Non -volatile residue ppm 2000
There are four major routes for production of butadiene:
Steam cracking of naphtha
Catalytic dehydrogenation of butenes
Catalytic dehydrogenation of butanes
Dehydrogenation-dehydration of ethanol (molasses route)
Butadiene from C4 stream of Cracker Plant
C4 cut from the steam cracker is first sent for butadiene recovery, which includes selective hydrogenation of acetylenics in the presence of palladium catalyst, then separation of butadiene extractive distillation process steps involved are:
Extractive distillation in which acetylnic compound and butadiene are extracted in one or two stages
Recovery of solvent
Super fraction of butadiene stream for removal of acetylnic impurities
Water scrubbing butadiene depleted cut to recover the solvent. Various solvents used for separation of butadiene are furfural, dimethyl formamide (DMF), nmethyl pyrrolidone (NMP), and dimethyl acetamide. Selective hydrogenation results in overall improvement in the economy with higher butadiene yield.
Catalytic dehydrogenation of Butenes
Reaction:

Catalytic dehydrogenation of butanes two stages process:
Catalytic dehydrogenation of butanes to butenes

2. Catalytic dehydrogenation of butenes to butadiene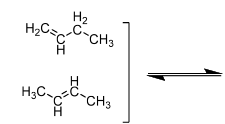 Isobutylene
Isobutylene is present in the C4 stream naphtha cracker and FCC. Major application of isobutene is in the manufacture of gasoline blending component such as MTBE, ETBE, alkylation, polymer gasoline. Polymer grade isobutylene can be made by cracking MTBE or for manufacture of polyisobutylene. Isobutylene is used in manufacture butyl rubber which is made by copolymerization of isobutylene with small amount of isoprene.
Various Routes for Isobutylene
Extraction of C4 cuts from steam cracking / FCC: Isobutylene is separated from C4 cuts from naphtha cracker after extraction of butadiene and from FCC gases after propylene recovery. First isobutylenes is converted to MTBE by etherification and the recovered by cracking of MTBE to get polymer grade isobutylene it is also obtained by hydration of isobutylene containing stream and then cracking.
Isomerisation of Butene: isobutylene can be also produced from butane by isomerisation using zeolite ferrierite (zeolite of medium pore size)
Dehydrogenation of Isobutene:
Butene -1
Butene-1 is co-monomer in the production of low density polyethylene and high density polyethylene. Butene-1 can be separated from C4 stream of cracker after extraction of butadiene SHB-CB process: This process selectively hydrogenate the butadiene in the C4 cut by converting it to butane-1 and butane-2. Acetylenes and dienes are likewise hydrogenated. If the process is optimized to produce butane-1, about 60% of butadiene is converted to butane-1. The process is operated in the liquid phase mild temperatures and moderate pressures.
Upgrading Of C5 Cuts
The steam cracker C5 stream is a rich resource of olefins and diolefins which can be upgraded to produce elastomers, resins and fine chemical intermediates. In steam crackers during cracking process along with ethylene, propylene, C4 stream, aromatics and pyrolysis gasoline bare also formed. Apart from aromatics, Pyrolysis gasoline stream also contains C5 stream. The quantity and composition of the stream depend on the nature of the cracked product and severity of cracker operation C5 stream.
Various Steps in the recovery of C5 chemicals are
Separation of C5 stream from pyrolysis gasoline by distillation
Separation of cyclopentadiene: In first stage cycolpentadine is dimerised to dicyclopentadiene followed by cracking of dicylopentadiene to cyclopentadiene.
Extractive distillation of cyclopentadiene free C5 stream produce isoprene-piperylene stream. Distillation removes the light aceyelenes
Separation of isoprene and piperylene extract by distillation
Absorption at atmospheric pressure in the presence of NMP
Purification of Isoprene rich paraffin
Periodic regeneration of solvent
Solvents used in extraction of isoprene are Acetonitrile, N-methylpyropedone, Dimethylformalnide.
Oxygenates From Refinery C4 and C5 Stream
Several oxygenated fuel components have figured prominently in refinery reformulated gasoline planning. Methyl tertiary butyl ether (MTBE), tertiary amyl methyl ether (TAME) and ethyl tertiary butyl ether (ETBE). All oxygenated fuels reduce hydrocarbons in the automobile exhaust. MTBE was considered one of the most important oxygenates used in the production of lead free gasoline and was used produced on a large scale throughout the world. There has been because of environmental problem. The oxygenated MTBE and ETBE are produced by the reaction of methanol/ethanol and isobutylene.
Methyl Tertiary Butyl Ether (Mtbe)
MTBE is one of the important oxygenates and originally its use started as a substitute of tetraethyl lead. MTBE increases the oxygen content of gasoline results in the reduction of harmful emissions. MTBE which is made by etherification of C4 gases from cracker and FCC is also used for production of polymer grade isobutylene for synthetic rubber.
MTBE is produced by the reaction of methanol with isobutylene contained in C4 streams from thermal crackers in the presence of ion exchange resin at 40-90oC and a pressure of 5 to 10 kg/cm2g. Catalytic cracking butylenes and field butanes are additional possible source of isobutylene. Convention process and catalytic distillation are the two commercial processes available. Figure M-VII 3.3 shows the process flow diagram fro MTBE conventional methods.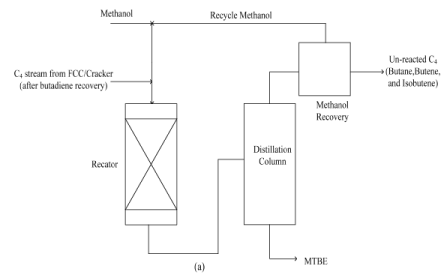 Figure M-VII 3.3: MTBE Conventional Methods
Ethyl Tertiary Butyl Ether (Etbe)
ETBE is made by etherification of isobutylene with ethanol similar to MTBE.
Isobutylene + Ethanol → ETBE
Teriary Amyl Methyl Ethertame
TAME is produced by etherification of isoamylenes recovered from C5 stream of FCC and steam crackers. Two reactive components of iosmaylenes are 2-Methyl butene-1 and 2-Methyl butene-2. Catalytic distillation process is used for the manufacture of TAME.
Reaction Involve: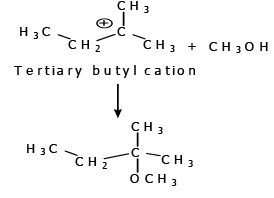 Teriary Amyl Methyl Ether (Tame)
TAME is produced by etherification of isoamylenes recovered from C5 stream of FCC and and steam crackers. Two reactive components of iosmaylenes are 2-Methyl butene-1 and2-Methyl butene-2. catalytic distillation process is used for the manufacture of TAME
Reaction Involve: