Reproduction in Plant
FEMALE REPRODUCTIVE ORGAN-GYNOECIUM
Gynoecium is the female reproductive organ. The free unit of gynoec ium is called pistil or carpel .
Carpel is also known as meg as porophyll .
The carpel is differentiate into three distinct region –
[i] Sti gma [ii] Style [iii] Ovary
The free end of the carpel which receives pollen grains is called stigma.
A long, narrow tubular structure is present in between the stigma and ovary called style. The basal swollen part of the carpel is called ovary.
The ovules is also known a s megas porongia which are borne on a cushion-like tis sue ca lled placenta in the ovary. One or more than one ovules are present inside the ovary.
The gynoecium of the Capsella is bicarpella y, syncar ous, unilocular and superior. It becomes bilocular due to the formation of false septum or replum at maturity.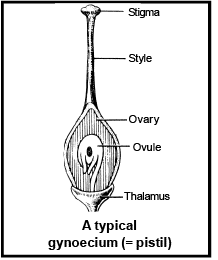 [ A ] STRUCTURE OF OVULE OR MEGASPORANGI UM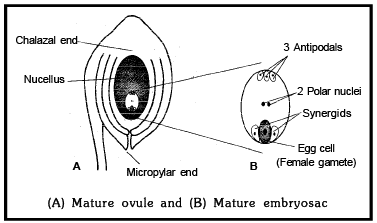 A ridge or stalk like out growth is formed from the placenta of the ovary on which body of ovules are present.
Each ovule attached to the placenta by means of a thin stalk called funicle or funiculus/ Funiculum The point of attachment of the funicle with the ovule is called ilum .
The main region of the ovule is composed by mass of parenchymatous cells called nucellus . Nucellus is the main part of ovule . The nucellus is covered by one or two coats c alled integuments .
– In most of the ovule, funicle is attached to the main body of ovule for some distance (at lateral side) to form a ridge like struc ture k nown a s Raphe .
– Vascular tissue s are pre sent inside the funiculus which supply food material from the placenta to the body of ovule.
– A plac e from where funicle and integumen ts arise is called Chalaza .
Integument is absent just opposite to the chalaza, so that a narrow passage (pore) is formed which is called micropyle .
– icropyle in bitegmicovule has two pa rts - outer region w hich is surrounded by outer integument is Called exostome .
– The inner part of micropy le which is surrou nded by inner integument called end ostome .
– In most of the Angiosperm entire part of the nucellus is utilized by developing embryo sac but in some of the Angiosperm some part of the nuclellus remain inside the ovules that part of the nucellus present inside the seed in the form of a thin layer known as perisperm. Perisperm is commonly found in Piperaceae (Pipernigrum ) and Zingiberaceae Families (Turmeric, Ginger)
Some filaments are attached wi th funicl e [some times pl acenta] a re known as " Obturators " .
The function of obturators is to guide the passage of pollen tube towards the micropyle inside the ovary.
SPECIAL INTEGUMENTS –
(i) ARIL – It is the type of third integuments which develops from funicle at the base of the ovule e.g. Myristica , Asphodelus and Litchi.
(ii) ARILLODE – It develops from the tips of the outer integument and grows downwards and surrounds the entir e ovu le e. g. Pithe colobium (Inga dulce )
(iii) SARCOTESTA - When outer integument becomes fleshy then it is called sarcotesta e.g. Magnoliaceae (Magnolia).
(iv) OPERCULUM - It is a stopper or break like structure which is formed on the micropyle. It is formed due to the elongation of inner integuments. e.g. Lemnaceae family (Lemna).
(v) CARUNCLE OR STROPHIOLE - It is formed due to the proliferation (out growth) of outer integuments over the micropyle. e.g. Ricinus communis (Castor). It is formed by sugary contents so helps in absorption of water during germination of seeds and dispersal of seeds by ants called myrmecochory.
(vi) COMA - In some of the plants unicellular filaments like structures are present on the seed which is formed by cells of outer surface of outer integument. Such seeds are known as "Comose seeds". e.g.
Calotropis and Gossypium.
TYPES OF OVULE ON THE BASIS OF INTEGUMENTS :
A single integumented ovule is called unitegmic ovule - example - members of Gamopetalae and Gymnosperm.
Two integumented ovule is called bitegmic ovule. Example - In most of Angiosperm [Polypetalae-Capsella and Monocots].
The ovule in which integuments are absent is called Ategmic ovule e.g. Olax, Liriosma, Loranthus & Santalum.
TYPES OF OVULES ON THE BASIS OF NUCELLUS -
(i) Tenuinucellate - The nucellus is either less developed or present in the form of single layer.
Example :- Gamopetalae group.
(ii) Crassinucellate :- The nucellus is massive type i.e., it is made up of many layers.
Example :- Polypetalae group and Monocots
The nucellus degenerates in plants of Compositae family and integuments becomes active to form a nucellus like tissue. This is called endothelium or integumentary tapetum. It is polyploid structure.
The nucellus dissolves in the members of Podostemaceae family to form a nutritional cavity. This is termed pseudoembryo-sac
[ B ] TYPES OF OVULES :
There are six different types of ovules are found in Angiosperms on the basis of relationship of the micropyle, chalaza, and hilum with body of the ovule and orientation on the funiculus:
[ i ] AT ROPOUS OR ORTHOTROPOUS :-
The body of ovule is upright in position. The micropyle, chalaza and hilum lie in one straight line, so that this ovule is called straight or upright ovule. Example :- Betel, Piper, Polygonum and in Gymnosperms. It is the most primitive and most simple type of ovule of Angiosperms. Raphe is absent.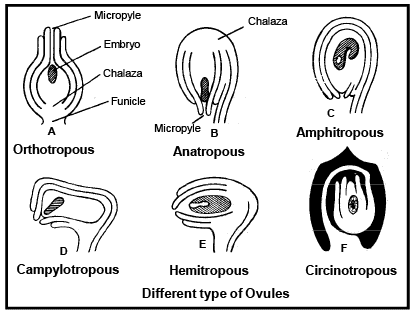 [ii] AN ATRO PO US OV ULE :-In this type, the body of the ovule completely turned at 1800 ang le, due to unilateral growth of funiculus, so it is also called inverted ovule. The chalaza and micropyle lie in straight line. The hilum and micropyle lie side by side very close to each ot her. Th is t ype of ovule is found i n 80% f a mi l ie s of Angiosperms but not in Caps e lla . In this ovule micropyle facing downward condition. This is the mos t comm on ty pe of ov ule so tha t it is co nsidered a s a "typic al ovule" of Ang iospe rms . eg. Members of Mal vace ae, Cuc u rb itac ea e, S olan ac ea e, C ompo si tae fa mi ly. I t i s als o cal le d res up ina te ov ul e.
[iii] HEMITRO POUSORHEMI - AN ATROPOUSOVULE :-In this ovule, the body of the ovule bent on funcile at 90 0 angle , i.e., body of ovule present at right a ng le to the funiculus. This is intermediate type between ortho and anatropous ovules. This ovule is also called ho ri zon ta l ovule because body of ovule present in horizontal position on the funiculus.
Micropyle and chalaza are present in the same line but micropyle is situated away from hilum. Example :-Ra nunculus , Primula, Golphimi a.
[iv] CAMPYLOTRO POUSOVULE :-In this ovule, the body of ovule curved (Curvature is not effective) in this way so micropyle and chalaza do no t prese nt in s tra ight li ne. The n uce llus i s p res ent in c u rve d pos iti on bu t the emb ryo s a c rema in straight. Micropyle comes c lose to the hilum . Eg.:- Leg u minosa e, Capparidac eae, C rucife rae fam ily [Ca pse l la]
[ v ] AMPH ITROPOUSOVULE :-In this type of ovule, curvature is more pronounced or effective in the nucellus and due to this effect of nuce llus, embryo sac becomes hors e shoe shape d. Micropyle comes close to the hilum. It is also called as transverse ovule. e.g. Mirabil is , Lemna , Poppy, Alisma, Buto maceae family.
[vi] CIRCIN OTROPOUSOVULE :-In this type of ovule, body of ovule inverted and again turned into straight position due to the growth of funiculus so that body of ovule present on funicle at 3600. The entire body of ovule is surrounded by funiculus.
It is also known as coiled ovule. Micropyle is situated away from hilum.e.g. Cactaceae family - O puntia .
[C] MEGASPOROGENESIS :
During the development of ovule, in the beginning of this process, nu ce ll us develops form the pl ac en ta in the form of a small rounded out growth like structure. At this stage, all the cells of nucellus are undifferentiated, homogenous and meristematic. This mass of cells surrounded by single celled thick layer of epidermis.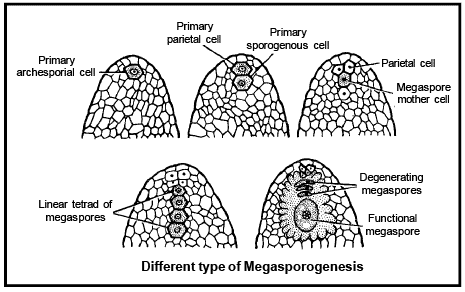 Any on e hy pode rmal cell of nucellus is differentiated and increase in size. It becomes different from rest of the cells due to presence of distinct nucleus. It is called arche sporial cell. Archesporium divides periclinally to form an oute r prima ry parie tal c ell and in ne r P rim ary S p orog en ous c e ll . Activity of Primary Parietal cell depen ds on type of plant s. If pla nt belongs to gam opetal ae the n it forms tenuinuc ellate type ovule an d if plant belongs to polypetalae then it forms cr a ssin u cel l ate type of ovule. The prima ry sporogenous cell dire ctly a ct as a me gas pore mother c ell . It divides m ei o t ic a l ly to for m, fo ur ha ploi d m eg as p ores .
The four haploid megaspores generally arranged in linear tetrad. Generally the lower most or chalazal me gas po re remai ns fun ctiona l out of tetrad of me gaspore s and t he ot he r thre e lie towards the mi cropyle degenerate.
This functional megaspore produces female gametophyte. In mos t of Angiosperms [C apsella] , Chalazal megaspore remains functional.
[D] DEVELOPMENT OF EMBRYOSAC OR FEMALE GAMETOPHYTE–
Meg agam etog enes is : - M e g as p ore is the first cell of th e fe male gam etophyt e . T his m egasp ore grows in size and obtains nutrition from the nuc ellu s . The nucleus of megaspore divides mitotically to form a two nuclei.
Each nucleus moves towards the opposite pole and reached at their respective poles. Both the nuclei lie at poles divide twice mitotically. Resulting, four-four nuclei are formed at each poles [ Total 8-nuclei].
Out of the four, one-one nucleus migrates from the both poles [ one nucleus from chalazal side and one nucleus from micropylar side] towards the centre. They are known as pola r nucle i. Both polar nuclei are present in the centre.
Remaining three-three nuclei at each pole surrounded by cytoplasm to form cells as a result of cytokinesis.
Three cells are formed towards the micropyle in which one cell is large and more distinct out of three cells.
This is called egg cell and remaining two smaller cells are known as synergids . These three micropylar cells collectively known as egg -apparatus . [1 Egg cell + 2 Synergids] The three cells are formed toward the Chalaza are called antipodal cells . Both the polar nuclei present in the central cell. But just before the process of fertilization they unite or fuse together in the centre to form secondary nucleus . It is diploid in nautre [2n] a nd one i n number.
Therefore, sev en cel ls and e ig h t n u c lea ted structure is formed. This eig ht nu cleated and sev en cel led s truc ture is called female gametophyte or embryosac of Angiosperms. This type of embryosac is known as "polygonu m type " becaus e it is discove red by S tra s b urg e r in Polygonum plant. Polygonum type embryosac is most c om mon type in Angiosperms [Capsell a] . Polyg onum type of em bryosa c de ve lops from s i ng le megas pore so it is a lso know n as monosporic embr y osac .
Fingers like processes are produced from the outer wall of the synergids are known as fil iform app aratus . With the help of these structures, synergids absorb food from the nucellus and transfer to the embryosac. Filiform apparatus is less developed in antipodal cells. Filiform also secrete chemicals which attracts the pollen tube.
In some plants, barrier are present either above or below the female gametophyte . These barrier are made up of thick walled cells of nucellus. They prevent the movement of embryosac towards the chalaza or micropyle.
The barrier which is present towards the c hala za is called "hypostase" e.g. Umb ellife rae family and Zo s te ra a nd Crozophora plan t s.
The ba rrier which is present toward the micr opy le is c alled " ep is tas e" e.g. C os tal ia a nd C os t us .
[ E ] TYPE OF EMBRY OSACS :-
( i ) M onos poric Embryos ac – It is of tw o typ es –
1. Polygonum type – It is eight nucleated and seven celled embryosac.
2. Oen othe r a ty pe – Exception ally it is four nuc leated in whic h only one nucleus in a cent ral cell and three nucleus in egg apparatus. Antipodal cells are absent. Endosperm will become diploid. [Micropylar megaspore become functional]
(ii) Bisporic Embryosac – It is formed by two megaspores. It means it develop from two nucleated megaspores. It is of tw o ty pe s –
1. Allium type – Eight nucleated and seven celled [Chalazal megaspores]
2. Endymion type – Eight nucleated and seven celled [Micropylar megaspores]
(iii) Te trasporic Embr yos ac – It is formed by al l four meg aspore nuclei because meiosis is not accompanied by Cytokinesis, so that four nuclei of megaspores are formed.
All four nuclei are colletively known as "Coenomegaspore".
Generally all the four Nuclei of megaspores take part in the formation of the seven celled and eight nucleated embryosac. Beside this different other types of embryosacs are also formed. Arrangement of nuclei are not definite in embryo sac in some of Angiosperms. So that different type of embryosacs are formed as follows :-
Type s of Tetrasporic Embr yosac
Number of nuclei in Sec.nucleus
Ploidy of endosperm

1. Ado xa ty pe

2. C hry santhe m um ty pe

3. Plumbago type

4. Plu mba g el la ty pe

5. Fritillar i a type

6. Pe na ea type

7. Peperomia type

2

3

4

4

4

4

8

3n

4n

5n

5n

5n

5n

9n