Forms
➢ In HTML, a form is a window that consists the elements of a form called the form fields. These fields may be text field, text area, drop-down box, radio buttons, checkbox and/or a command button. HTML forms are used to pass data to a server. A form can be inserted in HTML documents using the HTML form element which acts as a container for all the input elements. All the information collected by a form can be submitted to a processing agent (a file containing a script made to process this information) that's usually specified in the "action" attribute of the form tag.
➢ The FORM tag has two important attributes:
ACTION: A URL specifying where the information is sent
METHOD: How the data is sent (GET or POST)
The basic syntax of a form is:


Forms should use METHOD="GET" when the form does not modify anything on the server.
Forms should use METHOD="POST" when the form changes the state of the server or sends a large amount of data.
GET and POST transport the form data in different ways.
➢ Cascading Style Sheet (CSS) is a style sheet language used for describing the look and formatting of a document written in a markup language. It is a way to provide style to HTML. Whereas the HTML is the meaning or content, the style sheet is the presentation of that document.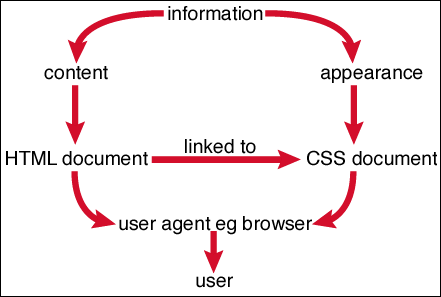 ➢ Cascading Style Sheet is a simple mechanism for adding style (e.g., fonts, colors, spacing) to Web documents.
➢ The advantages of using CSS are:
It controls layout of many documents from one single style sheet.
It has more precise control of layout.
It applies different layouts to different media-types.
It has numerous advanced and sophisticated techniques to be applied on web pages.
➢ The limitations of CSS are:
CSS is very limited in browser compatibility. When you design a web page, you want it to display exactly as you like it. The problem with CSS is that it displays webpages very differently in the different browsers.