Special Abilities
Aptitude indicates an individual's capacity to acquire some specific knowledge or skill after training.
(i) People with similar intelligence differed widely in acquiring certain knowledge or skills, called aptitudes.
(ii) With proper training, these abilities can be considerably enhanced.
Interest is a preference for a particular activity; aptitude is the potentiality to perform that activity.
(i) In order to be successful in a particular field, a person must have both aptitude and interest.
Aptitude Tests

Creativity refers to the ability to produce ideas, objects and problem solutions that are novel and appropriate.
It refers to the ability to think in novel and unusual ways and to come up with unique solutions to problems.
Creativity involves the production of same thing new and original it may be an idea, object or solution to a problem.
Creativity can get manifested at different levels and in different areas.
Everyday creativity/Day to day creativity. It could be reflected in day to day activities like writing, teaching, storytelling, flower arrangement, dance, etc.
Special talent creativity/Higher order creativity. It is related to outstanding creative achievements e.g. inventions and discoveries.
Creativity is always reality oriented, appropriate, constructive and socially desirable.
Everyday creativity could be seen in terms of the level and the areas in which they exhibit creativity and that all may not be operating at the same level.
Researches suggest that children mostly express their imagination through physical activities and in non-verbal ways, although when language and intellectual functions are fully developed and store of knowledge is adequately available then creativity is expressed through verbal modes too.
There is no disagreement that creativity is determined by both heredity and environment.
Limits of the creative potential are set by heredity.
Environmental factors stimulate the development of creativity.
No amount of training can transform an average person to develop special talent creativity or higher order creativity like Tagore, Einstein or Shakespeare.
Creativity and Intelligence:
Certain level of intelligence in necessary to be creative, but a high level of intelligence, however does not ensure that a person would certainly be creative.
Researchers have found that both high and law level of creativity can be formed in highly intelligent children and also children of average intelligence.
Relation between creativity and intelligence is positive.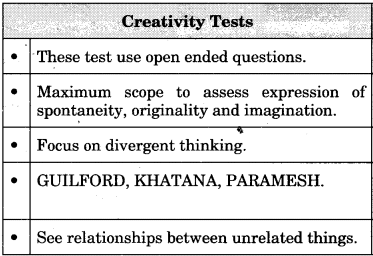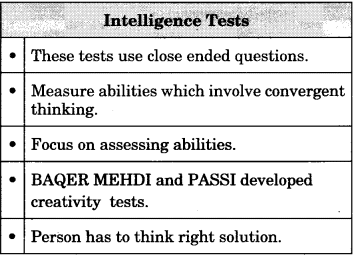 Aptitude: A combination of characteristics indicative of individual's potential to acquire some specific skills with training.
Aptitude Tests: Tests meant to measure individual's potential to predict future performance.
Beliefs: The cognitive component of the thoughts or ideas regarding a topic.
Case Study: An intensive study of an individual or a situation to develop general principles about behaviour.
Cognition: The process of knowing. The mental activities association with thought, decision making, language, and other higher mental processes.
Cognitive Assessment System: A battery of tests designed to measure the four PASS (Planning-Attention-Simultaneous-Successive) process.
Componential Intelligence: In Sternberg's triarchic theory, it refers to ability to think critically and analytically.
Contextual Intelligence: In Sternberg's triarchic theory, it is the practical intelligence
used in solving everyday problems.
Creativity: The ability to produce ideas, objects, and problem solutions that are novel and appropriate.
Culture-fair Test: A test that does not discriminate examinees on the basis of their cultureexperiences.
Emotional Intelligence: A cluster of traits or abilities relating to the emotional side of life abilities such as recognising and managing one's own emotions, being able to motivate oneself and restrain one's impulses, recognising and managing others' emotions, and handling interpersonal relationship in an effective manner. It is expressed in the form of an emotional quotient (EQ) score.
Experiential Intelligence: In Sternberg's triarchic theory, it is the ability to use past experiences creatively to solve novel problems.
Factor Analysis: Mathematical procedure, involving correlations, for sorting trait terms or test responses into clusters or factors; used in the development of test designed to discover basic personality traits. It identifies items that are homogeneous or internally consistent and independent of others.
Fluid Intelligence: Ability to perceive complex relationship, reason abstractly, and solve problems.
Genetics: The study of how the qualities of living things are passed on in their genes.
Group Test: A test designed to be administered to more than one individual at the same time, in contrast to individual test.
Individual Differences: Distinctiveness and unique variations among people's characteristics and behaviour patterns.
Individual Test: A test that must be given to a single individual at a time, typically by a specially trained person. The Binet and Wechsler intelligence tests are examples of individual test.
Intellectual Giftedness: Exceptional general intellectual efficiency shown in superior performance in a wide range of tasks.
Intelligence: The capacity to understand the world, to think rationally, and to use resources efficiency when faced with challenges.
Intelligence Quotient (IQ): An index derived from standardised intelligence tests indicating a ratio of mental age to chronological age.
Intelligence Test: Test designed to. measure person's level of intelligence.
Interest: An individual's preference for one or more specific activities.
Interview: Purposeful conversation through face to face interaction.
Mental Age (MA): A measure of intellectual functioning combined with varying degrees of deficits in adaptive behaviour.
Mental Retardation: Sub-average intellectual functioning combined with varying degrees of deficits in adaptive behaviour.
Normal Probability Curve: A symmetrical, bell-shaped frequency distribution. Most scores are found near the middle and fewer and fewer 6ccur towards the extremes. Many psychological characteristics are distributed in this manner.
Norms: Standards of test performance that permit the comparison of one person's score on the test to the scores of others who have taken the same test.
Observational Method: Employing systematic, organised and objective procedures to record behavioural phenomena occurring naturally in real time.
Observation method: Employing systematic organised and objective procedures to record behavioural phenomena occurring naturally.
Performance Test: A test in which the role of language is minimized, the task requiring overt motor responses other than verbal.
Planning: In Das PASS model of intelligence, it involves goal setting, strategy selection, and monitoring of goal-oriented.
Problem-solving Behaviour: The activity and mental processes involved in overcoming the obstacles, physical or conceptual, which lie between an animal and its goal.
Psychological Test: An objective and standardized in an instrument for measuring an individual's mental and behavioral traits; used by psychologists to help people make decisions about their lives and understand more about themselves.
Self-awareness: Insight into one's own motives, potential and limitation.
Sensitivity: Tendency to respond to very low levels of physical stimulation. –
Simultaneous Processing: Cognitive processing in the PASS model that involves integrating elements of the stimulus situation into composite and meaningful patterns.
Situationism: A principle which states that situations and circumstances outside oneself have the power to influence behavior.
Successive Processing: Cognitive processing in the PASS model where elements of the stimulus situation are responded to sequentially.
Values: Refers to the enduring beliefs about an ideal made of behaviour.
Verbal Test: Test in which a subject's ability to understand in making and use words and concepts is important in making the required responses.