PointsTo Remember
Functionalist perspective on social institution
Social institutions a complex set of social norms, beliefs, values and role relationship that arise in response to the needs of society.
In other words social institution exists to satisfy social needs.
Conflict perspective on social institution
All individuals are not placed equally in society. All social institutions will operate in the interest of dominant sections of society. • The dominant social section not only dominates political and economic institutions but also ensures that the ruling class idea become the ruling ideas of a society.

Family is a group of persons directly linked by kin connections, the adult members of which assume responsibility of caring for children. Diverse family forms are found in different societies.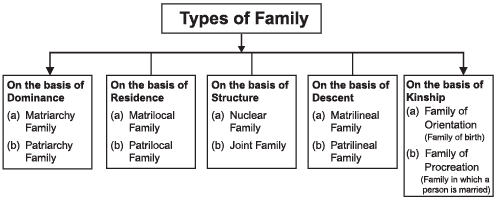 Families linked to other social spheres and families change:
Family, household, its structure and norms are closely linked to the rest of society.
Example:- Unintended consequences of the German unification. During the post - unification period in the 1930s Germany witnessed a rapid decline in marriage because the new German state withdrew all protection and welfare schemes which were provided to the families prior to the unification.
How gendered is the family?
The belief is that the male child will support the parents in the old age and the female child will leave on marriage results in families investing more in a male child.
Despite the biological fact that female baby has better chances of survival than a male baby the rate of infant mortality among female children is higher in comparison to male children in lower age group in India.
Kinship ties are connections between individuals, established either through marriage or through blood.
Kin who are related through 'blood' are called consanguinal kin,
Kin who are related through marriage are called affines.

Marriage is a socially acknowledged and approved sexual union between two adult individuals.

Serial Monogamy: In many societies individuals are permitted to marry again often on death of the first spouse or after divorce. But they cannot have more than one spouse at one and the same time. Such monogamous marriages are termed as serial monogamy.
Why is marriage considered a universal institution?
Marriage has got religious sanctity as it is prescribed in our vedas and puranas as one of the most important asharms of life (Grihastha ashram).
Marriage helps in taking the family name forward.
Validity is given to procreation after marriage.

Rules of Marriage:
Endogamy - marriage within culturally defined group.
Exogamy - requires the individual to marry outside of his/her own group.

Types of kinship:
(1) Affinal Kinship: The relatives linked by marital bond.
Example:- Husband & Wife, Wife's Mother, Daughters's Husband, Parents in Law, Son in Law are all affinis.
(2) Consanguineous Kinship : The relatives linked by blood or common ancestry.
Example:- Father, Mother, Son, Daughter, Brother, Sister, Father's Brother, Father's Brother Son, Grand Children are all Consanguineous Kin.

Work can be defined as the carrying out of tasks requiring the expenditure of mental and physical effort which has as its objective - the production of goods and services that cater to human needs.
Characteristics of economic system of modern society
(a) highly complex division of labour.
(b) Trained people perform specialised task and receive a wage for this work.
(c) Managers supervise the work to enhance worker's productivity and discipline.
(d) Shift in the location of work.
(e) Advances in industrial technology.
(f) Factories owned by capitalist enterpreneurs.
(g) Enormous expansion of economic interdependence.

Transformation of work:
(a) Industrial processes were broken down into simple operations.
(b) Mass production demands mass markets.
(c) Significant innovation was the construction of a moving assembly line.
(d) Flexible production and decentralisation of work.

Political institutions are concerned with the distribution of power in society.
Two important aspects of political institutions are
(a) Power - The ability of individuals or groups to carry out their will even when opposed by others.
(b) Authority - Power is exercised through authority.
Authority is that forms of power which is accepted as legitimate.

A society is called stateless if it :-
(i) has no rigid boundary or permanent physical territory;
(ii) follows oral traditions, and the bureau cratic aspect is absent from it;
(iii) has a single person holding several major powers of religious, economic and political offices within the society;
(iv) there is no fixed rigidly spelt out ideology and has simple economy.
Thus, stateless society: The absence of rules and regulations in society prove chaotic leading to the collapse of social system in other words a society which lacks formal institutions of government.
(a) Modern states are defined by sovereignty, citizenship and the ideas of nationalism.
(b) Sovereignty - The undisputed political rule of a state over a given territorial area.

Citizenship: - It is a permanent membership acquired by individual after continuous stay of five years within a country. Citizenship rights may include civil, political and social rights.

Citizenship rights includes:
(i) Civil rights-freedom of speech and religion etc.
(ii) Political rights - right to participate in election etc.
(iii) Social rights - health benefit, social and welfare rights.

Nationalism: It arises when different elements are joined together such as language, religious, history and symbols. All these give a sense of being part of a single political community. All the modern societies are 'nation-states' 'Nation - States' are the states in which the great masses of population are citizens who regard themselves as a part of single nation.

Religion refers to unified system of belief and practices related to supernatural power.

Common characteristics shared by all religious groups are:
(i) Setofsymbols, invoking feelings of respect.
(ii) Rituals or ceremonies.
(iii) A community of believers.
Rituals associated with religion are very diverse.
Sociology and Religion
(i) Religion has a very close relationship with power and politics.
(ii) Views of classical sociologists, Max Weber, Calvin demonstrate how sociology looks at religion.
(iii) Social forces always and invariably influence religious institutions. Conversely, religious norms influence social understanding.

Durkheim's perspective on religion:
He has defined it as a 'unified system of beliefs and practices related to sacred things that is things set apart and forbidden beliefs and practices which unite one single moral community called a church.
According to Durkheim in every religion a distinction is made between sacred and profane
Sacred things include am element of supernatural.
Profane things are kept at distance from sacred and are considered away from religion.

Max Weber's perspective on religion:
He started his theory of religion in his book entitled" The Protestant Ethic and the Spirit of Capitalism"
Calvinism (protestants) exerted an important influence on the emergence and growth of capitalism characterized to earn money and to re-invest profit as a mode of economic organization.
The Calvinist believed that the world was created for the glory of god that any work in this world has to be done for his glory, making even mundane work's acts of glory.
Calvinist also believed in the concept of pre destination which meant whether one will go to heaven or hell was pre ordained.
The money earned was not to be used for worldly consumption rather the ethics of Calvinism was to live frugally.
Education is a life long process involving both formal and informal institution of learning.
Education functions as a stratifying agent
(a) different kinds of schools depending on our socio-economic background.
(b) intensifies the existing divide between the elite and the masses.
Children going to priviledged schools learn to be confident as compared to the deprived ones who cannot attend school or drop out.
Gender and caste discrimination impinges upon the chances of education.

Types of Education:


| | |
| --- | --- |
| Formal Education | Informal Education |
| It is imparted in institutional settings. | It is imparted in non Institutional settings. |
| It has a systematic and well planned curriculum. | It has no curriculum and is spread over entire period of one's life. |
| | |

Education in Ancient Society

Education in Modern Society

No formal schooling.
Children learned customs and broader way of life by participating in activities with adults.

Formal schooling.
Need for specialized learning and skill attainment.