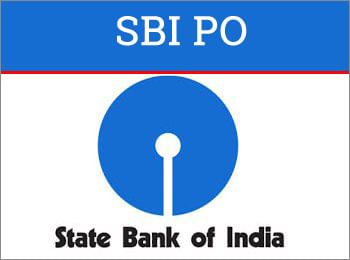 Introduction
State Bank of India will be conducting SBI PO 2022 Exam in three phases: Online Prelims Exam, Mains Exam and Interview Process. To ace SBI PO 2022, it is necessary for all the aspirants to be well versed with the Exam Pattern for the same. As the vacancy has been reduced considerably as compared to last year, clearing the exam won't be an easy cup of tea. Thus, prior knowledge of SBI PO Exam Pattern 2022 is essential as it will give you a platform to start your efficient preparation for the exam.
SBI PO 2022 Highlights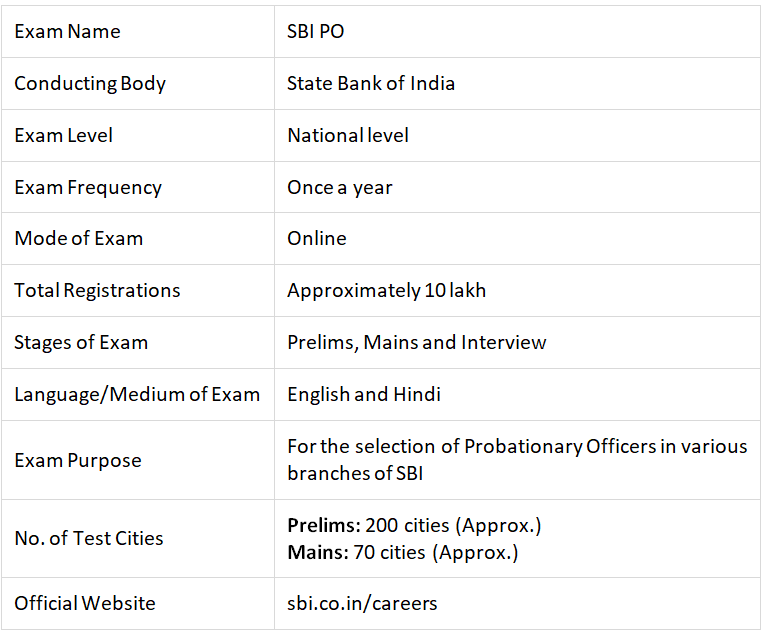 SBI PO 2022 Important Dates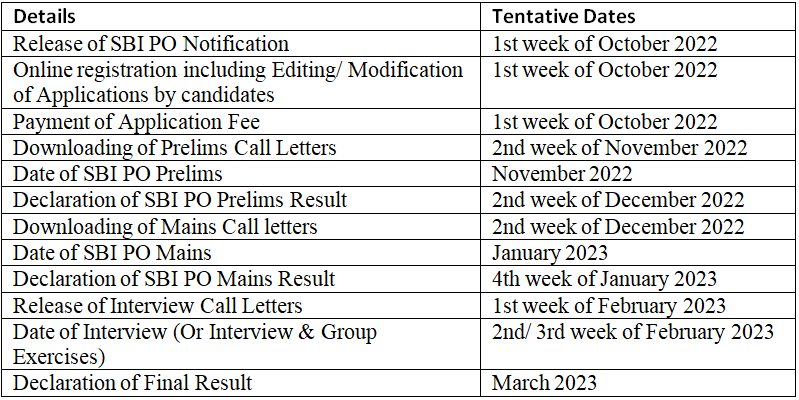 SBI PO 2022 Application Form
SBI PO Application Form will be released online. The application fee for the exam is INR 750 for General/EWS/OBC categories and SC/ST/PWD categories are exempted from fee payment.
How to Apply Online for SBI PO?
The steps to fill SBI PO 2022 application form are given below:
Visit the official website of SBI
Click the 'Apply Online' against the advertisement
Register for the exam by entering the required credentials
Upload the scanned images of photograph and signature
Fill the detailed application form
Upload handwritten declaration and left thumb impression
Pay the application fees
Submit the application form and take its printout
SBI PO 2022 Eligibility Criteria
SBI prescribes SBI PO eligibility criteria in terms of educational qualification, nationality and age limit.
Age Limit: The age limit prescribed for SBI PO exam is 21 and 30 years. Relaxation in age limit is given to unreserved categories.
Educational Qualification: The educational qualification prescribed for the exam is graduation.
Number of Attempts: The maximum number of attempts are fixed for each category. Candidates who have used up all the chances are not eligible to apply. Appearing in prelims exam is not counted as an attempt but appearing in mains exam is counted.
SBI PO 2022 Selection Process
SBI PO selection process comprises three stages: Phase I (Preliminary), Phase II (Mains), and Phase III (Interview only or Group Exercises and Interview). All registered candidates are first required to appear for the Phase I prelims exam. On the basis of the marks in the prelims exam, candidates are called for the mains exam. Candidates qualifying the mains exam are called for the Phase III Interview only or Group Discussion and Interview.
SBI PO 2022 Exam Pattern & Marking Scheme
For Prelims
The first stage for SBI PO 2022 Recruitment is the Preliminary Exam, in which the aspirant has to qualify in order to get shortlisted for SBI PO Mains Exam.
There will be 3 sections in SBI PO Prelims Exam like any other PO Exam: English, Quantitative Aptitude and Reasoning Ability.
A total of 100 Objective type questions will be asked in SBI PO Prelims Exam 2022.
The duration of the exam is 01 hour (20 minutes for each section).
SBI PO Prelims is qualifying nature and marks will not be counted while preparing the merit list.
Penalty for wrong answer: 0.25 marks will be deducted for every question attempted wrong by a candidate. No deduction will be there in marks if a question is left unattempted or blank by a candidate.


Selection criteria for Main Examination: Category wise merit list will be drawn on the basis of the aggregate marks scored in the Preliminary Exam. There will be no sectional cut-off. Candidates numbering 10 times the number of vacancies (approx.) in each category will be shortlisted for the Main Examination from the top of the above merit list.
For Mains
The SBI PO Mains Exam will comprise of Objective & Descriptive Section, which is described below in detail:
Objective paper to be completed in 3 hours and descriptive paper in 30 minutes.
In the objective part, there will be 4 sections namely Reasoning & Computer Aptitude, Data Analysis & Interpretation & General/ Economy/ Banking Awareness, English Language.
A descriptive paper will be conducted along with the above-mentioned online test and there will be 2 questions in this paper.
Penalty for wrong answer: 0.25 marks will be deducted for every question attempted wrong by a candidate in SBI PO Mains Exam. No deduction will be made in marks if a question is left unattempted or blank by a candidate in the exam.


(i) Objective Test: The objective test of 3 hours duration consists of 4 Sections for total 200 marks. The objective test will have separate timing for every section.
(ii) Descriptive Test: The Descriptive Test of 30 minutes duration with two questions for 50 marks will be a Test of English Language (Letter Writing & Essay).
Interview Process
A candidate who clears both the Prelims & Mains Exam of SBI PO 2022 will be further called for a GD-PI session wherein they will face a panel of selectors discussing their past experience and questions related to General Knowledge and of the Banking Sector. It is essential for a candidate to clear the Interview Process in order to ensure their final selection in the SBI PO 2022 Exam. The qualifying marks for this round will be decided by the Bank and the marks allotted to these rounds are: Group Discussion - 20 marks, Interview - 30 marks.
Final Selection
After a candidate has gone through Personal Interviews, a merit list will be prepared by the State Bank of India wherein the candidate's score of the Mains Exam and Interview Round will be taken into account. Based on the score obtained by candidates and the available vacancies, final cut-off marks will be declared. All candidates who clear the cut-off range will be granted the Appointment Letter by State Bank of India for the post of Probationary Officer.
SBI PO 2022 Syllabus
For Prelims
Reasoning Ability: Logical Reasoning, Data Sufficiency, Seating Arrangement, Puzzles, Syllogism, Coding-Decoding, Input-Output and many more.
English Language: Reading Comprehension, Cloze Test, Para Jumbles, Fill in the blanks, Multiple Meaning /Error Spotting, etc.
Quantitative Aptitude: Simplification, Simple Interest & Compound Interest & Surds & Indices, Time & Distance, Work & Time, Ratio & Proportion, Percentage, Data Interpretation, Number Systems, etc.
For Mains
Data Analysis: Tabular Graph, Line Graph, Pie Chart, Bar Graph, Radar Graph Case-let, Missing Case DI, Let it Case DI, Data Sufficiency, Probability, Permutation and Combination.
Reasoning: Verbal Reasoning, Syllogism, Circular Seating Arrangement, Linear Seating Arrangement, Double Lineup, Scheduling, Input-Output, Blood Relations, Directions and Distances, Ordering and Ranking, Data Sufficiency, Coding and Decoding, Coded Inequalities, The course of Action, Critical Reasoning, Analytical and Decision Making.
English Language: Reading Comprehension, Grammar, Vocabulary, Verbal Ability, Word Association, Sentence Improvement, Para Jumbles, Cloze Test, Error Spotting, Fill in the blanks.
General Awareness/ Economy/ Banking Awareness: Financial Awareness, Current Affairs, General Knowledge, Static Awareness, Banking and Financial Awareness
Computer Aptitude: Internet, Memory, Keyboard Shortcuts, Computer Abbreviation, Microsoft Office, Computer Hardware, Computer Software, Operating System, Networking, Computer Fundamentals/ Terminologies.
For Group Exercise and Interview
This is the final stage of selection for successful candidates who qualify for the first two phases of the SBI PO exam. The Group Discussion accounts for 20 marks while the Interview is for 30 marks.
The aggregate marks of all the candidates clearing both the Objective Tests and Descriptive Test will be arranged in descending order in each category.
The decided number of candidates in each category, as governed by the Bank will be called for Group Exercises and Interview.
The qualifying marks in Group Discussion & Interview will be as decided by the Bank.
SBI PO 2022 Admit Card
The bank releases the SBI PO exam hall ticket online. Candidates can download the admit card online from the official website, i.e., sbi.co.in. The SBI PO Admit Card is usually released 10-15 days prior to the exam. Once released, candidates can download their call letters by logging in using their registration/roll number and password/date of birth.
SBI releases separate call letters for Prelims, Mains, and Interview. All the candidates who successfully passed the SBI PO Prelims can download call letters for the SBI PO Mains. Furthermore, candidates who qualified for the interview can download call letters for interviews.
SBI PO 2022 Exam Result
SBI PO 2022 result will be released separately for prelims, mains and final selection. The marks of the prelims exam are not counted for final selection. To select candidates for the post of SBI PO, the marks of the mains and GD/Interview are taken into consideration. The result is available in PDF form and comprises the roll numbers of qualified candidates. The marks can be downloaded logging with the required credentials.
Frequently Asked Questions related to SBI PO
Question 1: What is the age limit for applying to SBI PO exam?
The age limit for applying to SBI PO is between 21 and 30 years. However, relaxation in the upper age limit is provided to candidates belonging to the reserved categories.
Question 2: I have completed graduation from the Science stream. Can I apply for SBI PO?
Yes, candidates from any discipline can apply for the SBI PO exam.
Question 3: What kind of topics will be asked for SBI PO GD and PI?
The topics will cover the issues of burning issues of national and international interest. The topics can be related to NPI, Natural Calamity, Women Empowerment, Digitization, etc.
Question 4: Is there any bond in SBI PO?
The selected candidates, at the time of joining, are required to execute a bond of Rs 2 lakh to serve the bank for a minimum period of three years.
Question 5: How is the final appointment of candidates done through SBI PO exam?
The final appointment of candidates through SBI PO exam is done based on the mains exam and group exercises and interview.