SCIENCE & TECHNOLOGY
Barak 8: India-Israel missile defence system to be procured by Israeli Navy
The multi-purpose Barak 8 missile defence system, jointly developed by India and Israel, will be procured by the Israeli Navy.
Barak 8:
i. Barak 8 has been developed by Israel Aerospace Industries (IAI), India's DRDO, Israel's Administration for the Development of Weapons and Technological Infrastructure, Elta Systems, Rafael and few other Indian defence companies.
ii. It is referred to as Barak-8 by Israel and LR-SAM (long-range surface-to-air missile) by India. It has variants with maximum ranges of 70km and 150km.
iii. It is an operational air and missile defense system used by the Israeli Navy and the Indian Navy and air forces. It has already entered Indian Navy service on board the Kolkata class of destroyers.
iv. Israeli Navy's Sa'ar-6 corvettes will use Barak-8 to protect Israel's exclusive economic zone and strategic facilities that face various threats in the marine arena. The sales for Barak-8 have exceeded USD 5 billion.
v. It will provide wide range of aerial and point defence against various threats to the marine arena from the air, sea or land.
vi. It can defend against a variety of short-to-long-range airborne threats, like fixed-wing aircraft, helicopters, drones and projectiles.
vii. It has an advanced phased array multi-mission radar, two-way data link, and a flexible command and control system. It enables users to simultaneously engage multiple targets day and night and in all weather conditions.
About Defence Research and Development Organisation (DRDO):
♦ Chairman – Sanjay Mitra
♦ Headquarters – New Delhi
OBITUARY
Atal Bihari Vajpayee, former Prime Minister, passes away at 93
On 16th August 2018, former Indian Prime Minister, Atal Bihari Vajpayee, passed away following a long term illness, at All India Institute of Medical Sciences (AIIMS), Delhi.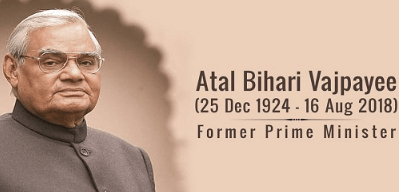 Death of Atal Bihari Vajpayee:
i. Atal Bihari Vajpayee was 93 years old. He was born on December 25, 1924 in Gwalior, Madhya Pradesh.
ii. He entered politics during the Quit India movement in 1942. He was one of the founding members of Jan Sangh, the parent organization of BJP, in 1951.
iii. He became the president of Jan Sangh in 1968 following the death of Deendayal Upadhyaya.
iv. He was the first BJP leader to become the prime minister of India. He was a three-time Prime Minister of India.
v. He was also the first non-Congress Prime Minister to complete the five year term as Prime Minister from 1999 to 2004.
vi. He was elected 10 times to the Lok Sabha from 4 different States. He was the Member of the Rajya Sabha twice.
vii. He was the first external affairs minister to deliver a speech in the UN Assembly in Hindi. He received Bharat Ratna in 2015. His birthday (December 25) is observed as the Good Governance Day.
Former India Test captain Ajit Wadekar passes away
On 15th August 2018, former Indian cricket captain Ajit Wadekar, died following a long term illness, at the Jaslok Hospital in South Mumbai.
Death of Ajit Wadekar:
i. Ajit Wadekar was 77 years old. He was born in Mumbai. He made his international cricket debut in 1966.
ii. He was India's first ODI (One Day Internatioanl) captain. He had scored 2,113 runs in his Test career.
iii. He retired from the international cricket in 1974. After retirement, he served as India's coach/manager in 1990s when Mohammad Azharuddin was the captain.
iv. He also became the chairman of selectors. He is the only cricketer apart from Lala Amarnath and Chandu Borde to have served as captain, manager, and selector in Indian cricket.
v. He received the Arjuna Award in 1967 and Padmashri in 1972.