6.6. EINSTEIN RING
Why in news?
Recently, the Hubble Telescope discovered a light bending Einstein Ring in space.
What is an Einstein Ring?
• According to the General Relativity theory of Albert Einstein, light can get deflected when passing through gravitational field of a massive body. Therefore, a massive object would warp space and time.
• When light from a distant object/source (e.g. a galaxy), pass by an extremely large mass/lens (e.g. another galaxy or galaxy cluster), it gets diverted and distorted around the massive intervening cluster and is forced to travel along many different light paths toward Earth, making it seem as though the galaxy is in several places at once. This is called Gravitational Lens effect.
• Einstein Ring is a kind of gravitational lens which is formed when the galaxy cluster is so closely aligned that the otherwise divergent light is focussed as a visible ring by them.
• The rings and lenses magnify objects that otherwise would be too distant and dim to see in today's telescopes.
• When the amount of bending of light is analyzed and the required bending mass is found greater than the visible mass of the cluster, it shows the presence of Dark matter.
6.7. ESA'S GAIA MISSION
Why in news?
Recently, a 3-dimensional map of the milky way was released using data from the Gaia mission of European Space Agency.
More about Gaia mission
• In the latest data, it pins down the positions of nearly 1.7 billion stars and also helps in revealing the composition, formation and evolution of the Galaxy.
• It is a leap forward from ESA's Hipparcos satellite, Gaia's predecessor and the first space mission for astrometry.
• The new data not only includes positions, distance indicators and motions of stars in the milky way, but also of asteroids within our Solar System and stars beyond our Galaxy.
• With these accurate measurements it is possible to separate the parallax of stars from their true movements through the Galaxy.
• Analysing all these could provide clues to the nature of dark matter and could lead to a more precise measurement of Hubble constant, which describes how fast the universe is expanding.
6.8. TRANSITING EXOPLANET SURVEY SATELLITE (TESS) MISSION
Why in news?
TESS has been launched by NASA to find worlds beyond our solar system, including some that could support life.
Details about TESS
• TESS will be the first space-based, all-sky surveyor to search for exo-planets (the planets outside of our own solar system), specifically those that are Earth-like, and close enough for scientists to study them further.
• SpaceX Falcon9 rocket (reusable launch vehicle) was used to liftoff the satellite and put it in orbit.
6.9. ISRO'S IRNSS-1I SATELLITE
Why in news?
ISRO launched the IRNSS-1I satellite from Satish Dhawan Space Centre, Sriharikota, through its PSLV-C41
Details about IRNSS-1I
• It is the eighth satellite to join the IRNSS satellite constellation.
• IRNSS-1I will replace IRNSS-1A, the first of the seven navigation satellites, which has become ineffective after its three rubidium atomic clocks failed.
• It will be placed in a sub-geosynchronous transfer orbit and at its closest point will be 284 km above the Earth and at its farthest will be 20,650 km above the Earth.
• Like all other IRNSS satellites, IRNSS-1I will also carry two payloads - navigation payload (determines position, velocity and time) and ranging payload (determines the frequency range of the satellite).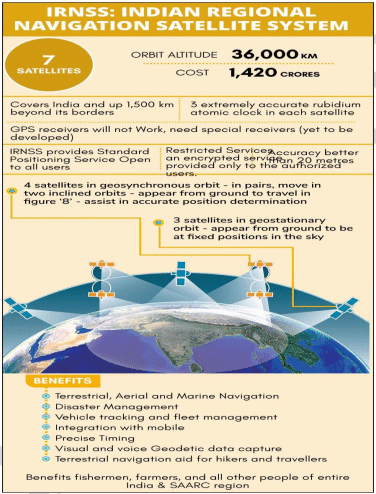 6.10. SOUNDING ROCKET: RH-300 MKII
Why in News?
Recently, Vikram Sarabhai Space Centre (IRSO) successfully launched RH-300 MKII Sounding Rocket from Thumba Equatorial Rocket Launch.
Related Information
• In 1975, all sounding rocket activities were consolidated under the Rohini Sounding Rocket (RSR) Programme.
• RH-75, with a diameter of 75mm was the first Indian sounding rocket, which was followed by RH-100 and RH-125 rockets.
• Currently, operational sounding rockets- include three versions namely RH-200, RH-300-Mk-II and RH-560-Mk-III.
About the sounding rocket
• They take their name from the nautical term "to sound," which means to take measurements.
• They are one or two stage solid propellant rockets with a payload of 60kg, and altitude capacity of 160km, used for probing the upper atmospheric regions and for space research
• Objective - is to measure neutral wind in the dynamo region (80-120 km) of equatorial ionosphere using the indigenously developed Electron Density and Neutral Wind Probe (ENWi) and perform cross-validation using an independent Tri Methyl Aluminium (TMA) release technique.
• They also serve as easily affordable platforms to test or prove prototypes of new components or subsystems intended for use in launch vehicles and satellites.
The study will enrich available atmospheric data and refine the models used for tropical weather prediction.
6.11. LYRID 2018
Why in News?
The Lyrid 2018 meteor shower was visible across the Northern hemisphere.
About Lyrid 2018
• This meteor shower was caused by remains of the C/1861 Thatcher comet, and is a yearly celestial phenomenon set around April.
• Lyrid meteor shower gets its name from the constellation Lyra, as it appears to originate from Lyra.
• Unlike eclipses, stargazers can enjoy the meteor shower without a visual aid.
Meteor Shower
• A comet passing close to the Sun heats up and spews dust and gases into a giant glowing head larger than most planets.
• The dust and gases form a tail that stretches away from the sun for millions of kilometers and is known as comet's trail.
• When earth, moving in its orbit around the Sun, passes through such a comet's trail, debris left behind by comet enters atmosphere and heats up and burn in a bright burst of light.
• This burning of debris with burst of light is called Meteor Shower