SCIENCE & TECHNOLOGY
India's first online oncology tutorial series launched
Union Health Ministry has launched India's first online oncology tutorial series, aimed at training doctors to detect and diagnose early signs of cancer.
More Information about India's first online oncology tutorial series:
i. The tutorial series has been designed in collaboration with Tata Memorial Centre and will be available across India, through state governments.
ii. The course duration for the entire tutorial series is of seven months. Physicians, gynaecologists, dentists and even medical professionals who are not oncologists can benefit from this course.
iii. Under this course, knowledge will be imparted through 14 hours of comprehensive e-learning, case studies, 40 video lectures and webinar sessions with professional consultants of Tata memorial hospital.
SPORTS
Ricky Ponting becomes head coach of IPL team Delhi Daredevils
Ricky Ponting has joined head coach of Delhi Daredevils. Ponting was earlier associated with Indian Premier League champions Mumbai Indians.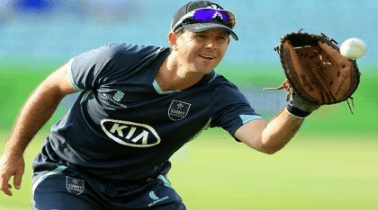 i. Ponting will replace Rahul Dravid.
ii. Dravid, who is the coach of the Indian under-19 team, had withdrawn due to conflict of interest.
Pakistan Hockey Federation appoints Hasan Sardar as chief head coach
On Jan 4,2017 , Pakistan Hockey Federation (PHF) appointed former captain Hasan Sardar as the new chief head coach of the national team.
i. Pakistan will appear in three major hockey events this year including the Commonwealth Games, Asian Games and World Cup for the year 2018.
ii. Hasan Sardar had won both the World Cup and Olympic hockey gold in his career would be head coach for a two-match series against an International eleven this month.
Pakistan Hockey Federation (PHF)
♦ Founded – 1948
♦ Headquarters – Lahore, Pakistan
♦ President -Khalid S. Khokhar
OBITUARY
Vasant Davkhare, NCP leader, passes away at 68
On Jan.4 2017 ,Senior Nationalist Congress Party (NCP) leader Vasant Davkhare (68) passed away in Mumbai.
i. He was former deputy chairman of the Maharashtra Legislature Council and NCP's face in Thane district of Maharashtra for the last two decades.
ii. His son Niranjan Davkhare is the NCP MLC.
A Sivanandan, Sri Lankan native novelist, intellectual giant passes away
On Jan.4 2017, Ambalavaner Sivanandan, 94, novelist and intellectual giant of Sri Lankan point has passed away.