SECURITY
6.1. MALWARE INFECTION INDEX 2016 (MII 2016)
Microsoft Asia announced the launch of its Malware Infection Index 2016 (MII2016), which identifies the key malware threats in the region and ranks markets in Asia Pacific according to how much they are affected. The region is especially vulnerable with emerging markets most at risk of malware threats.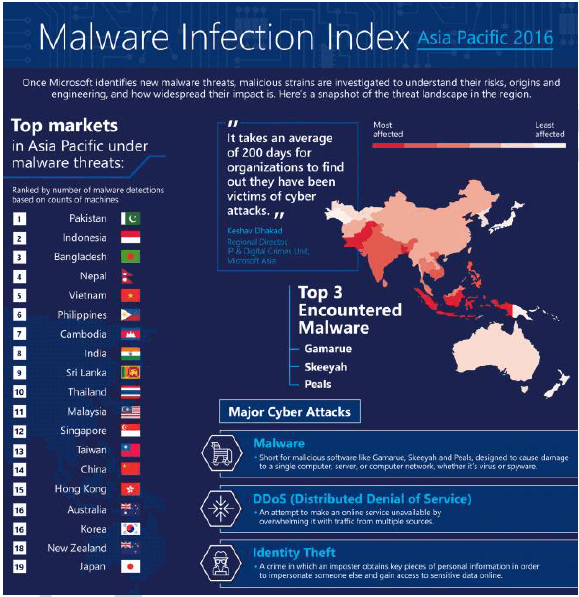 6.2. COASTAL SECURITY
The Home Ministry has extended the jurisdictional limits for notified police stations from the existing 12 nautical miles to 200 nautical miles.
 Following 26/11 terror attacks, Coast Guard was made responsible for securing Indian territorial waters extending up to 12 nautical miles (about 22 Km) from the shore, and new coastal police stations had been proposed to maintain security up to five nautical miles from the shore.
 The new limits of 200 nautical miles for land police will now add greater depth to the patrolling.
 New change will allow greater say to local police while dealing with cases of smuggling and terrorism along India's 7,516-km-long coastline.

6.3. GOOGLE STREET VIEW
India has declined to give security clearance to the Internet giant's Street View service, primarily due to objections raised by the Defence Ministry.  The main concern was security of sensitive defence installations.
 Post-Pathankot attack: Investigating agencies suspect that terrorists used Google maps as they were aware of the airbase's topography.
Google Street View
 Street View is the search giant's virtual mapping tool that lets users view 360-degree, panoramic and street-level images across more than 65 countries
 Google has stated Street View's usefulness in disaster management and tourism.
Model adopted in other countries
 In the US, Google was asked to remove sensitive information, and its image-capturing cars were ordered to keep off military bases.
 In Germany, households were given the option of blurring their buildings.
 In Japan, the height from which the cameras scanned the neighbourhoods was lowered and local governments were notified prior to Google's photography.
 Israel allowed Street View, with no images in real-time and only for public spaces open to all.
Way forward
 Government has hinted that its refusal is not final and that such issues could be resolved once the Geospatial Bill, which seeks to regulate map-creation and sharing, comes into force. Also, it might not be in India's best interests to keep out this technology for long.
6.4. "LONE WOLF"- STYLE TERRORIST ATTACKS
Recent mass shooting in Orlando, Florida has one again brought the issue of Lone wolf style terrorist attack across the globe. Over the last 3 years, such terrorist attacks have been on the rise.
Reason for such attacks
 In such attacks, actors allegedly act by themselves without any tactical or financial support from an established insurgent group or international terrorist organisation.
 It is an efficient way of spreading terror in hard-to-access places for terrorist groups like the IS.
 Lone wolves typically remain off the security radar.
 Mostly attackers are self-radicalized towards extremist ideology by accessing material on social media.
 The current gun sales environment in the U.S. allows self-radicalized to have licensed weapons with the right amount of push.
 The Orlando mass shooting is a terror attack stemming from homophobia reinforced by regressive religious doctrine.
6.5. INDIA-USA: COOPERATION IN ANTI-TERROR MECHANISM
Home Ministry signed an agreement to join the global terror database maintained by the Terrorist Screening Center (TSC) of the US
 US has already finalised such agreements with 30 countries and TSC has details of 11,000 terror suspects on its database, including nationality, photos, finger prints, passport number, etc.
 The Research and Analysis Wing (R&AW) and Intelligence Bureau (IB) had opposed giving the United States unhindered access to the database of terror suspects in India.