ISLAND DEVELOPMENT AGENCY

Why in news?

Recently Home Minister reviewed the development plans for 9 islands under the aegis of Island Development agency (IDA).
More about the news
IDA was constituted in June 2017 for the holistic development of islands. It is chaired by Union Home minister and includes secretaries ofvarious ministries.
The IDA had identified 10 islands for development which include 5 islands in A&N Islands (i.e. Smith, Ross, Long, Avis and Little
Andaman) and 5 in Lakshadweep (i.e. Minicoy, Bangaram, Thinnakara, Cheriyam, Suheli).
It will undertake holistic development in the project islands after giving due consideration to unique maritime and territorial bio-diversity of the islands.
Further development of tuna fishing industry and community based tourism to boost livelihood options and building a sustainable approach for thriving maritime economy of project islands is also envisaged.
Key facts about India's island Territories
Andaman and Nicobar Islands They comprise 572 islands and called 'India's Gateway to the East' as they are just 75 nm from the tip of Indonesia.
Duncan passage separates Little Andaman from South Andaman and the Ten Degree Channel separates Great Andaman from the Nicobar group in the south.
Lakshadweep Islands
It constitutes Lakshadweep, Minicoy and Amindivi archipelago group of coral islands in the Arabian Sea
The island groups consist of 12 atolls, three reefs and five submerged banks and of the 36 islands only 10 are inhabited, and many sea farers come from the islands.
Importance of Islands Development for India
Strategic Maritime Role: India being the largest maritime power in the Indian Ocean Region (IOR) has the responsibility to contribute to the safe passage of trade and energy needs of the world, in the sea lines of communications (SLOCs) passing through 10 degree channel and straits of Malacca, Hormuz and Bab El Mandeb.
International cooperation: A&N islands are an important element in "India's Act East Policy". Further they have important role to play in building up defence linkages with other countries through naval exercises, Humanitarian relief and Disaster development etc. For e.g. Exercise Milap, Malabar, HADR etc.
Economic Importance: Indian Islands have the potential for development of refineries and tourism with proper investment. Apart from this they also extend our Exclusive Economic Zone and help providing variety of natural and maritime resource whose advantage can be taken.
Regional Connectivity and trade: Indian islands can have deep water ports and large bays for ships to anchor can also be developed which will lead to increased trade, more habitation, decrease poaching and infiltration by non-state actors.
Blue Economy: Island development can be central to our vision of Blue economy which encompass Green Economy or environmental sustainability and Coastal Economy i.e. complementarity between coastal states and island development which are further key to Sustainable use of the Oceans and maritime resources (SDG 14).
Challenges
Natural Disasters: The islands are prone to Cyclone (e.g. OKCHI cyclone over Lakshadweep), floods, storm surges and Tsunami which cause loss of lives and property and damage to environment in the region.
Climate Threats: Global warming and sea level rise have been contributing to sinking of and reduction of land area on islands. Along with this Ocean acidification has also contributed to coral bleaching in Indian island territories.
Environmental and tribal development challenge also ensue as A&N islands are home to Great Andamanese, Onges, Jarawas and Sentinelese tribal groups which mainly reside in the environmentally sensitive zones in the area.
Chinese expansion into Indian ocean through String of pearls, setting up of military base in Djibouti and routine deployment of submarine pose a broader security threat to India especially to island groups as they are currently vulnerable from security perspective
Basic Services: Significant amount of work is still required to provide electricity and water to elevate the conditions of islands.
Logistical issues: Road building, airstrip construction, and even the building of jetties has been slow. Non-Conventional Threats: Piracy on the high seas, illegal migration from littoral states of the Bay of Bengal, poaching of marine and forest resources, arms and narcotics smuggling through uninhabited islands also pose a threat in island territories.
Steps taken by India
To tackle the threats of terrorism and piracy India has established a Far Eastern Naval command and a tri-service Andaman and Nicobar military Command.
Tsunami Early warning system and similar systems for cyclone have been put in place.
SAGARMALA initiative envisages port modernisation and efficiency improvement not only along coasts but in islands.
A Financial package of 10000 crore was approved in 2015 to boost Digital connectivity through optical fibre cable, physical connectivity through roads, rail and bridges. Further plans to establish naval air stations at Shibpur and Campbell Bay, ship-building and ship-repairing facilities at A&N islands are also on the anvil.
In 2016 India-Japan agreed on bilateral cooperation to "develop smart islands".
NITI Ayog is preparing guidelines for promoting investment through PPP projects and thus boosting private sector participation in Island development.
ENHANCING SECURITY OF BAY OF BENGAL

Why in news?

Recently, Sagar Kavach exercise was conducted by Odisha and West Bengal in Bay of Bengal.
Importance of Bay of Bengal in Indian Ocean
Regional Geopolitics – Bay of Bengal is one of the largest and busiest chokepoints in the world that connects Indian Ocean and Pacific Ocean. It comprises of 22% of the global population and lies in the centre of two important economic blocks SAARC and ASEAN. The region also stays in attention due to the growing Chinese influence in the region. Almost one-quarter of world's traded goods and about 80% of energy requirement of China, South Korea and Japan flows through Strait of Malacca.

Details of Sagar Kavach Exercise

The exercise aimed to assess the real time capabilities and efficacies of various National and State agencies such as Indian Navy, Marine Police Force, and Indian Coast Guard etc. along the 630 km long coast line.
This will be the first joint exercise between West Bengal and Odisha in which various drills such as simulated terror attack and defence will be carried on.
The main objective of the drill is to re-evaluate existing Standard Operating Procedures (SOP) mechanisms.

Resource Exploration- It is rich in natural resources such as petroleum, hydrocarbons, poly metallic nodules, placer deposits of heavy metals etc. It is joined with Andaman and Nicobar Sea and Malacca straits are the link between south east and south Asia which is a major source of oil and natural gas producing area.
Conservation- The places such as Andaman and Nicobar Islands, Palk Strait etc. are one of the high biodiversity areas which are crucial to conservation of biodiversity. The region has high potential for carbon sequestration due to presence of Mangroves (Blue Carbon).
Maritime Security- The region has been lately very active as far as security engagements are concerned such as Malabar Exercise. The BoB is also significant to tackle crime related to human trafficking and terrorism as well.
Development and Economic Integration- The BoB littoral states are mostly developing nations which have the lowest level of economic integration. At present less than 2% of world trade and very limited investment take place in the region.
Disaster Management – The region is highly prone to natural disasters such as cyclones. It is a strategically important area for Disaster Risk Reduction through monitoring and Early Warning Systems and engaging with other countries through regional exercises such as BIMSTEC DMEx 2017.

Role of Eastern States in Securing Bay of Bengal
The terror attack in Mumbai (2011) through sea routes even after the presence of Western Naval Command has made it important to secure the sea line of communication against any such threats in future.
The Eastern Coastline at present has only Vishakapatnam and Chennai with adequate naval presence and the rest of the coastline further northwards remains vulnerable to attacks. E.g. the recent terror activities in Odisha since 2015, has brought the region on the global terrorist groups.
States such as Odisha have significant potential to man the coastline because of it wide line of sights covering Bay of Bengal along with ideal temperature throughout the year and vast natural resources to exploit.
They also provide a short aerial route to Port Blair and with a dedicated force in this sector will provide quality protection to national assets and promote national interest in the neighbourhood.

Way Ahead
The conjunction between the Navy, Coast Guard and Marine police should be increased. Rapid Reaction Force should be established which should be active in the Bay of Bengal region.
It is important to increase the maritime security arc in Bay of Bengal beyond existing sectors till Myanmar, Thailand and Strait of Malacca.
BRAHMOS

Why in news?
The air-launched version of the BrahMos was successfully tested for the first time from a modified Su-30MKI fighter aircraft of the Indian Air Force (IAF). About the Missile
It is a joint venture between India's DRDO and Russia's NPO Mashinostroyeniya (NPOM) and is named after the Brahmaputra and Moscowa rivers.
The first stage of the system takes the missile to supersonic speed and the second stage with liquid ramjet accelerates it to 2.8 mach.
Brahmos ALCM (Air Launched Cruise Missile), is the heaviest weapon to be deployed on India's Su-30.
The land and sea variants of Brahmos are already operational with the Army and the Navy.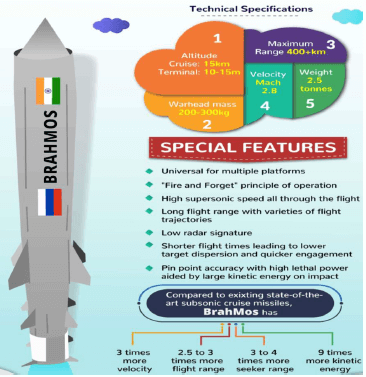 Significance
With this test launch, India becomes the first country to have the capability to have a multi-platform weapon.
It greatly enhances India's strike range making it capable of carrying out an attack from outside the lethal engagement zone of the terminal weapon systems.
It can be used for multi-mission roles, including precision strikes on terror camps across the border as well as against high value naval targets in the Indian Ocean.
Cruise Missile: A cruise missile is an unmanned self-propelled guided vehicle that sustains flight through aerodynamic lift for most of its flight path. They fly within the Earth's atmosphere and use jet engine technology.
Ramjet: A ramjet engine does not have any turbines unlike the turbojet engines. It achieves compression of intake air just by the forward speed of the air vehicle.
Fire and Forget: It means the missile guidance does not require further guidance after the launch and still hit the target without the launcher being in line-of-sight of the target.
SAMPRITI 2017

Why in news?
Recently SAMPRITI 2017 was held in Mizoram.

Exercise SAMPRITI 2017
It is a bilateral Indo-Bangladesh exercise aimed at strengthening and broadening the aspects of interoperability and cooperation between the Indian and Bangladesh Armies.
The Exercise was seventh in the series and had 2 distinct components - Command Post Exercise (CPX) and Field Training Exercise (FTX).
The continued exercise between both the countries is symbolic of the growing maturing relationship and also building trust and confidence between both Armies. 4.5.
NIRBHAY SUPERSONIC CRUISE MISSILE

Why in news?

Recently, DRDO successfully test fired NIRBHAY missile.

About the Missile
NIRBHAY is India's first indigenous Long Range Sub-Sonic Cruise Missile, developed and designed by Defence Research and Development Organisation (DRDO).
It can carry a warhead of 200 kg to 300 kg at a speed of 0.6 to 0.7 Mach with a launch weight of about 1500 kg.
It can avoid detection as it has ability to cruise at heights as low as 100 m.
It is powered by solid rocket motor booster and has a range of 1000km.
The successful development would provide a definite boost to armed forces, indigenous defence industry and India's capability to design and develop lethal weapons of strategic importance.
With the successful launch of NIRBHAY, India joins the select league of nations that possess the ability to make sub-sonic cruise missile.


INTERNATIONAL MULTILATERAL MARITIME SEARCH AND RESCUE EXERCISE

Why in news?
Recently, first ever IMASAREX was held in Bangladesh.
International Multilateral Maritime Search and Rescue Exercise
It is a first ever sea based exercise under the aegis of Indian Ocean Naval Symposium which is currently chaired by Bangladesh with participation of Indian Ocean Littoral states in Bay of Bengal.
IMMASAREX is significant for the fact that along with India, China will also participate in the backdrop of skepticism of China's activities in Indian Ocean and its base in Djibouti.

Indian Ocean Naval Symposium

It is a voluntary initiative that seeks to increase maritime co-operation among navies of the littoral states of Indian Ocean Region by providing an open and inclusive forum for discussion of regionally relevant maritime issues.
The inaugural IONS was held in 2008 under chairmanship of the Indian Navy.