4.1. URBAN TERROR
Why in News?
Recently, one of the deadliest shoot-outs in modern US history took place in Las Vegas.
What is Urban Terrorism?
Urban terrorism is the threat of terroristsapplied to the urban environment whichseeks to unsettle and disrupt urban infrastructure and life.
It is mainly of 2 types

When this threat is directed at peoplei.e. mass killings
When directed at urban infrastructure.
Why increase in such attacks?
Easy Targets- Density of built environment in urban agglomerations and urban mass transport infrastructureresult in mass gathering making them easy targets tomaximize the impact of terrorist attacks.
Scope for Anonymity- Unlike in rural areas, inhabitants in cities and towns are more heterogeneous, whichprovides more scope for anonymity. This makes Improvised Explosive Device (IED) attacks and suicidebombings extremely difficult to detect or prevent in time.
Availability of facilities- For terrorists, logistical support like arms, medicines, public transport food, andlodging are readily available in an average urban area.
Easier Recruitment- In urban areas, a terrorist group may find it easier to recruit prospective terrorists in apredictable manner, for it is the city that nurtures dissidence in general.
Attacking credibility of the government- By attacking high profile symbolic targets, the terrorists wish tomake a point that if a government fails to protect high value targets, it is obvious that it may not be in aposition to protect the normal ones.
Protection from indiscriminate counter terrorism operations- This also gives an added advantage to terrorists to prevent any kind of indiscriminate counter-terrorist operation by the state that could maximisecollateral damage. For the same reason, the use of aerial bombardment against terrorists becomes difficult.The presence of hostages further complicates military or police operations.
Less demanding operations- Urban operations for terrorists also often demand less in the way of brute physical strength and endurance than do operations in mountainous or rural terrain. And they do not needsophisticated long-range weapons to inflict the desired damage.
Easy spread of fear- Since terrorism is 'propaganda by the deed', the attention-seeking goal of terrorists iswell served in the urban environment where the immediate audience is greatest and where representatives of the print and electronic media are readily available and quite eager to report. Such coverage also magnifies the fear-generating capabilities of terrorist acts.
Other kinds of Vulnerabilities-The new kinds of crisis that may result from the major environmentaldisasters will further breed conflict.
Vulnerabilities due to internet: Increasing availability of personal data has made individuals vulnerable toterrorism. Such information can be used for the purpose of radicalisation or targeting for the acts of violence. Internet has increased the reach of the terrorists further due to enhanced GPS and other services.Terrorism has acquired trans-national characteristics.
What needs to be done?
Intelligence Agencies- There is a need for cooperation among centre, state and international intelligenceagencies.
Proper Surveillance- It is of critical importance to penetrate the networks and sleeper cells of the terroristorganizations to gain actionable intelligence.
Technology to detect and alert for suspicious activity such as loitering by an individual or vehicle should bemade use of.
Security personnel should be sensitized to spotting and segregating suspicious objects that are left behind.
Trained Armed Forces

​Police, must be effectively trained to deal with this new phenomenon of urban terror.
Every state should have a NSG-type of commando force to counter lethal terror strikes.
Rehearsals should be periodically undertaken for search-and-rescue operations after large-scale terroriststrikes and different contingencies should be simulated and practiced.

A comprehensive approach should be adopted to counter urban terrorism involving all stake holders ofsociety. This includes creating societal awareness to keep a steady eye on errant behaviour in the neighbourhood and sharing of information of suspicious movements with intelligence agencies.
4.2. COMPREHENSIVE INTEGRATED BORDER MANAGEMENT SYSTEM (CIBMS)
Why in News?
Recently Border Security Force (BSF) personnel detected a fifth (since2012) cross-border tunnel in theforest area of Jammu which hasintensified the demand for CIBMS.
What is CIBMS?
It is a robust and integrated system that is capable of addressing the gaps in the present system of border security by seamlessly integrating human resources, weapons, andhigh-tech surveillance equipment.
It has three main components:

New high-tech surveillance devices such as sensors, detectors, cameras, etc. as well as existing equipmentfor round-the-clock surveillance of the international border.
An efficient and dedicated communication network including fiber optic cables and satellite communication for transmitting data gathered; and
A command and control centre to which the data will be transmitted providing a composite picture of the international border.
Background
In 2014, the BSF submitted a detailed report on CIBMS to the MHA, but no decision was taken to implement the system until January 2016.
The trigger for implementing the CIBMS was the Pathankot terrorist attack followed by warning by the Punjab and Haryana High Court. Following this the MHA sanctioned the implementation of CIBMS through two pilot projects (stretches in Jammu sector of India-Pakistan Border).
Further a committee under Madhukar Gupta (2016), was explicitly tasked to recommend technological solutions to secure the international border.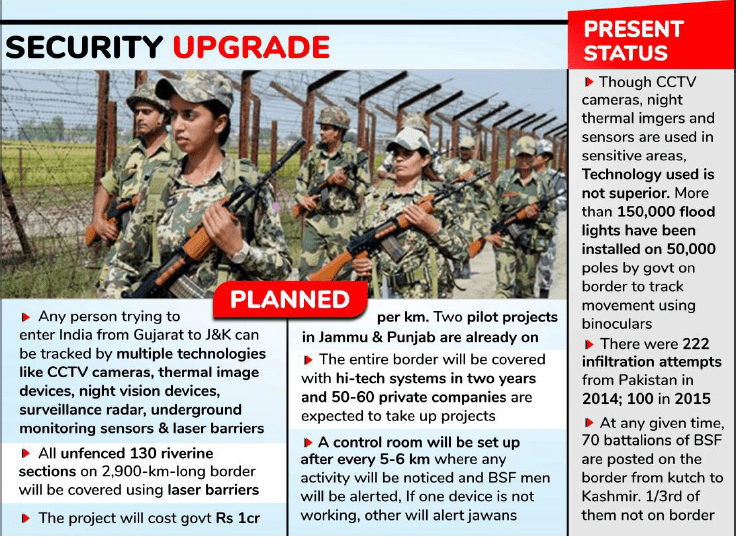 Need for CIBMS
Being manpower intensive, the system was not effective in providing rest and relief to BSF troops.
The high-tech equipment being used did not provide all-round security and did not work in adverse climatic conditions.
Many significant gaps remained at rivers and nullahs running along the fences.
It is not an integrated system and therefore failed to provide a common operating picture at all level.
CIBMS may help to avoid further terror attacks—like the one in Pathankot—as well as infiltration and smuggling.
4.3. DIGITAL POLICE PORTAL UNDER CCTNS
Why in news?
Recently Home Minister launched a digital police portal under the CCTNS project.
Crime and Criminal Tracking Network and Systems (CCTNS)
It is a project of MHA launched in 2009 which aims to:
Provide Citizen Centric Police Services via a web portal.
Pan India search on National database of Crime & Criminal records.
Crime and Criminal reports at State and Centre.
Computerization of Police Processes.
Background
CCTNS has originally aimed at maintenance of crime and criminal records of individuals through a national database, and delivery of web based police related services to all citizens.
Now continuing the push for digitalisation of Police related services Digital Police portal has been launched.
Inter-operable Criminal Justice System (ICJS)
It is a component of CCTNS
ICJS aims to integrate the CCTNS project with the e-courts and e-prisons databases initially and later to all components of criminal justice system.
Thus it will help in providing speedy justice through access of CCTNS to the Judiciary, Police and Prisons to facilitate expeditious and informed decisions and aid investigations.
Features of Digital Police Portal
It is a SMART (S-Strict and sensitive, M-Modern and mobile, AAlert and accountable, R- Reliable and Responsive; T- Trained and Techno-savvy) policing initiative of government. It aims to
Provides Services to Citizens at a National level

Report a Crime
Request for person verification
Links to State Citizen Portal

The access to authorized persons to use National Database of crime records will help in investigation, policy making, data analytics, research and providing citizen services. The access has been restricted only to authorized officials to protect Privacy of individual and concerns of National security.
The portal also generates various thematic reports of trends of incidence of crime across the country tofacilitate policy analysis and undertaking targeted interventions.
4.4. FREE MOVEMENT REGIME WITH MYANMAR
Why in news?
Recently government has taken steps to review free movement regime between Indian and Myanmarese
citizens.
What is Free Movement Regime (FMR)?
The tribal communities, particularly Nagas, Singhpos, Kukis, Mizos etc. claim that the boundary between India and Myanmar is inconsistent with the traditional limits of the region they inhabited and they still continue to have trans-border linkages with their kiths and kins.
The FMR is thus an arrangement to alleviate insecurity of tribals living along India and Myanmar border.
It permits tribes residing along the border to travel 16 km across the boundary without visa restrictions.
While India allows Myanmarese nationals to stay 72 hours without visa, Myanmar allows stay of only 24 hours. To resolve this parallel discussions between the two governments have been going on.
Need for reviewing FMR
Illegal activities in guise of FMR: Intelligence Agencies have raised concerns that FMR is being misused by militants and criminals for infiltration, smuggling of weapons, narcotics etc.
Differing Protocols between bordering states: The bordering states had been following different protocols for FMR which may result into a security threat and thus need was being felt to strengthen border security measures between the two countries. Recently government has agreed to devise common standard operating procedures (SOP) regarding FMR for all four states bordering Myanmar.
Safe Havens for militants groups such as the NSCN-K, NSCN-IM, ULFA, PLA, (UNLF-M), have thrived in western Burmese hills partly due to their mobile bases and efficient information network.
Complicated nature of terrain: Transverse mountains, inhospitable terrain, surging rivers and dense forest canopy makes movement of people and development of the region difficult. Thus FMR needs to be reviewed to accommodate development of tribals's interests without creating a security concern for India.
Exodus of Rohingyas: There has been an exodus of Rohingya Muslims in India due to turmoil in Rakhine province of Myanmar. In this context a government panel has also been constituted to examine the present rules and regulations adopted by Border States for implementation of Free movement regime and emerging security issues.
4.5. CREATION OF SPACE, CYBER AND SPECIAL OPERATIONS COMMANDS
Why in news?
Recently, three new formations under Defence Ministry namely Defence Cyber Agency, Defence Space Agency
and a Special Operations Division have been proposed.
Background
The initiative is based on the recommendations of Chiefs of Staff Committee (in 2012) which had recommended creation of three joint commands- in the areas of cyber, space and special operations — due to their increased relevance in modern warfare.
Joint military Doctrine of the Indian armed forces, 2017 had also underscored the need to prepare the defence forces for the "emerging triad" of space, cyberspace and special operations.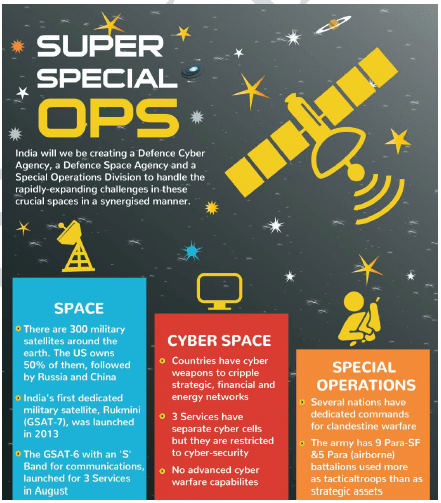 Details
The three organisations will be developed as Triservice organisations to promote integration and jointness among military, air-force and navy in respective domains.
Defence Cyber Agency (DCA) will work in close coordination with the National Cyber Security Advisor. Its experts will be distributed to various formations of the Army, Navy and IAF, and will focus on non civilian cyber issues, including safeguarding critical infrastructure.
Defence Space Agency (DSA) will work closely with ISRO and DRDO for better utilisation and integration of space resources including information from surveillance satellites.
Special Operations Division (SOD) will have central pool of personnel from the Special Forces of the Army (Para commandoes), Navy (Marcos) and IAF (Garud's). They will be equipped and trained together for unconventional warfare capabilities.
The agencies will be headed by officers of the rank of Major General and equivalent in the Navy and Indian Air Force.
These commands were recommended to be set up by the Naresh Chandra Task Force, 2012.
Significance
Cyberspace as Fifth Dimension of warfare: Cyberspace applications today include surveillance, intelligence and actual conduct of military operations - both defensive and offensive. Attacks on critical ICT networks can provide significantly higher military advantages than physical attacks.
International Comparisons: China has demonstrated potent military space and cyberspace capabilities, ranging from advanced ASAT (anti-satellite), directed-energy laser weapons and cyber-weapons. Thus it is indispensable that India also develops it's in house capabilities in cyber, space and special operations domain.
Special Operations: India had launched surgical strikes against Pakistan last year but they were mainly military led operations. The new agencies in cyber and space give us the capability to 'plan' and assist the Special Forces to 'conduct' special operations.
4.6. INTEGRATED CHECK POSTS
Why in news?
Cabinet recently proposed to set up 13 new Integrated Check Posts (ICPs) to encourage India's engagement with SAARC countries along with Thailand and Myanmar.
Land Ports Authority of India (LPAI)
It is a statutory body under the, Department Of Border Management, Ministry of Home Affairs.
It aims to develop, sanitize and manage the facilities for cross-border movement of passengers and goods at designated points along the international borders of India.
About ICP's
They help in securing the country's borders against hostile elements and putting in place systems that are able to interdict such elements while facilitating legitimate trade and commerce.
They provide all facilities like warehouses, parking lots, banks, hotels etc. in a single integrated complex tocomplement existing infrastructure available with Customs, Immigration and other regulatory agencies.
These Integrated Check Posts (ICPs) would house all regulatory agencies like Immigration, Customs, bordersecurity, etc.
They are managed by Land Ports Authority of India (LPAI).
13 proposed ICP's are
| | | |
| --- | --- | --- |
| Location | State | Border |
| Petrapole | West Bengal | Ind-Bangladesh |
| Hili | West Bengal | Ind-Bangladesh |
| Chandrabangha | West Bengal | Ind-Bangladesh |
| Sutarkhandi | Assam | Ind-Bangladesh |
| Dawki | Meghalaya | Ind-Bangladesh |
| Akhaura | Tripura | Ind-Bangladesh |
| Kawarpuchiah | Mizoram | Ind-Bangladesh |
| Raxaul | Bihar | Ind-Nepal |
| Jogbani | Bihar | Ind-Nepal |
| Sunauli | UP | Ind-Nepal |
| Rupaidiha | UP | Ind-Nepal |
| Attari | Punjab | Ind-Pakistan |
| Moreh | Manipur | Ind-Manipur |
4.7. INS KILTAN
Why in news?
Recently INS Kiltan (P30), Anti-Submarine Warfare (ASW) stealth corvette was commissioned into the Indian
Navy.
Details
INS Kiltan is third of the four kamorta class anti-submarine warfare corvettes being built under naval modernisation project P-28.
INS Kamorta and INS Kadmatt which were two ships constructed earlier under the same project. The fourth ship INS kavaratti is still under construction.
It is India's first major warship to have a superstructure of carbon fibre composite material resulting in improved stealth features, lower top weight and maintenance costs.
It was designed by Directorate of Naval Design and constructed by Garden Reach Shipbuilders & Engineers Limited, Kolkata.