Shearing Stress
In the theory of bending, presence of shear and the distortion of plane sections was neglected because the effect of it is not on bending stress is not of practical importance.
But, it is important to consider the shear stresses for their own importance.
Here, only the shearing stresses in the transverse palnes parallel to the shearing force and the complimentary shear stresses in the longitudinal planes parallel to the axis of the beam.
Shear stress distribution over rectangular section
F​ig. shows the rectangular cross-section of the beam, over which we have to determine the distribution of shear stress. Consider a layer ab at any above the N.A.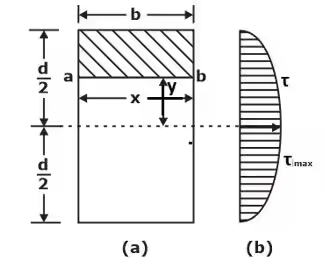 Shearing stress on a layer JK of beam at distance y from neutral axis.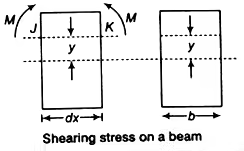 Where,
V = Shearing force
First moment of area

Shear stress in Rectangular Beam
Suppose, we have to determine the shear stress at the longitudinal layer having y distance from neutral axis.




Circular Beam
Centre of gravity of semi-circle lies at distance from centre or base line. As it is symmetrical above neutral axis, hence at neutral axis shear stress will be maximum.

For τmax substituting y = 0


Shears Stress in Hollow Circular Cross-Section
In hollow circular cross-section, if we have to calculate τ at neutral axis by the formula

Shear Stress in Triangular Section
In a triangular cross-section, if we have to calculate τ at neutral axis, then in formula

Shear Stress in I-section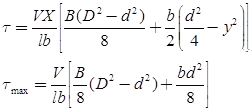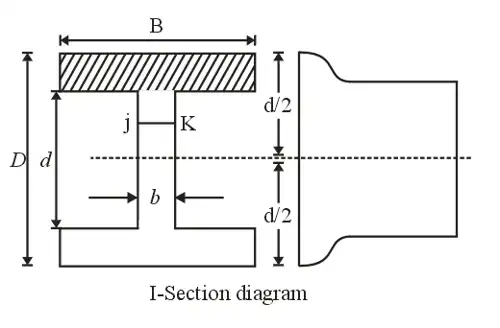 Combined Stresses
Under combination of
where P = axial thrust, A = area of cross-section
where M = bending moment, y- distance of fibre from neutral axis, I = moment of inertia.
where T = torque, r = radius of shaft, J = polar moment of inertia.
Combined Stress is: