Short Answer Type Questions
Q.1. Give example of a plant having more than one edible part. What are those parts?
Ans. Mustard plant's seeds give us oil and its leaves are used as vegetables.
Q.2. How can you make sprouts at home?
Ans. Put a small quantity of seeds in a container filled with water and leave this for one day. Next day drain the water completely and leave the seeds in the vessel. Wrap the seeds with a piece of wet cloth and open it the next day, we will observe a small white structure has grown out of the seeds, seeds with such small uprooting white structures are called sprouts.
Q.3. Name some plant and animal products plants.
Ans. Plants give us products like Grain, cereals, vegetables and, fruits. But animals give us products like milk and milk products, egg, meat, chicken, fish, prawn, beef, pork etc.
Q.4. How do we get honey?
Ans. A bee collects nectar from flowers, converts it into honey and stores it in its hive. This honey is extracted and collected from beehives and is used as a food product.
Q.5. Draw the diagram of a beehive.
Ans.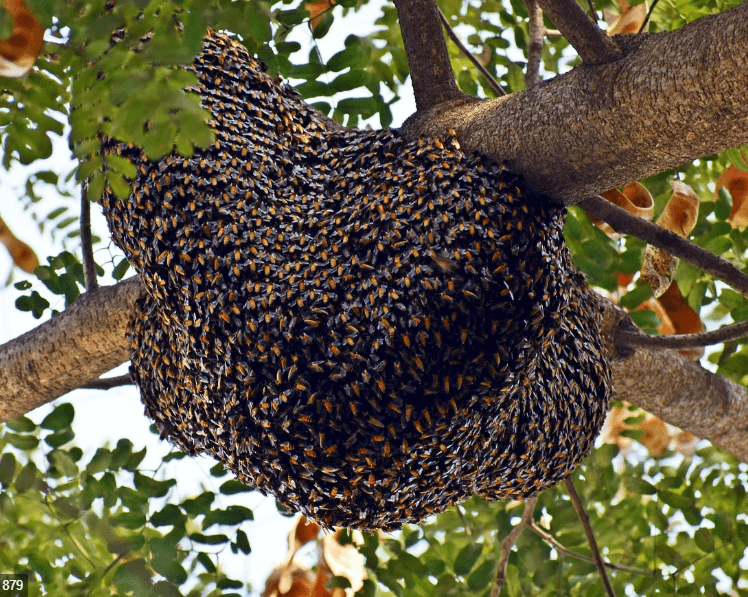 Beehive
Q.6. Differentiate between herbivores and carnivores.
Ans.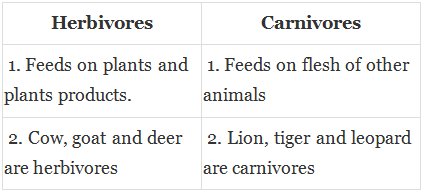 Q.7. Differentiate between omnivores and carnivores.
Ans.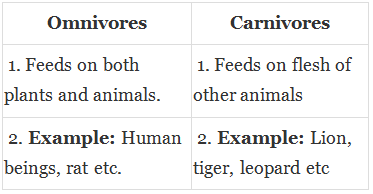 Q.8. Differentiate between herbivores and omnivores.
Ans.

Q.9. Who all belong to the family of herbivores?
Ans. Herbivores are the animals that feed on green plants and plant products like cow and deer.

Q.10. What do animals eat?
Ans. Different animals have different feeding habits. Some eat green plants and plant products and are called herbivores like cow and deer. Some feed on flesh of other animals and are called carnivores like lion. Some animals eat both plants and animals and are called omnivores, like humans, rat etc.

Q.11. Name five plants and their parts that we eat.
Ans.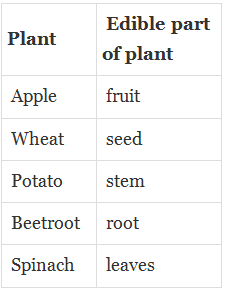 Q.12. State all milk products.
Ans. Ghee, paneer, cheese, butter, ice-cream, yogurt etc.

Q.13. What do you mean by food habit?
Ans. The habit of an individual owing to which it takes a particular type of food depending on its taste and availability is called food habit.
Long Answer Type Questions
Q.1. What do you know about vegetarian and non – vegetarian habits?
Ans. Man is omnivorous i.e. he can feed on both plants and animals. On this basis, there are two types of food habits found among humans:
Vegetarian- people who do not eat animal products such as meat, fish egg etc.
Non- vegetarian- people who eat meat, fish, egg and other animal products.