Ques 1: Give three reasons for the civil war in Sri Lanka.
Ans: The distrust between the Sinhala and Tamil communities turned into a civil war due to the following reasons:
(a) Sinhala was declared as the only official language disregarding Tamil.
(b) Sinhala applicants were favored for government jobs and higher positions in military and bureaucracy.
(c) Buddhism was declared as the official religion.

Ques 2: Why is power-sharing desirable in a democracy or any other system of government?
Ans:
(a) Power-sharing helps to reduce the possibility of conflict between social groups.
(b) It is a good way to ensure the stability of political order and unity of the nation.
(c) A legitimate government is one where citizens through participation acquire a stake in the system.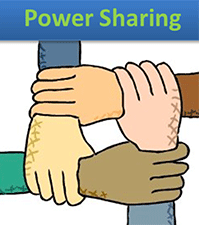 Fig: Power sharing
Ques 3: Describe the power-sharing in Lebanon.
Ans: As per the agreement :
(a) President must belong to the Maronite sect of Catholic Christians.
(b) The Prime Minister must be from the Sunni Muslim community.
(c) The post of Deputy Prime Minister is fixed for Orthodox Christian sect and that of the speaker for Shia Muslim.
(d) The Christians agreed not to seek French protection and the Muslims agreed not to seek unification with Syria.