Q.1. Give three reasons for the civil war in Sri Lanka.
Ans. The distrust between the Sinhala and Tamil communities turned into a civil war due to the following reasons: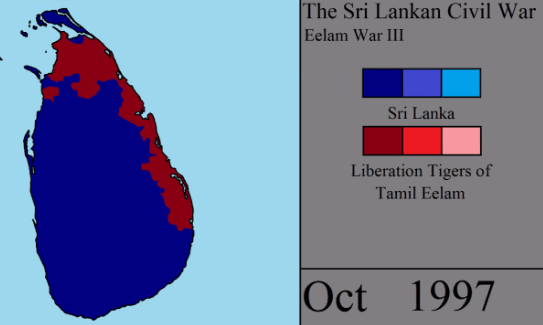 (a) Sinhala was declared as the only official language disregarding Tamil.
(b) Sinhala applicants were favored for government jobs and higher positions in military and bureaucracy.
(c) Buddhism was declared as the official religion.

Q.2. Why is power-sharing desirable in a democracy or any other system of government?
Ans.
(a) Power-sharing helps to reduce the possibility of conflict between social groups.
(b) It is a good way to ensure the stability of political order and unity of the nation.
(c) A legitimate government is one where citizens through participation acquire a stake in the system.

Q.3. Describe the power-sharing in Lebanon.
Ans. As per the agreement:
(a) President must belong to the Maronite sect of Catholic Christians.
(b) The Prime Minister must be from the Sunni Muslim community.
(c) The post of Deputy Prime Minister is fixed for Orthodox Christian sect and that of the speaker for Shia Muslim.
(d) The Christians agreed not to seek French protection and the Muslims agreed not to seek unification with Syria.

Q.4. Why is power sharing essential for a democracy?
Ans. Power sharing is essential for a democracy because it accommodates diversities of a nation.

Q.5. In the Flemish region which language did the majority of the people speak?
Ans. The Dutch language.

Q.6. What is the power of the community government in Belgium?
Ans. The community government in Belgium has the power regarding cultural, educational and language-related issues.

Q.7. In a democracy power sharing is ensured in the presence of political parties and pressure groups. Explain.
Ans. In a democracy political parties compete with each other to gain political power. Each political party has a fair chance to come into power. Sometimes when no political party gets a clear majority in elections, two or more political parties come together to form a coalition government. This also ensures power sharing. In a democracy various interest groups of workers, business men etc. that exist, tend to influence government decisions. Their participation in the government's activities ensures power sharing.

Q.8. Can dividing power lead to the weakening of a country?
Ans. No, dividing power cannot lead to weakening of a country. In fact division of power ensures that the rights of the minorities are protected. It also keeps the tyranny of the majority under check. It helps in national integration. People feel safe and secure in such a democratic country.