Ques 1: Distinguish between potential resource and stock with the help of examples.
Ans: Resources which are found in a region, but have not been utilised are termed as potential resource. They are either not easily accessible or not properly developed for present use but have the potential to fulfill our needs whenever we require them with development of technology and infrastructure. For example, the states of Rajasthan and Gujarat have enormous potential for development of wind and solar energy, but they have not been significantly developed yet. Similarly, the hot springs of Himalayan region have potential for development of geothermal energy but their development is lacking. Mineral deposits lie buried in mountains and oceans but their exploitation is lacking.
Stocks, on the other hand, are materials in the environment which have the capacity to satisfy human needs but human beings do not have the appropriate technology to access these. For example, water is a compound of two inflammable gases, hydrogen and oxygen, which can be used as a rich source of energy.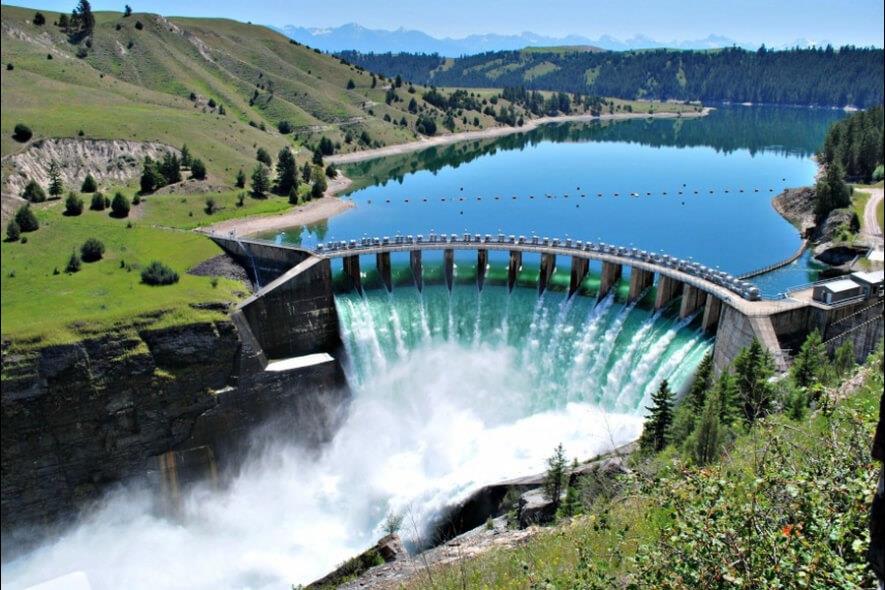 Fig: Hydro energy
But the required technical knowledge how to use these abundant gases for this purpose is not available at present. Similarly, by development of desalinisation project we can make ocean water usable for drinking purpose. But we do not have the proper expertise and funds to use them, but our future generations may be able to do so with advancement of science and technology.
Ques 2: What does the term 'sustainable economic development' mean? How can we eradicate irrational consumption and over-utilisation of resources.
Ans: Sustainable economic development means 'development should take place without damaging the environment' and development in the present should not compromise with the needs of the future generations.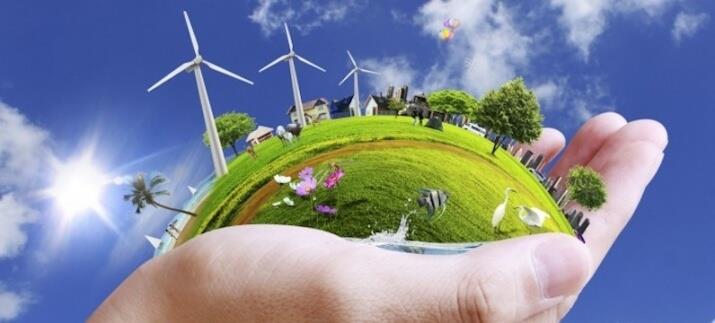 Fig: Sustainable economic development
We can eradicate irrational consumption and over-utilization of resources through conservation of resources. Irrational consumption and over-exploitation of resources lead to many socioeconomic and environmental problems. To overcome these problems and to preserve resources for our future generation as well, proper management and conservation of resources is essential.
Ques 3: List the problems caused due to indiscriminate use of resources by human beings.
Ans: Indiscriminate use of resources by human beings has led to economic, social and ecological problems. The major problems that have arisen due to over-exploitation, irrational consumption and indiscriminate use of resources are:
(i) Depletion of resources for satisfying the greed of a few selfish individuals.
(ii) Accumulation of resources in a few hands, which in turn, has led to social segregation into rich and poor. The society is divided into two segments, i.e., have and have-nots.
(iii) Indiscriminate and uncontrolled exploitation of resources without consideration for the future have led to grave ecological problems like global warming, ozone layer depletion, environmental pollution and land degradation.
Ques 4: Why does the pattern of net sown area vary from one state to another.
Ans: The pattern of net sown area varies greatly from one state to another. It is over 80 percent of the total area in Punjab and Haryana. Geographical conditions like climate and soil here, are favourable for cultivation. Further, due to agricultural advancement through Green Revolution, more areas have been brought under cultivation. On the other hand, less than 10 percent of the total area is net sown area in Manipur, Mizoram, Arunachal Pradesh and Andaman and Nicobar Islands. Topographical constraints, unfavourable climate as well as socio-economic reasons account for the low proportion of net sown areas in these states. On account of the vast expanse of India, its relief, climate, soil and socio-economic set-up vary from region to region accounting for the variation in the pattern of net sown area from one state to another.
Ques 5: Analyse the four main factors which help in the formation of soil.
Ans: Relief, nature of parent rock or bedrock, climate, vegetation and other forms of life, especially decomposers, and time are important factors in the formation of soil. Weathering of the parent rocks due to climatic factors like change of temperature, wind and frost action and rainfall and natural forces like action of running water, wind, glaciers etc., lead to disintegration of rocks.
This leads to the formation of soil. The four most important factors of soil formation are thus:
(i) Relief determines the nature of weathering and erosion.
(ii) Climate determines the rate and factor of denudation of the rocks and influences weathering and erosion.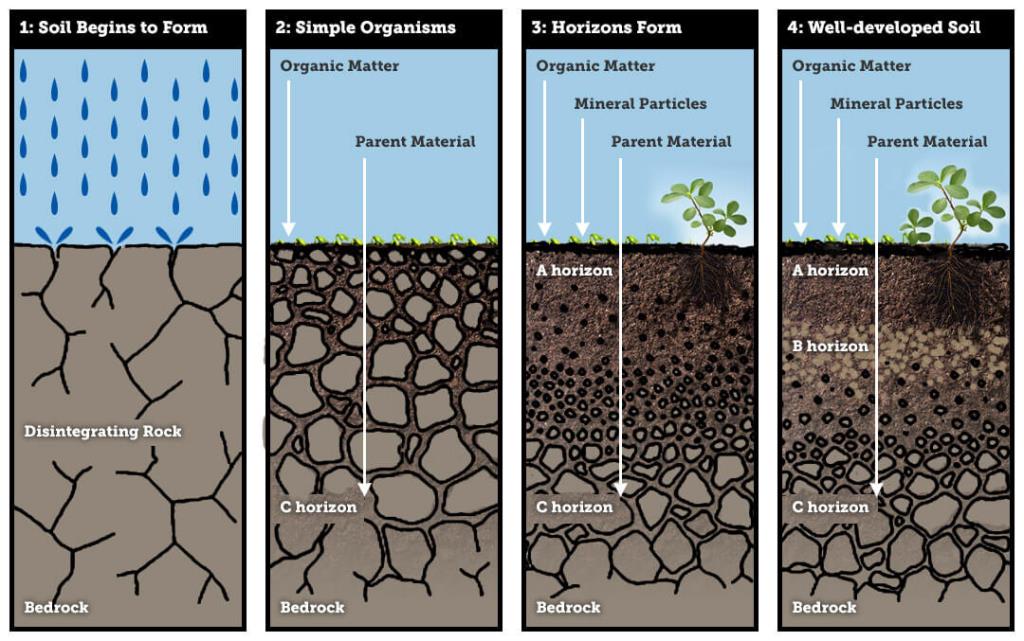 Fig: Formation of soil(iii) Nature of the parent rock determines the colour, texture and mineral content of the soil.
(iv) Time determines maturity of the soil, usually it takes millions of years to form soil upto few cms in depth.