Q.1. Describe how cities developed in ancient and medieval period in the world, giving example.
Ans. Cities like Mohenjodaro and Mesopotamia emerged on the bank of big river systems, namely the Sindh, Tigris and Euphrates. These cities supported large populations with trade and commerce. They served as administrative centres. In medieval times, cities grew out in the periphery of important buildings and trading centres. For example, most of the medieval towns and cities in Europe has an imposing Church in the centre as an imposing structure.
Q.2. Give a brief description of London as a city in 1750s.
Ans. London was a colossal city or metropolis. It was a densely populated city. It also became the centre of administration as the capital of Britain. Its population was approximately 6,75,000. There was a rapid growth of population from 1 million in 1810 to 4 million in 1880. Migrants from rural areas were attracted to the textile mills of Manchester and Leeds in large numbers after 1850s. Slums and social crimes increased distinction between the rich and the poor widened.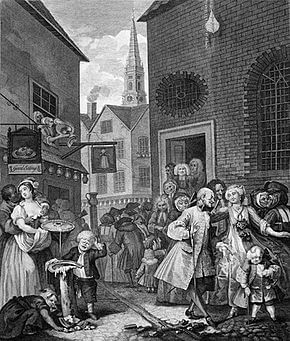 Many people migrated to London in search of work opportunities
Q.3. List some steps taken to clean up London.
OR
Describe any three steps to clean London in 18th and 19th century.
Ans.
(a) Decongestion of localities by introduction of rent control.
(b) Increasing green open spaces by building suburbs or countryside homes by the rich.
(c) Pollution reduction by building green belt around London.
(d) Landscaping and building cottages for single family etc.
Q.4. How does the historian Gareth Stedman Jones describe the 19th century London?
Ans. According to Jones "London was a city of clerks and shopkeepers, of small masters and skilled artisans, of a growing number of semi-skilled and sweated out workers, of soldiers and servants, of casual labourers, street sellers and beggars." It was a powerful magnet for migrant populations even though it did not have large factories. Five major types of major industries employed a large number of workers, beside the London Dockyards.
Q.5. Why, along with growth as a city, London became a centre for crime?
OR
Who were those who were concerned about crime?
Ans. It is reported that in the 1870s, 20,000 criminals were living in London. Crime had become a matter of great concern to the police and the philanthropists. Police was worried about the law and order and the philanthropists were anxious about public morality. The industrialists wanted a hard-working and orderly labour force.
According to Henry Mayhew, who wrote several books on London labour, the 'criminals' were in fact poor people who lived by stealing lead from roofs, food from shops, lumps of coal, clothes drying on hedges. Others were more skilled in their trade, experts in their jobs. There were cheats and tricksters, pickpockets and petty thieves crowding London streets. The main reason was the huge population of London, less number of jobs and the poverty of the majority which made it a city of crime.
Q.6. How was the problem of planning and expansion done in Bombay? (2010)
Ans. Expansion of land was difficult due to scarcity of land. Hence, land reclamation was the means they used. The earliest project of joining one landmass to another led to the emergence of seven islands of Bombay. The process began in 1784 under the governorship of William Hornby, who approved the building of a great sea wall to prevent floods. Reclamation of land from sea also continued throughout mid-nineteenth century by government and private companies. The city expanded by about 22 square miles although mounting cost forced many private companies to close down.
Q.7. Describe in three points the social changes in the city of London with respect to entertainment and leisure of the people due to industrialisation. (2010)
OR
Describe any three sources of entertainment for common people of London.
Ans.
(i) For wealthy Britishers, an annual 'London Season' was organised which included several cultural events, such as the opera, the threatre and the classical music performances.
(ii) Working classes met in pubs and taverns to have a drink, exchange news and sometimes to also organise political action.
(iii) Libraries, art galleries and museums were established in the 19th century to provide entertainment for the common people. Music halls were popular among the lower classes, and by the early 20th century, cinema became a means of great mass entertainment for mixed audiences.
Q.8. How did the development of cities influence the ecology and environment in the late nineteenth century? Explain by giving an example of Calcutta (Kolkata).
OR
"Cities developed at the cost of ecology and environment." Explain with examples.
Ans. City development everywhere has been at the expense of ecology and environment. To accommodate factories, housing and other institutions, natural features are either transformed or flattened out. Large quantities of refuse and waste products pollute air and water and excessive noise becomes a feature of urban life. In the late 19th century, use of coal in homes and industries raised serious problems. For example, in Calcutta, inhabitants inhaled grey smoke, particularly in winter. Since Calcutta was built on marshy land, the fog and smoke combined to generate a thick black smog. High levels of pollution were a result of the huge population using dung and wood as fuel in their daily life. Main polluters were the industries that used steam engines run on coal. The introduction of the railway in 1855 brought a new dangerous pollutant – coal from Raniganj. It had a high content of ash. Calcutta became the first Indian city in 1863 to get smoke nuisance legislation. In 1920, the rice mills of Tollygunge began to burn rice husk instead of coal, and people complained of "black soot falling like drizzling rain" causing bad tempers, dirty clothes and smoke-related illnesses. The inspectors of Bengal Smoke Nuisance Committee finally managed to control industrial smoke, but found controlling domestic smoke more difficult.
Q.9. Give three reasons why Bombay in known as the city of dreams. [2010, 2011 (T-1)]
Ans. Bombay appears to many people as Mayapuri – a City of Dreams.
(i) By 1925, Bombay became the capital city of films in India. It attracted migrants from Lahore, Calcutta, Madras and other parts. They contributed to the blending of culture, dream and stars as well as slums of Bombay. Bombay started producing films for a national audience.
(ii) The film industry in 1947 invested money in about 50 Indian films and the amount was Rs 756 million. By 1987, the film industry employed 520,000 people.
(iii) Bombay films have contributed in a big way to produce an image of the city as a blend of dream and reality, slums and star bungalows. It is acclaimed as one of the biggest film industries of the world. Bollywood now produces over 1000 films every year. Since 1913, Indian cinema has made a journey from simple silent movies to sound films, from coloured films to technically advanced movies of the present day.