Q.1. Why was China a major producer of printed material for a long time?
Ans. China had a huge bureaucratic system. The personnel for this system was chosen on the basis of a Civil Service Examination. To help the candidates, textbooks for this examination were printed in enormous numbers. In the 16th century, when more candidates were recruited, more printed material appeared in public.
Q.2. Who were the people who employed scribes to write in the 14th century ?
Ans. As handwritten books were expensive, only the rich, the aristocrats and the Church could employ scribes. The scribes wrote only for aristocratic circles and rich monastic libraries. With the coming of the woodblock printing, merchants and traders started buying books in large numbers, with the result that booksellers could afford to hire scribes. One bookseller could employ 50 scribes due to the new technology in printing. It was no longer the monopoly of the rich and the influential.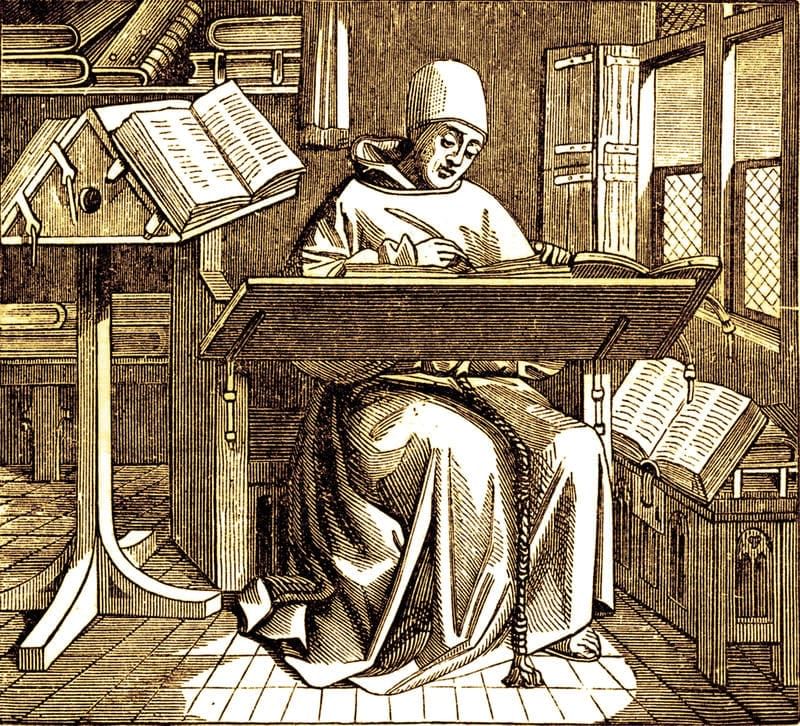 Medieval Scribe
Q.3. State the limitations of handwritten books. (2010)
OR
Why were Manuscripts not used widely in everyday life before the age of print in India?
Ans. Handwritten books were expensive and took a long time to produce. Copying was expensive and it was hard and laborious work. The manuscripts were very fragile and could easily be spoilt. They were awkward in size and difficult to carry. The result was that their circulation was limited. Middle-class people could not afford them.
Q.4. Write a short note on the developments or innovations in the printing technology in the 19th century. (2010)
OR
Give three methods by which printed books became more accessible to people.
OR
Describe the development of printing press after Gutenberg.
Ans. There were a series of innovations in the printing technology in the 19th century.
(i) Richard M. Hoe of New York perfected the power-driven cylindrical press. He could print 8000 sheets per hour. His press was very useful for printing newspapers.
(ii) The late 19th century saw the development of offset press capable of printing six colours at a time.
(iii) Electrically-operated press in the early 20th century increased the rate of printing operations.
(iv) Methods of feeding paper improved, quality of plates became better, machines were fed automatic paper reels and photoelectric controls of colour register were introduced.
Q.5. Write a short note on how printing press came to India. (2010)
Ans. The printing press was brought to India by the Jesuit missionaries. They came to Goa in the 19th century, who learnt Konkani and printed many tracts. But in 1674, about 50 books were printed in Konkani and Kanarese languages. The Catholic priests published the first book in Tamil in 1579, at Cochin and in 1713 the first book in Malyalam was printed by them. The Dutch Protestant missionaries had already printed 72 Tamil books by 1710, most of them translations of earlier texts. By the end of the 18th century, newspapers began to appear in various Indian languages.
Q.6. What were the difficulties faced by manuscripts in India?
Ans. The handwritten books were very expensive and very fragile. They were difficult to carry and had to be handled carefully. They were also not easy to read as the script was written in many styles. Because of this difficulty they were not widely read. Teachers dictated them from memory and the students wrote them down. Students learnt not to read the manuscripts but only wrote them. Though in pre-colonial period Bengal had many village primary schools, the manuscripts were not used in everyday life. Thus, students became literate without ever actually reading the texts.
Q.7. Explain the terms Ulema and Fatwas.
Ans.
(i) Ulema were scholars of Islam and the Sharia (a body of Islamic laws). Ulema were learned men and the term became associated with experts on religious affairs.
(ii) Fatwa : It was a religious edict issued by a competent religious authority, called the Mufti, to clarify a point about Islam, or to tell the Muslims what to do in a specific situation.
Q.8. Who were the supporters of women's education in India and why?
Ans. The print culture affected the lives of women. Not only women readers but also many women writers came forward to write about women's experiences. They were supported by liberal fathers and husbands who started educating their womenfolk at home. Some even sent them to schools. Many schools for women were set up by social workers and rich people in town and cities. Many reformers also supported education among women.
Q.9. Who were the dissenters? Why did they object to women being educated?
Ans. There were dissenters among Hindus as well as Muslims. Hindus had the superstitious belief that women would be widowed if they were educated. Muslims believed that a woman would be corrupted by reading Urdu romances.
Q.10. What was the role of cartoons and caricatures in new forms of publications? (2010)
Ans. By the 1870s cartoons and caricatures appeared in many journals and newspapers. They commented on social and political issues. By making fun of certain beliefs, they aroused the public and made them think about certain rules of society and the role of imperial rulers. Some caricatures made fun of the educated Indian's fascination for everything western in tastes, clothes etc. Some, on the other hand, expressed fear of change of any kind. In the field of politics they lampooned the behaviour and attitude of imperial rulers. The imperial rulers returned the compliment by making fun of and caricaturing the nationalists.