Ques 1: Define (i) ecosystem or ecological system (ii) flora and fauna.
Ans: (i) Ecosystem or Ecological system: The complex interactions, interrelationships and interdependencies between living organisms form an ecosystem or ecological system. No living organism, plant, animal, micro-organism or human can live in complete isolation. They all depend upon their immediate physical surrounding or habitat for their survival. In the process, they interact with other living organisms and are interdependent on each other. These interrelationships create an ecosystem.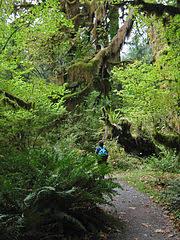 Fig: Ecological System
(ii) Flora and Fauna: The plant life of a region is termed as flora and the animal life is termed as fauna. Example, Mangifera indica or mango tree is a natural flora, and tiger, the national animal of India is example of fauna.

Ques 2: Write a short note on India's biodiversity. What are main factors responsible for India's biodiversity?
Ans: India is one of the world's richest countries in terms of its vast array of biological diversity. India has nearly 8 percent of the total number of species in the world which is estimated to be 1.6 million. A large number of species are yet to be discovered. Over 81,000 species of fauna (animals) and 47,000 species of flora (plants) are found in India.
A variety of topographical or physical features and differences in climatic conditions found in India have provided a wide variety of habitats and influenced the survival of different species of plants and animals in different parts of India. Vast biodiversity with plants and animals unique to different areas is a consequence of the variety of physical and climatic conditions prevailing in India.

Ques 3: Distinguish between extinct species and endangered species. Give examples.
Ans: Extinct species are those species which are not found after searches of known or likely areas where they may occur. A species may be extinct from a local area, region, country, continent or the entire earth. Examples of such species are the Asiatic cheetah, pink-headed duck. Endangered species are those species which are in danger of extinction. The survival of such species is difficult if the negative factors that have led to a decline in their population continue to operate. The examples of such species are black buck, crocodile, Indian rhino, Indian wild ass, lion tailed a macaque, sangai, etc. Special measures are taken to protect endangered species, for example, hunting of such animal is banned under Wildlife Protection Act.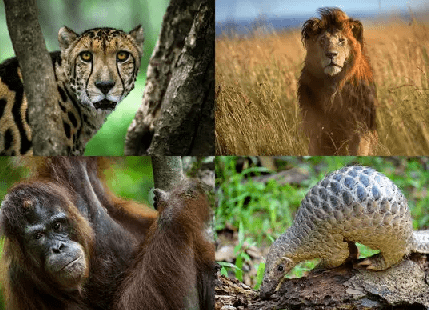 Fig: Endangered Species
Ques 4: Differentiate between endemic species and rare species. Give examples.
Ans: Endemic species are found in some particular areas, usually isolated by natural or geographical barriers, for example islands. The examples of birds and animals belonging to such species are the Andaman teal, Andaman wild pig, Nicobar pigeon and mithun in Arunachal Pradesh. Uncommon species which are seldom found are called rare species. These species are small in number and are found scattered in some distant areas because their number have depleted due to negative factors. The small population of rare species may soon fall in the category of endangered or vulnerable species if the negative factors are not controlled. The examples of rare species are the Himalayan brown bear, wild Asiatic buffalo, desert fox, hornbill, etc.

Ques 5: Why is the Himalayan Yew in trouble?
OR
What is Himalayan 'Yew'? Why is it under great threat? (2010)
Ans: The Himalayan Yew is a medicinal plant found in various parts of Himachal Pradesh and Arunachal Pradesh in the Himalayan region. A chemical compound called 'taxol' is extracted from its bark, needles, twigs and roots. This has been successfully used to treat some types of cancers. The species is, therefore, over-utilised for manufacturing cancer fighting drug. The drug is now the biggest selling anti-cancer drug in the world. The species of Himalayan Yew is, therefore, under great threat due to over-exploitation on account of its medicinal value.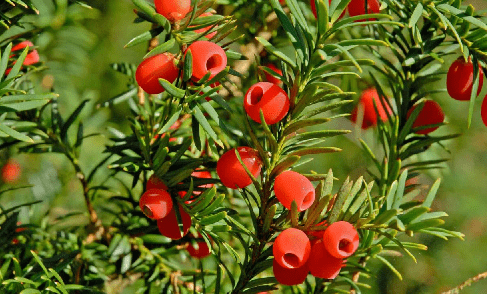 Fig: Himalayan Yew
Ques 6: What steps have been adopted under the Indian Wildlife Act to protect the endangered species of animals?
Ans: Under the Indian Wildlife (Protection) Act, implemented in 1972 several programmes were adopted to protect the remaining population of certain endangered species.
The steps taken in this regard included:
(i) banning hunting and poaching,
(ii) giving legal protection to the habitats of the endangered species and
(iii) restricting trade in wildlife Subsequently, central and many state, governments established national parks and wildlife sanctuaries. The central government has undertaken several projects for protecting specific animals that are gravely threatened like the tiger, the one-horned rhinoceros, the Asiatic lion, the Kashmir stag or hangul and three types of crocodile.

Ques 7: Large-scale development projects and mining have contributed significantly to the loss of forests. Give reasons to support this statement.
Ans: Large scale development projects and mining have contributed significantly to the loss of forests.
Since 1951, over 5000 sq. km. of forests have been cleared for river valley projects. Clearing of forest is still continuing with projects like the Narmada Sagar Project in Madhya Pradesh, which would inundate 40,000 hectares of forest. Mining for the purpose of industrial development is another major factor behind deforestation. The Buxa Tiger Reserve in West Bengal is seriously threatened by the ongoing dolomite mining. It has disturbed the natural habitat of many species and blocked the migration route of several others, including the great Indian elephant.