Q1. Why is mixture called impure substance?
Ans. Mixture consists of different components which retain their properties and can be easily separated by physical processes, hence it is called as impure substance.

Q2. Give the differences between mixture and compound.
Ans.

Q3. Distinguish between a physical change and chemical change.
Ans.

Q4. State the properties of a solution.
Ans. Properties of a solution are:
1. A solution is a homogeneous mixture.
2. Particles of a solution are smaller than 1 nm and cannot be seen by naked eyes.
3. Do not scatter beam of light.
4. Solute particles cannot be separated from the mixture by the process of filtration and thus, solution is stable.

Q5. State the properties of a suspension.
Ans. Properties of a suspension
Suspension is a heterogeneous mixture having particle size greater than 100 nm.
The particles of a suspension can be seen by naked eyes.
Particles can scatter a beam of light.
It is unstable.

Q6. What is a colloidal solution?
Ans. It is a heterogeneous solution which appears to be homogeneous, particles size is very small and so cannot be seen with naked eyes but it is stable. E.g., milk and blood.

Q7. State the properties of colloidal solution.
Ans. Properties of colloidal solution.
It is a heterogeneous mixture having particle size between 1 nm to 100 nm.
Size of particles is very small, cannot be seen with naked eyes.
It scatters a beam of light.
They are stable as the particles do not settle when left undisturbed.

Q8. Give the applications of centrifugation.
Ans. Application of centrifugation are:
1. Used in diagnostic laboratories for blood and urine test.
2. Used in dairies and home to separate butter from cream.
3. Used in washing machines as a spinner to squeeze out water from wet clothes.

Q9. Give the applications of chromatography.
Ans. Applications of chromatography are
1. To separate colours in a dye.
2. To separate pigments from natural colours.
3. To separate drugs from blood.

Q10. Why is crystallisation better than evaporation?
Ans. Crystallisation is a process that separates a pure solid in the form of its crystals from a solution.
Crystallisation is better than evaporation because during evaporation
Some solids decompose or some, like sugar may get charred on heating to dryness.
Some impurities may remain dissolved in the solution even after filtration which on evaporation contaminates the solid.
Q11. How will you separate a mixture of oil and water?
Ans. To separate a mixture of oil and water, we need a separating funnel as both are immiscible liquids. Pour the mixture in separating funnel and let the funnel stand undisturbed for sometime. So that separate layer of oil and water are formed. Open the stopcock of the separating funnel and pour out the lower layer of water carefully.

Q12. A student is given a mixture of naphthalene ball's powder and common salt. He need to separate this mixture. How will he do this?
Ans. The properties of both naphthalene and common salt should be known, before we choose the separation technique.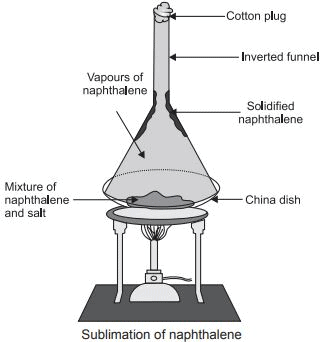 Naphthalene is a sublimate which on heating changes to gaseous state directly. Hence to separate a volatile compound (sublimate) from a nonvolatile compound (non-sublimate), the sublimation process is used. In a China dish the mixture is kept, and is placed on a stand. An inverted funnel is kept over the mixture in China dish with plugged stem. The sublimate on heating gets collected on the funnel and common salt remains in the China dish.

Q13. How can we obtain different gases from air?
Ans. Air is a homogeneous mixture and its components can be separated by fractional distillation.
The flow diagram shows the steps involved in the process.



Q14. Draw a flow diagram to show how the water purification system in water works.
Ans.


In filtration tank water passes through different layers of sand and gravel as shown in the above figure. This is for adsorption of impurities.
The clear water reaches a chlorinated tank where water is mixed with bleaching powder/chlorine to kill bacteria and then supplied to houses.

Q15. Why is air considered as a mixture and not compound?
Ans. Air is considered as a mixture because it exhibits following properties:
1. Each component present in air retains its properties.
2. Each component can be separated by simple physical processes.
3. The components do not have any fixed proportion. All gases are present in different amount. Example, in greener area—more oxygen and water vapour is present; near industrial area—air consists of lot of impurities and smoke suspended in it.

Q16. How can you prove that water is a compound?
Ans. When electricity is passed through water at two different electrodes, we get two different gases i.e., oxygen and hydrogen during electrolysis of water are produced. The ratio of oxygen: hydrogen is 1:2 by number of molecules.
The properties of oxygen and hydrogen gases are entirely different from that of liquid water.
The ratio of oxygen: hydrogen combination is always constant i.e., 1: 2 by volume.
To separate the components of water, we need electrolytic cell, and it is not a simple process.
This proves that water is a compound.

Q17. How can we convert saturated solution into unsaturated by heating?
Ans. Saturated solution is said to be saturated at a given temperature when there is no more scope of solute particles to dissolve/dissociate into water. It is because the solute particle has taken all the intermolecular space present in the solvent.
On heating, the molecules of solvent gain kinetic energy, start vibrating and try to move away from each other thereby accommodating some more solute particle in this space and hence it becomes an unsaturated solution.

Q18. What is the difference in fog and smoke?
Ans. Fog is a colloidal solution with liquid dispersed in gas. Smoke is a colloidal solution with solid dispersed in gas.

Q19. If 20 g of salt is present is 220 g of solution, calculate the concentration of solution.
Ans.


Q20. A list of techniques used to separate mixtures is given below.


From the list choose the most suitable technique to separate the following:
(a) Water from aqueous copper (II) sulphate ....................................................... (b) Helium from a mixture of helium and argon .................................................. (c) Copper (II) sulphate from aqueous copper (II) sulphate .................................. (d) Ethanol from aqueous ethanol ...................................................................... (e) Barium sulphate from a mixture of water and barium sulphate .....................
Ans. (a) simple distillation
(b) fractional distillation
(c) crystallisation
(d) diffusion
(e) filtration

Q21. In Chromatography: Sometimes a spot will remain on the base line, where sample was first applied:
(a) Suggest what affinity this substance would have for solvent.
(b) Suggest the value for Rf of this substance.
(c) Outline how you could determine whether these materials are pure or a mixture?
Ans. (a) The spot on the base line is not soluble in the solvent.
(b) Its Rf value is 0.
(c) The solvent can be changed, only such solvent should be used in which the given sample can travel. The pure substances always have rf value less than 1.

Q22. Some students proposed measuring the position of each spot from the top, others proposed from the center. Explain which method is better?
Ans. To measure the distance travelled by the spot it is always advisable to measure the distance from the base line. The measurement from the center will not give the correct value of Rf.

Q23. Distinguish between the pure and impure substances.
Ans. Pure substance have fixed boiling and melting point and the impure substances boil or melt over the range of the temperature.

Q24. On adding impurity to a substance what happens to its Boiling point/ Melting point?
Ans. The boiling point and the melting point does not remain fixed. The boiling point increases on addition of impurity.

Q25. Pure ethanol boils at 78.4° C and freezes at –114.3° C. You have a sample of ethanol which boils between 79.1° C and 79.9° C
(a) What can you say about its purity?
(b) What will you expect to find, when you measure its freezing point?
Ans. (a) The sample is impure as it is boiling over a range of temperature.
(b) The freezing point will lower.

Q26. It is important that some substances are pure. Give two examples.
Ans. Pure substances are required for several things in life like medicine and food should be pure if impurities are added into it can become fatal.