Q1. Why do we see water droplets collected on the outer surface of a glass container, containing ice?
Ans. The water vapour present in air, comes in contact with the cold outer surface of the container thereby condensing it to form water droplets.
Q2. Explain why solids have fixed shape but liquids and gases do not have fixed shape.
Ans. Solids have fixed shape due to strong intermolecular force of attraction between them. The liquids and gases have molecules with less intermolecular force of attraction and hence they can flow and take shape of the container.
Q3. Liquids and gases can be compressed but it is difficult to compress solids. Why?
Ans. Liquids and gases have intermolecular space, on applying pressure externally on them the molecules can come closer thereby minimizing the space between them. But in case of solids there is no intermolecular space to do so.
Q4. A balloon when kept in sun, bursts after some time. Why?
Ans. The balloon has air filled in it. The balloon when kept in sun gets heated and the air inside it also gets heated. The molecules of air get energy, and vibrate faster thereby exerting large force on the walls of the balloon. Due to this expansion of gases the balloon bursts.
Q5. Why do people perspire a lot on a hot humid day?
Ans. On a hot humid day, due to the heat our body starts sweating for the cooling mechanism i.e., by evaporation and gets cooling effect. But the air cannot hold any more water on a humid day and therefore the sweat or perspiration isseen.
Q6. Distinguish between evaporation and boiling.
Ans.​
Q7. Why is it advisable to use pressure cooker at higher altitudes?
Ans. At higher altitudes, the atmospheric pressure is low and the water boils very fast and evaporates at faster rate therefore the pressure is required to increase the cooking process and this is done by using pressure cooker which increases the pressure inside the container and cooks food faster.
Q8. What are fluids?
Ans. The states of matter that can flow due to less intermolecular force of attraction liquid and gases are fluids are called as fluids.
Q9. One kg cotton and one kg sand, which is more denser? Why?
Ans. One kg sand is more denser than 1 kg cotton. The volume required by cotton is more than the sand and density and volume are inversely proportional. Density = mass/volume.
Q10. Why is water liquid at room temperature?
Ans. The room temperature cannot provide sufficient heat to the molecules of water to overcome their force of attraction and therefore it remains in liquid phase.
Q11. State the differences between solid, liquid and gas
Ans.

Q12. Cotton is solid but it floats on water. Why?
Ans. Cotton has large number of pores, in which air is trapped.Hence reducing its density and increasing the volume. Therefore cotton floats on water. But when these pores get filled with water it starts sinking.
Q13. Why are solids generally denser than liquids and gases?
Ans. Density of a substance is given by a formula
Density =

In case of solids the molecules are tightly packed and hence large mass is concentrated in very small volume. Hence their density is more. But in case of liquids and gases, their molecules have intermolecular space and hence they don't have large mass concentrated in small volume. So the density of solids is generally more than that of the liquids and gases.
Q14. On a hot sunny day, why do people sprinkle water on the roof or open ground?
Ans. During hot sunny day, the surface of roof or ground absorbs large amount of heat and remains hot, on sprinkling water on these surfaces, the water absorbs large amount of heat from the surface due to its large latent heat of vaporisation and evaporates thereby allowing the hot surface to cool.
Q15. The temperature at which liquids change into vapours is very high, for example, water vaporises at 100°C then how is it possible for water to evaporate at room temperature or at any other temperature?
Ans. The molecules of water present on the surface of the exposed area which are in very small fraction, gains the energy from the surrounding. With this higher kinetic energy they are able to break the force of attraction between them and hence get converted into vapour state.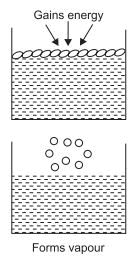 This phenomenon of change of a liquid into vapours that takes place at any temperature below its boiling point is called evaporation.
Q16. On a hot sunny day why do we feel pleasant sitting under a tree?
Ans. Tree has lot of leaves which constantly show transpiration. Transpiration is loss of water through small tiny pores of leaves called stomata. When thiswater comes on the surface of leaf the water evaporates thereby causing cooling effect. Therefore we feel pleasant sitting under the tree on a hot sunny day.
Q17. Name the factors that affect evaporation.
Ans. The rate of evaporation will increase with (1) an increase of surface area, (2) an increase of temperature, (3) a decrease in humidity, (4) an increase in wind speed.
Q18. The melting point of ice is 273.16 K. What does this mean? Explain in detail.
Ans. Ice is solid at 0°C i.e., 273° K. The molecules of ice are tightly packed. These molecules have to overcome the force of attraction with which they are held and hence they gain this heat from the surrounding but the temperature remains the same as their energy is used to overcome the force of attraction between the particles. The particles of ice start vibrating freely and a stage reaches when the solid ice melts and is converted to liquid state at the same temperature i.e., 273 K.
Q19. How is the high compressibility property of gas useful to us?
Ans. The gases have high compressibility. This property is used in the following situation: (1) LPG (liquefied petroleum gas) is a fuel which is made up of petroleum gas. On compressing this petroleum gas it forms liquid. (2) Oxygen cylinders in the hospitals have compressed gas filled in it. (3) CNG (compressed natural gas) is a natural gas, methane, which is compressed and used as a fuel in vehicles and at home.
Q20. With the help of an example, explain how diffusion of gases in water is essential?
Ans. The gases from the atmosphere diffuse and dissolve in water. Gases like oxygen and carbon dioxide diffuse in water, are essential for the survival of aquatic animals and plants. Animals breathe in this oxygen dissolved in water for their survival and plants can use carbon dioxide dissolved in water for photosynthesis.
Q21. On adding impurity to a substance what happens to its Boiling point/ Melting point?
Ans. Its boiling point and the melting point changes. It does not remain fixed. The boiling point is elevated and the melting point is decreased.
Q22. How will you separate miscible and immiscible liquids?
Ans. To separate the miscible liquids we can used distillation or fractional distillation. To separate two immiscible liquids we can use separating funnel as the densities of the two liquids is different .
Q23. Pure ethanol boils at 78.4°C and freezes at –114.3°C. You have a sample of ethanol which boils between 79.1°C and 79.9°C
(a) What can you say about its purity?
(b) What will you expect to find, when you measure its freezing point?
Ans. (a) The sample is not pure as it is not boiling at the fixed point rather it boils at the range of temperature.
(b) Its freezing point will also not remain fixed rather over a range of temperature it will freeze and the range will be lower than the freezing point.
Q24. It is important that some substances are pure. Give two examples.
Ans. The pure substances are important for our life as some impurities may affect its nature or our health. For e.g., if we eat food which is not pure like suppose oil is adulterated with some impurities, it may cause heart problems. Similarly, medicines should be in purest form impurities in it may cause complications and death.
Q25. Explain: solute and solvent.
Ans. Solute: Any substance that dissolves in the solvent. Solvent: Any substance in which the solute can dissolve.
Q26. State the difference between condensation and sublimation.
Ans. Condensation: The cooling of the gaseous vapours when it comes in contact with the low temperature. Sublimation: The conversion of solid substance directly into vapours without attaining the liquid state.
Q27. Suppose you are given a solution of salt and water. Suggest how would you separate this mixture to obtain: (a) Pure salt and (b) pure water
Ans. (a) To obtain pure salt I shall evaporate the water by controlled heating or keeping it in sun. (b) To obtain pure water, I shall use the process of simple distillation in which the water shall evaporate and pass through the condenser to liquefy.
Q28. When a metal like copper is heated it expands. Explain what happens to the metals particles as the solid metal expands
Ans. The particles of metal in solid state are tightly packed and close to each other. On heating this metal the particles gain energy and they start vibrating randomly to move away from each other and hence expansion of metal is seen.
Q29. Explain why diffusion is faster in gases than in liquids?
Ans. Diffusion is dependent on two factors one is the mass of the particles and the other is the temperature. The particles in gaseous state are at higher temperature and has more energy hence the diffusion in gas is faster than in liquid state.
Q30. How is the movement and arrangement of the molecules in a crystal of nitrogen different from those seen in the gaseous state of nitrogen?
Ans. The molecules in the crystal of nitrogen are closely packed and vibrate at its mean position. The molecules in the gaseous state of nitrogen are in random motion and free to move.
Q31. A sealed container contains helium gas and the pressure of the gas is increased if the temperature of the gas inside is increased by heating it. Explain.
Ans. The particles of helium gas exert pressure on the walls due to its random motion and striking the walls of the container. On heating these particles gain more energy and its vibration increases thereby causing more bombardment and strikes on the wall of the container. This increases the pressure of the gas.
Q32. The diagram shows a heating curve for a sample of compound X.
(a) Is X a solid, a liquid or a gas at room temperature, 20°C?
(b) Name the change of state which occurs in region DE.
(c) Explain how the curve shows that a pure sample of compound X was used?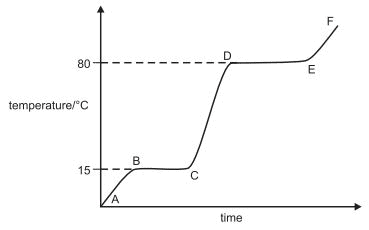 Ans. (a) The solid melts at around 15 degres and hence it is a liquid at room temperature.
(b) The change is from liquid to gas.
(c) As the curves are sharp the sample is pure as it is having fixed melting and boiling point.