Q. 1. What is meant by balance of Trade?
Ans. The difference between the value of import and value of export is called balance of trade.

Q. 2. What is meant by international trade?
Ans. Exchange of goods and services at international level is termed as international trade.

Q. 3. How is the favourable balance of trade an indicator of economic development of a country?
Ans. If the value of export is more than the value of import, than the country has positive or favourable balance of trade. Favourable balance of trade is the indicator of economic development of the country.

Q. 4. Why is the export of agricultural and allied products declining continuously after 1997-98?
Ans. The decline in the export of agricultural and allied products is largely due to the tough international competition.

Q. 5. Name any two products which have registered an increased growth in the export list.
Ans. Floricultural products, fresh fruits, marine products and sugar.

Q. 6. Why has there been an increase in the trade deficit over the last couple of years?
Ans. The increase in trade deficit is attributed to the price rise of crude petroleum which forms a major component of India's import list.

Q. 7. Name the two countries which are the largest trading partners of India as per economic survey report of 2011-12.
Ans. (i) UAE
(ii) China

Q. 8. Mention the characteristics of India's foreign trade.
Ans. (i) India has a share only 1.6% (2017-18) in the total world trade. About 90% of India's foreign trade is done through the sea.
(ii) As a result of very large population and a small amount of trade, the per capita foreign trade of India is quite low in comparison to that the developed and developing countries. India has an unfavourable balance of trade.
(iii) Today India exports goods to more than 200 countries and imports from more than 180 countries of the world.

Q. 9. What are the causes of trade imbalance of India?
Ans. The various causes of trade imbalance of India are:
(i) High prices at world level.
(ii) Devaluation of Indian rupee at international level.
(iii) Slow progress in production in India.
(iv) Increasing domestic demand in India.

Q. 10. Define the term 'Hinterland' of the port.
OR
Explain the meaning of hinterland.
Ans. Hinterland is the land or district behind a coast or the shoreline of a river. It is the rural outlying region that supports a town or city with agricultural products and raw materials. The hinterland ships fresh fruits, vegetables, and milk into the city to provide the village with the finest fresh products.

Q. 11. What are naval ports? Give one example of naval port.
Ans. Naval ports are those ports which have only strategic importance. These ports serve warships and have repair workshops for them. For example: Karwar.

Q. 12. Which port is situated on the mouth of Zuari estuary?
Ans. Marmagao.

Q. 13. Name the riverine port on the eastern coast of India.
OR
Name the major seaport located on Hugli River.
Ans. Kolkata Port.

Q. 14. Which major seaport on the eastern India has a landlocked harbour?
Ans. Visakhapatnam Port.

Q. 15. Name the major seaport that has developed to relieve the pressure at Chennai seaport.
Ans. Ennore has been constructed to relieve the pressure at Chennai Port.

Q. 16. How is the importance of seaport judged?
Ans. The importance of a port is judged by the size of the cargo and the number of ships it handled. The quantity of cargo handled by a port is an indicator of the level of development of its hinterland.

Q. 17. Name the major seaport which was developed just after independence on the western coast of India.
Ans. Kandla Port.

Q. 18. Name the seaport which was constructed to reduce the congestion at Kolkata port.
Ans. Haldia Port.

Q. 19. Name the port developed as a satellite port to relieve the pressure on Mumbai Port.
Ans. Jawaharlal Nehru Port.

Q. 20. Why was the Kandla Port constructed?
Ans. Kandla Port was constructed:
(i) To reduce the pressure at Mumbai Port.
(ii) To cater the needs of Western and North Western arts of the country.
(iii) To receive large quantities of petroleum, petroleum products and fertilizers.
(Any two points to be mentioned)

Q. 21. Name the landlocked harbour of India.
Ans. Visakhapatnam.

Q. 22. Name the northernmost international airport of India.
Ans. Amritsar.

Q. 23. Identify the Indian seaport which provides port facilities to its landlocked neighbour countries.
Name any one such country.
Ans. (i) Kolkata seaport
(ii) Nepal and Bhutan

Q. 24. State the major problem being faced by Kolkata seaport.
Ans. The major problem being faced by Kolkata seaport is the problem of silt accumulation in Hugli river which provides a link to the sea.

Q. 25. State any two advantages of air transport in the international trade.
Ans. Two advantages of air transport in the international trade:
(i) Air transport is the fastest means.
(ii) Valuable cargo can be moved rapidly on a worldwide scale.
(iii) It has brought connectivity revolution by even reaching inaccessible areas.
(iv) Highly suitable for handling perishable goods over long distances.

Q. 26. "Most of India's foreign trade is carried through sea routes." Explain the statement giving three reasons.
Ans. Ports play an important role in the growth of manufacturing and mining sector. Core manufacturing sector like steel, refinery and automobiles are dependent on trade for raw materials and sale of finished products. Logistics cost plays an important role in the cost of production and hence profitability of the business as volumes of materials to be transported are huge. The 12 state-owned ports (Kolkata, Paradip, Visakhapatnam, Ennore, Chennai, Tuticorin, Kochi, New Mangalore, Marmagao, Kandla, Mumbai and Navi Mumbai) which looks after about 58 per cent of India's external trade by volume is shipped by sea. With rising demand for port infrastructure due to growing imports (crude, coal) and containerisation, it will be difficult for public ports to meet demands. This provides private ports with an opportunity to serve the spill-off demand from major ports and increase their capacity in line with forecasted new demands.

Q. 27. Why is Kochi considered as a major port?
Ans. Kochi is a major port because:
(i) It has an excellent location with a natural harbour.
(ii) It is close to the Suez -Colombo route.
(iii) Serves the three southern states of India.

Q. 28. Why is Mumbai considered as a major port source?
Ans. Mumbai as a major port:
(i) Mumbai is a natural harbour and biggest port in India.
(ii) The port is situated closer to the general routes from the countries of Middle East, Mediterranean countries, North Africa, North America and Europe where the major share of overseas trade is carried on.
(iii) The port has India's largest oil terminal.

Q. 29. Why is New Mangalore Port considered important?
Ans. New Mangalore Port is important because:
(i) It caters to the needs of the export of iron-ore and iron-concentrates.
(ii) It also handles fertilisers, petroleum products, edible oils, coffee, tea, wood-pulp, yarn, granite stone, molasses, etc.
(iii) Karnataka is a major hinterland for this port.

Q. 30. Distinguish between port and harbour.
Ans. Harbour and port might look the same from the coastline, but they serve different purposes.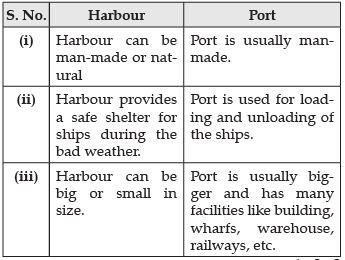 Q. 31. Name the important items which India imports from different countries.
Ans. The total imports of India amounted to 608 crores increased to 3,49,931 crores in 2003-04.
(i) Petroleum and petroleum product - 31.0%
(ii) Food and allied product-3.7%
(iii) Chemical-6.7%
(iv) Electrical machinery-6.49%
(v) Iron and Steel-2.02%
(vi) Fertilisers-1.20%

Q. 32. Name the ports of India located on the East Coast.
Ans. (i) The Chennai Port: It is situated on the Eastern Coast. Andhra Pradesh, Tamil Nadu, Karnataka, etc., are included in its hinterland.
(ii) The Visakhapatnam Port: It is situated on the Odisha coast. With the depth of 12 metre it has the deepest harbour in India.
(iii) The Paradip Port : It is situated in the Mahanadi Delta, about 100 km from Cuttack in Odisha. It has been developed mainly to handle large-scale export of iron ore.

Q. 33. Why does India import edible oil and pulses inspite of being an agriculturally rich country?
Ans. India imports edible oil and pulses because of:
(i) High demand due to excessive population.
(ii) Most of the cultivated land is under food production.
(iii) Low per hectare productivity of pulses.
(iv) Less profitable as compared to other crops.
(v) Risky farming due to high vulnerability.