SOCIAL
4.1. NATIONAL COMMITTEE ON RAMAYAN AND KRISHNA CIRCUIT
 The first meeting of the National Committee on the Ramayan and Krishna Circuits under the Swadesh Darshan Scheme was held recently.
Swadesh Darshan Scheme
 It was launched with the aim of developing theme based tourist circuits in the country, under Ministry of Tourism and Culture.
 Under the scheme thirteen thematic circuits have been identified for development.
 These are North-East, Himalayan, Coastal, Krishna, Desert, Tribal, Eco, Wildlife, Rural, Spiritual, Ramayana and Heritage Circuits.
Ramayan Circuit
 This circuit includes places associated with the legends of Lord Rama in various states, but dominantly in Uttar Pradesh.
 Under this circuit eleven destinations spread across six states have been proposed.
 The destinations covered are Ayodhya, Nandigram, Shringhverpur & Chitrakoot in UP; Sitamarhi, Buxar & Darbhanga in Bihar; Hampi in Karnataka and Rameshwaram in TN.
Krishna Circuit
 This circuit has places associated with the legends of Lord Krishna in various states.
 Under this circuit twelve destinations spread across five states have been proposed.
 The destinations are Dwarka in Gujarat; Nathdwara, Jaipur and Sikar in Rajasthan; Kurukshetra in Haryana; Mathura, Vrindavan, Gokul, Barsana, Nandgaon and Govardhan in UP and Puri in Odisha.

4.2. SUBRAMANIAN COMMITTEE REPORT ON EDUCATION
Why in news?
 Recently a committee headed by T.S.R. Subramanian has submitted its report for evolution of a National Education Policy
 Two previous education policies had come one in 1968 and another in 1986, under Indira Gandhi and Rajiv Gandhi govts respectively. The National Education Policy (NEP) of 1986 was revised in 1992.
Why India needs a new education policy?
 Globally average spending on education is 4.9% of GDP while in the case of India it is just 3.4%.
 Dearth in the availability of good quality teachers.
 Insufficient focus on research and creativity.
 Money laundering in the name of capitation fees.
 Poor employability of graduates.
 Political interference especially in the higher education.
 Insufficient focus on teaching values and morality.
 Despite having number of premier education institutes, only one features in the top 500 world universities.
Important observations from the Report
 The quality of instruction or learning in the school system has declined despite improvement of infrastructure facilities in them.
 The inadequate stress in early childhood has "severely contributed to poor learning outcomes at successive secondary and higher education periods"
 There are serious gaps in teacher motivation and training, sub-optimal personnel management in the education sector.
 The education sector is facing "crisis of credibility" due to outside interference, absence of accountability, unregulated commercialization and lack of standards.
Main recommendations of the Report
 Total public spending on education must increase from current 3% to 6% of GDP with immediate effect.
 Compulsory licensing or certification for teachers in government and private schools should be made mandatory, with provision for renewal every 10 years based on independent external testing.
 Pre-school education for the age group of 4-5 years should be declared as a right and should be followed by a programme of implementation.
 The ambit of Mid Day Meal scheme should be expanded to cover students of secondary schools.
 Teacher Entrance Tests (TET) should be made compulsory for recruitment of all teachers. Also for admission to B.Ed courses minimum marks at graduate level should be 50%.
 The no detention policy must be continued for children until class V when the child will be 11 years old. At the upper primary stage, system of detention shall be restored subject to the provision of remedial coaching and at least two extra chances being offered to prove capability to move to a higher class.
 The 25% economically weaker section quota in private schools should be extended to minority institutions, as number of schools claiming religious or linguistic minority status has increased tremendously.
Other recommendations
 UGC Act must be allowed to lapse once a separate law is created for the management of higher education. UGC's role and responsibilities be reduced to disbursal of scholarships and fellowships.
 Top 200 foreign universities should be allowed to open campuses in India.
 An Indian Education Service (IES) should be established as an all India service under HRD ministry with officers being on permanent settlement to the state governments.
 Since level of malnutrition and anaemia continue to be high among adolescents therefore mid-day meal (MDM) program should now be extended to cover students of secondary schools.
 A National Level Test open to every student who has completed class XII from any School Board should be designed.
Criticism
 The panel of experts entrusted with the task of formulating draft new education policy had just one academician among its members, while four others were ex-bureaucrats.
 Experts believe that decades old institution of UGC be reformed rather than completely scrapping it and replacing with a new body.
 Proposal for consolidation or merging of small, non-viable schools will lead to cancellation of the RTE Act provision of schools being located within a walking distance of one kilometre for children upto Class 5th.
Way forward
 The committee has reiterated long standing demands and rightly mentions, in order to not convert India's demographic 'dividend' into 'disaster' in few years, it is imperative that dire steps are needed
 The recommendations of the panel needs to be discussed in various forums and after due deliberation needs to be turned into much needed New Education Policy.
4.3. VIDYANJALI SCHEME
 The Ministry of HRD recently launched the Vidyanjali scheme aimed at boosting the education system by delivering volunteer teachers to government schools.
 Volunteers who fulfill the criteria can apply through the government portal www.mygov.in
 It will not replace the regular and professionally qualified teachers in the government schools
 The volunteer's responsibility is towards overall development of the child, not academics.
 The volunteer service will be used in developing skills like public speaking, creative writing, counseling, music and dance.
 The project is being started in 2200 schools across 21 states in its first phase, it will be gradually expanded to the all the government run schools of the country.
Eligibility and Selection
 No qualification is required to volunteer for this scheme.
 Foreign nationals can also apply if they have an OCI Card in their charge.
 Block Development Officer has been given the responsibility for scrutinizing the applications of the volunteers.
Significance
 The programme would help in the development of the overall personality of the child in areas where education has yet to make inroads.
 Since it provides no monetary returns to the volunteers, it ensures that people who volunteer are really enthusiastic about the job.
4.4. ROAD SAFETY IN INDIA
Why in News?
An official report released by Union Road Transport and Highway Ministry said that 1.46 lakh people lost their lives in road accidents in India in 2015.
Highlights of the Report
 The number of deaths in road accidents in 2015 is 5% more than in 2014.
 A majority of those killed in 2015 were in the age group of 15 to 34.
 Thirteen States, including TN, MP, Karnataka, Kerala and UP, accounted for most accidents.
 Among cities, Mumbai had the highest number of accidents (23,468), while Delhi saw the most number of such deaths (1,622).  Driver's fault was responsible for 77 percent of the accidents, deaths and injuries mainly because of over speeding.
GoM Recommendations
 A GoM formed on the issue has made 34 recommendations on road safety.
 Recommended formation of a National Road Safety and Traffic Management Board which will advice the government on road safety standards and guidelines.
 Need to strengthen the rural transport system for which Centre will roll out a scheme.
 The Central government would provide 50 per cent funding (rest from states) to introduce new transport vehicles in luxury and semi-luxury categories.
 To improve transport utilities, exempting STU (state transport undertaking) buses from taxes and de-regulating the luxury segment to shift people from personal to public transport.
 To address the issues of hill states separately. It also sought to raise accident insurance cover along with covering of property loss in the insurance.
 To improve mechanism for helping accident victims and trauma care facilities by launching a comprehensive scheme.
 To liberalise intra-city taxi permits and other automobile aggregation policies like improving parking facilities for the taxis including other public transport vehicles.
 Steps to promote low-cost last mile connectivity solutions and a barrier-free movement of the freight transport across the states.
Significance of Road Safety
 As a signatory to Brasilia Declaration, India is committed to reduce the number of road accidents and fatalities by 50 per cent by 2020.

 The road transport sector plays a major role in the economy of the country and bears 75 per cent of the total load of passenger and freight transportation.
 Its share in the country's GDP is close to 4.5 per cent.
4.5. GLOBAL GENDER GAP REPORT
 The World Economic Forum Global Gender Gap Report ranked India at 139 out of 145 countries on the economic participation and opportunity gap.
 India's overall female labour force participation (FLFP) rate has dropped from 35% in 1991 to 27% in 2014 while the world average is around 50%.
 India is ranked among the worst of 48 countries in terms of female leadership as per a nonprofit researcher, the Conference Board's extensive survey.
 A widely covered IMF estimate points out that shrinking the gender differences in employment could expand India's GDP by 27%.
 In Sep 2015 the twentieth anniversary of Beijing Declaration (Sep, 1995) was celebrated.
 Beijing Declaration was an attempt to advance women's rights, such as the right to live free from violence, to go to school, to participate in decision-making and to equal pay.
Measures to Increase Female Employees
 Diversity targets to push organizations to identify women with potential and employ them.
 Extending maternity leave from the grossly insufficient legally sanctioned three months.
 Deep organizational belief in the benefit of increasing women's participation.
 Questioning the 'ideal worker' definition which mostly subscribes to the male stereotypes in terms of twenty four-seven responsiveness and long work hours.
 Creating and celebrating female role models, encouraging women employees to do better.
 Encouraging flexibility across workplace like sabbaticals and option of working from home.
 Creating awareness against unconscious and conscious gender biases.
4.6. RECURRENCE OF POLIO
 Telangana was under national and international attention after a polio strain was detected from a sewage sample collected near the Secunderabad Railway Station.
 The samples from the state showed the presence of Type 2 vaccine derived polio virus (VDVP), which had undergone ten nucleotide changes.
 If the weakened type-2 virus used in oral polio vaccine [OPV] continues to multiply for long, mutations may arise.
 If six or more nucleotide changes happen then it is called vaccine-derived poliovirus (VDVP).
 VDVP is extremely rare and found in children with immune-deficiency and among populations with low immunity levels.
Vaccination Drive
 Although no cases of Polio was found in the state, as a precautionary measure, Telangana will soon see the largest ever mass vaccination drive with Inactivated Polio Vaccine (IPV).  Trivalent OPV used until now contained live but weakened type 1, 2 and 3 polio viruses.
 Subsequently, the country switched to bivalent oral polio vaccine or BOPV by dropping type 2 as this variant was responsible for vaccine-derived polio cases.
 Following this, the injectable IPV was introduced, containing killed viruses of all three types; viral-shedding is a non-issue with IPV.
 IPV is made from heat-killed virus that cannot cause the disease in any case, because the pathogen is not alive.

4.7. PRIVATE HOSPITALS FINED FOR NOT TREATING POOR
 The Delhi government recently issued fines of 600 crores on some prominent private hospitals in Delhi owing to their failure to treat the poor.
 Since 1964 the Delhi Development Authority has been leasing land at subsidised rate to hospitals, schools and charitable institutions under "Nazul" laws.
 'Nazul' land is land that belongs to the government and includes buildings on such land.
 The lease given to one hospital, at Rs 1 per month, obligated it to ensure 33 per cent bed capacity and 40 per cent out patient (OPD) services for poor patients.
 The penalty has been imposed based on a High Court order of 2007 on a PIL demanding the Implementation of free treatment to the poor and action against erring hospitals.
4.8. RIGHT TO SAFE WATER
 The Union Ministry of Water Resources has recently uploaded two draft legislations that regulate the extraction of groundwater and ensures safe drinking water to all.
 The Bills are called the National Water Framework Bill and the Model Bill for Conservation, Regulation and Management of Groundwater.
Model Bill for Conservation, Regulation and Management of Groundwater
 The Bill seeks to do away with the British Common Law concept, that those owning the land can extract unlimited groundwater.
 The bill proposes fines between Rs 5000 and 5 lakh depending on the level of infraction and who the perpetrators are.
 Groundwater will not be a free resource and even those who can pay for it need to ensure it is equitably available for all.
 The corporations and industries extracting groundwater have to submit plans to ensure that water is being used responsibly and any possible contamination is remedied.
 The Bills says that top priority in the use of groundwater should be in drinking, sanitation, food security, sustenance agriculture, needs of women and only after that industry.
 There would be an incentive for those who cultivate less water-intensive crops.
 There would also be groundwater security boards and groundwater protection zones that would be overseen by State bodies.
 The bill aims to decentralise water management and gives more power to panchayats and gram sabhas to decide how water can be better used.
4.9. NEED FOR BASIC INCOME
Why in News?
 Recently, Swiss people have voted against the idea of a Universal Basic Income. Three-quarters of Swiss voted against the referendum.
 Switzerland is the first country to hold such a vote.
What is universal basic income?
 A basic income is an income unconditionally granted to all citizens on an individual basis, without means test or work requirement.
 It is a form of minimum income guarantee that is being paid irrespective of any income from other sources.
Relevance in India
 In Indian welfare model, multiple authorities give out different subsidies (money, food, housing, travel, education, healthcare), guided by their own priorities and targets (the young or the old, the mother or the child, the poor or the indigent).
 So, it in this context, It is right time to ask the question "Why not have one universal basic subsidy" that covers everything and let people decide how they will spend it, rather than trying to target subsidies based on our imperfect knowledge of what people need and deserve.
 In shorter run, this will help in reducing poverty at faster pace and free up bureaucracy to do other things.
 The poor will also be liberated from having to worry about where their next meal or school fee will come from. They might plan their lives better and invest more effectively in their children and their businesses.
4.10. HYSTERECTOMY AMONG YOUNG WOMEN: SURVEY
Why in News?
 A Hyderabad-based NGO undertook a door-to-door survey and recorded 728 such cases of hysterectomy in the villages of Kowdipally mandal of Medak district.
 They have published the comprehensive data on the rampant practice of hysterectomy among young women.
 Also, for the first time, the National Family Health Survey-4 has included a question on hysterectomies. This data is yet to be published.
__________________________
What is Hysterectomy?
A hysterectomy is an operation to remove a woman's uterus for different reasons, which generally includes:
Cancer of the uterus, cervix, or ovaries
Endometriosis
Abnormal vaginal bleeding
Chronic pelvic pain
Adenomyosis, or a thickening of the uterus
Hysterectomy for noncancerous reasons is usually considered only after all other treatment approaches have been tried without success.
_________________________
Findings of the report
 Many of the women were in their 20s and 30s and they had gone to private doctors for the procedure and had sold their jewellery to fund the procedure.
 Hysterectomies have been reported from rural pockets of about half a dozen States which includes Rajasthan, Bihar, Chhattisgarh, Karnataka, Maharashtra, especially in the last six years.
 Poor illiterate women are prescribed the procedure for white discharge, irregular menstrual cycles, and even abdominal pain.
 And due to fear of cancer (which doctors convince them of), they easily opt for this procedure.
 Loss of daily wages during menstruation makes the prospect for opting this procedure more appealing.
Government Action
 Rajasthan government has set up an inquiry committee and licences of involved doctors have been cancelled.
 In Karnataka, three inquiry committees have been formed and their reports are still awaited.
 In Chhattisgarh, two inquiry committees were formed. However, the second one let the doctors go scot-free.
Way Forward
 Publish the National Family Health Survey as soon as possible. This data will provide the clear picture of the trends across the country.
 There is a need for regulation like in the case of the PNDT (Pre-Conception and Pre-Natal Diagnostic Techniques Act) that doesn't allow an ultrasound without proper documentation.
 The government should set up guidelines for private hospitals, and tighten norms of insurance schemes.
4.11. PUNJAB'S DRUG PROBLEM
How big is the problem?
 Drug addiction is a serious problem in the region of Punjab.
 It is estimated that 4 out of 10 men are addicted to some drug and up to 50% of those are young farmers.
 While 15% of those are addicted to poppy husk (known as bhukki), 20% are addicted to synthetic drugs manufactured by Pharmacy companies.
 The Punjab Opioid Dependence Survey, found that 230,000 people in the state were drug users; 836 drug users per 100,000 people in the state.
 Children as young as 12 years of age are seen to be involved in the drug trade. Drugs are openly sold and easily available.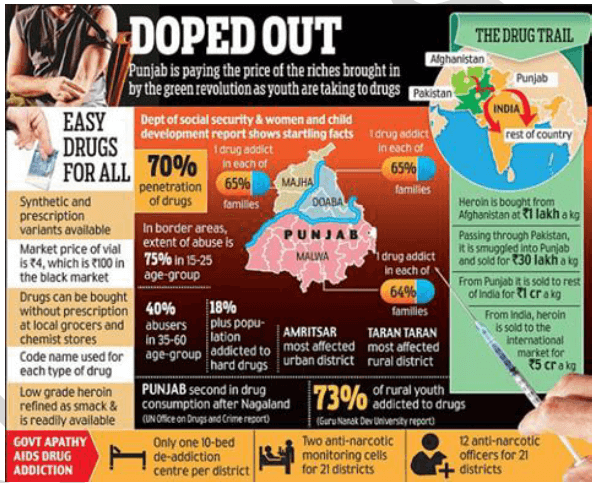 Causes
 The reasons for widespread drug addiction in Punjab are many: worsening agrarian distress coupled with growing unemployment and lack of
alternative jobs for the majority of youth.
 Pharmaceuticals such as pain relieving opioids and sedatives are easily available from chemists without prescriptions.
 The culture for heavy drinking and partying as well as habit of landowners supplying raw opium to farm labourers to make them to work harder,
that has contributed to the problem.
 There is a steady supply of drugs from across the border is another reason. Heroin smuggled is in from Afghanistan and Punjab is a part of the transit route for drugs.
 Ineffective administrative and political setup has compounded the problems and in some cases it has been reported that there is a support for drug cartels from local administration.
Way Forward
 Governmental approach should emphasize a holistic approach integrating demand reduction, harm reduction and supply reduction.
 Providing clean needles, sterilization equipment etc. to drug users has proved to be effective in Manipur and other countries in reducing secondary damage like spread of AIDS and Hepatitis C.
 Effective affordable rehabilitation centres should be open up across the states.
 Focus on high-prevalence drug groups such as sex workers, transportation workers and street children, and simultaneous economic development and redressal of unemployment situation.
 A zero-tolerance policy towards drug cartels, syndicates and peddlers.
 Preventing diversion of legal cultivation of opium and opiate pharma drugs, checking illicit cultivation of opium and closing porous borders.

4.12. NEW CENSUS DATA ON MEDIAN AGE OF MARRIAGE
Why in news?
 New Census data released by the government on Monday shows that the median age at the time of marriage has increased across categories of people and genders.
 The data, released by the Registrar-General and Census Commissioner, show that the median age for men increased to 23.5 at the time of the 2011 Census, from 22.6 as per the 2001 figures. These numbers were 19.2 years and 18.2 years for women in the respective years.
 As per experts, this trend will continue due to the socio-economic changes taking place in the country.
Reasons for the upswing
 Increasingly mobile and migratory nature of work in the country.
 This migrant population has different priorities which have an effect on the ages the people get married at.
 However, migration is only part of the explanation since the increase in the age at the time of marriage was seen among marginal workers and non-workers as well.
 The median age for marginal workers increased from 21.8 to 22.5 for men and from 17.6 to 18.7 for women.
 For non-workers, the age at the time of marriage increased from 22.8 to 23.5 for men and from 18.5 to 19.4 for women.
 The other reason for the change could be higher levels of school enrolment. School enrolment is about 90 per cent everywhere, across most castes.