SOCIAL ISSUES
4.1. REGISTRY OF SEX OFFENDERS
Government is planning to set up a sex offenders registry in the country on the lines of those in the US and UK.
Details of the Registry
 Details of the charge sheeted sexual offenders, even those below 18 years, will be included in the database which will be put up on the National Crimes Record Bureau website.
 It can be accessed through citizen's portal on the upcoming Crime and Criminals Tracking Network and Systems Project (CCTNS).
 The government plans to publicize their photographs, address, PAN Card and Aadhar Card details, finger prints and DNA samples.
 The draft guidelines say that extensive information of the offender like aliases, phone numbers, temporary lodging information, and travel and immigration documents will be provided.
 Details on their employment history, schooling, college, vehicle information, criminal history etc. will also be provided.
 The project also proposes to integrate with e-court and e-prison applications to improve efficiency of criminal justice system.
Benefits
 Will instill fear in the minds of repeat sexual offenders and public will be befitted from it.
 It will be very beneficial and handy for the law enforcement agencies also.
Criticism
 Studies on similar initiatives in US and UK shows that registries have virtually no effect on reducing crimes, destabilizes lives of convicted offenders, and contributes towards recidivism.
 Contributes towards the myth that most sexual offences are committed by strangers.
Way Ahead
 Government should try to provide cognitive therapies to sexual offenders to ensure they do not repeat offences.
 Government should work towards ensuring victims are able to access health and legal services without being re-traumatised in the process.
4.2. WOMEN ENTRY TO SHANI SHINGNAPUR TEMPLE: UPDATES
 The Bombay high court had directed Maharashtra government to take pro-active steps for ensuring compliance of law to prevent discrimination against women on entry to places of worship.
 High Court also observed that it is the fundamental right of a woman and the government should protect it.
 If men are allowed in a place of worship, then women should also be permitted as no law prevents them from doing so.
 HC also stated that any temple or person imposing restrictions can face a six-month jail term under a Maharashtra law
 Under the Maharashtra Hindu Place of Worship (Entry Authorization) Act, 1956, if any temple or person prohibits any person from entering a temple then he or she faces a six-month imprisonment.

4.3. FAMILY LAW REFORMS
 Recently government-appointed high-level panel gave suggestions related to family reforms
 Panel was formed for the review of women and family laws with respect to marriage, divorce, custody, inheritance and succession.
Suggestions by the Panel
 Amending the IPC on adultery (Section 497) - Currently it can be only used by the husband against the person who has sexual relations with his wife.
 Removing the gender discrimination inherent in laws that stipulate a lower legal age of marriage for a girl.
 Ban on triple talaq and polygamy.
 Right to maintenance for Muslim women in their personal law as well as for women in live-in relationships and unmarried dependent daughters.
 Introducing a separate legislation for dealing with "honour killings".
 Amendment of Special Marriages Act – 30 day public notices under the Act should be done away to protect couple marrying against the wishes of their parents.
 The term 'cruelty' also needs to be re-defined since personal laws recognize cruelty as a ground for divorce.
Why is reform required
 To implement Uniform Civil Code in India as envisioned in Article of 44 of constitution.
 To remove the implicit gender biases in the personal laws of various religions.
 To create peaceful conditions for people to marry according to their choice and prevent them from societal pressure like from Khaps.
 Will help in improving the condition of women and their empowerment in patriarchal society of India.

4.4. NAVY GRANTS PERMANENT COMMISSION FOR WOMEN
 Recently the Indian Navy granted permanent cadres to seven women officers and plans to introduce Permanent Commission in eight branches from 2017.
 It is subject to medical fitness and good Annual Confidential Report.
 From 2017, branches opened for women will include education, law, meteorology, air traffic control, logistics, observers, pilots on maritime reconnaissance aircraft and naval constructors.
Background
 Women until now were only allowed Permanent Commission in select streams of the Army and Air Force.
 Navy until now permitted only Short Service Commission for 14 years, which means they were denied pension.
 The Indian Air Force last year announced induction of women in the fighter stream, being the first Indian armed force to allow women in the combat role. This however is only on an experimental basis.
4.5. AGEING INDIA
Why in news?
 The Ministry of Statistics recently released a report called "Elderly In India 2016"
_____________________
Age Dependency Ratio: Ratio of older dependents (people above 64) to the working age population (those between 15 and 64).
_______________________
Highlights of the Report
 The number of Indians above the age of 60 increased 35 percent from 2001 to 2011.
 The state with the maximum percentage of elderly is Kerala with 12.6% of the population. Other states with high ageing population are Goa, Tamil Nadu, Punjab and Himachal.
 71 percent elderly reside in villages while 29 percent reside in cities.
 The state with the lowest percentage of elderly is Arunachal Pradesh where only 4.6 percent of the population is above sixty.
 India's age dependency ratio is also increasing from 10.9% in 2001 to 14.2% in 2011.
 The proportion of literates among elderly increased from 27% in 1991 to 47% in 2011.

Challenges
 Ageing society puts higher burden on the government in terms of higher spending on healthcare and pensions.
 While they are dependent on social welfare they do not contribute actively to the revenue.
 Due to breakdown of joint family system, pressure on govt. to care for elderly increases.
 Being extremely vulnerable they are more prone to crimes.
4.6. DIABETES
Why in News?
This year the theme of the World Health Day observed on April 7th was "Beat Diabetes".
Why Diabetes?
 WHO report and Lancet study shows fourfold increase in diabetes cases from 1980 to 2014 and half of them live in India, China, Brazil, Indonesia and USA.
 In India cases increased from 11.9 million in 1980 to 64.5 million in 2014.
 By 2030, India is expected to be the diabetes capital of the world.
Background
 Diabetes is a non-communicable disease associated with high blood sugar levels either due to inadequate insulin production or body not responding to insulin or both.
 Types: Type 1: little or no insulin production; Type 2: body shows insulin resistance; Gestational: associated with females during pregnancy; and pre-Diabetes: blood sugar not high to be Type 2
 Causes: Rapid urbanization, sedentary lifestyle and unhealthy diet. Obesity is chief risk factor.
 Symptoms: common are increased urination, thirst and hunger.
 Effects: Can lead to complications like blindness, kidney failure or loss of limbs, risk of heart attack, pregnancy complications etc.
Challenges
 Major burden on economy and people's pockets in India
 A chief cause of disability among adults in India.
 Screening delays, lack of information and lack of well-trained human resources.
Way Ahead
 Change in dietary pattern required with more fiber and protein and less of sugar and starch.
 Increase taxes on sugary drinks.
 Early detection and effective treatment must be routinely available in primary healthcare centers
 Urban planning should support safe and pleasurable physical activity.
 Public education on prevention and treatment of diabetes should be provided.
4.7. GLOBAL REPORT ON URBAN HEALTH
Why in News?
"Global Report on Urban Health: Equitable, Healthier cities for Sustainable Development" was recently released by the WHO and the UN Human Settlement Programme (UN-Habitat).
Findings of the Report
 It provides evidence that in cities, progress in health depends not only on the strength of health systems, but also on shaping healthier urban environments.
 Non-communicable diseases (NCDs) present not only a threat to human health but also have significant economic implications.
 Non-communicable diseases such as cardiovascular, diabetes and cancer can cost Indian economy 6.2 trillion during 2012-2030 period.
 Increasing urbanization and the associated lifestyle can fuel the increase of NCDs in cities.
 Inadequate planning for urbanization is creating a social and environmental unsustainability.
 In India and China, cardiovascular and mental health diseases present the greatest economic threats followed by diabetes and cancer.

4.8. POOR HEALTH COVER: HEALTH IN INDIA REPORT BY NSSO
In News
 National Sample Survey Office released a report titled 'Health in India'
 This report draws data from the 71st round of the NSS conducted from January to June 2014.

Findings of the Report
 Over 80 per cent of India's population is not covered under any health insurance scheme
 Poor Performance of RSBY – Only 12% of urban and 13% of rural population had access to insurance cover.
 Medicines contributes hugely to out of pocket expenditure - Out of all health expenditure, 72% in rural and 68% in urban areas was for buying medicines for non-hospitalised treatment
 Private Doctors are the most significant source of treatment - 72 per cent of the treatment provided in rural areas and 79 per cent in urban areas was availed in the private sector.
 Higher Expenditure incurred by people in private sector hospitals – On an average rural population spent Rs.5,636 for hospitalised treatment in a public sector hospital and Rs.21,726 at a private sector hospital.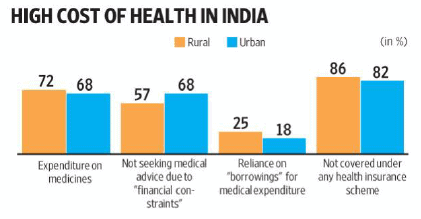 Reason for poor health coverage
 Financial constraint - Biggest hurdle in both rural and urban areas.
 Non-availability of health facilities - This is a big factor in rural areas due to lower density of private hospitals and poor conditions of govt. hospitals.
 Rising cost of medicines and cuts in budgetary allocation to government hospitals has led higher expenditure on medicines.
 The government's allocation to healthcare as a percentage of GDP has fallen to 1.05% in 2015-16 from 1.47% in 1986-87.
 Poor financial inclusion and financial literacy has led to low coverage of insurance
Way Forward
 Free medicines and diagnostics should be provided through public health facilities
 Awareness creation and distribution of health insurance through Banking Correspondents model.

4.9. MEDICAL OVERUSE CRISIS IN INDIA
In the past few decades health care experts, medical journals and the WHO has been warning India about its "medical overuse crisis"
Causes of Medical Overuse in India
 Increasing insurance cover
 Mushrooming of private hospitals
 Misuse of the financial provisions of government health welfare schemes
Implications of the Crisis
 A Media Report shows that between 2009 and 2015, number of surgeries conducted under the National Health Mission has shot up remarkably.
 C-Section, hysterectomies and other emergency surgeries have increased manifold.
 In 2014 the World Bank warned that India's excessive healthcare situation could harm patients whilst providing marginal benefits.
 The Rashtriya Swasthya Bima Yojana, which offers BPL families yearly cashless insurance of Rs 30000, is one of the schemes that is misused by doctors.
 In Chhattisgarh 'uterus scam' in which young women were subject to unnecessary hysterectomies attracted international media glare.
 The side effects of hysterectomies include several health complication including risk of heart disease.
 While WHO says C-Sections should be performed as life saving measure and that no region should have a rate higher that 10-15 percent but national average for India was 20 percent.
 While poor in India have access to complex surgeries but not to basic primary health care.
Solutions
 Vacancies in Primary Health Centres should be filled immediately to reduce dependence on tertiary care services and specialists.
 Strict technical audit of the medical procedures followed under the government health welfare schemes.
 Greater regulation of the primary health services, private health and medical insurance schemes.
 Ensuring awareness that more medicines and tests do not necessarily mean superior treatment and healthcare.
 Strengthening public health services which will keep a check on malpractices in private healthcare.
4.10. FOREST RIGHTS ACT IMPLEMENTATION ISSUES
Why in News?
 Reports of alleged violation of the Forest Rights Act by the Odisha Mining Corporation in tribal areas of Odisha have brought the Act under the spotlight.

What is the Forest Right Act?
 Schedule Tribes and Other Forest Dwellers Act or Recognition of Forest Rights Act came into force in 2006. The Nodal Ministry for the Act is Ministry of Tribal Affairs.
 The Acts seeks to recognize the rights and occupation of traditional forest dwellers and Schedule Tribes in such forests.
 It provides for diversion of forest land only with the recommendation of the gram sabhas.
 Also includes right of self-cultivation for livelihood, rights over minor forest produce, community rights such as nistar etc.
Challenges in Implementation of FRA
 Consent Resolutions passed by Gram Sabhas is getting forged by interested parties for land diversion.
 In certain areas Forest Right Act is not being recognized.
 The concerned ministries look at the FRA as a hurdle to development, which needs to be circumvented rather than ensure its effective implementation.
 The knowledge base of tribal and forest dwelling communities is not being valued in decision-making.
 Lack of awareness and education among the tribals and forest dwellers.
 FRA is often in conflict with other laws eg. Rights in protected areas like wildlife sanctuaries, national parks etc.
 Saxena Committee pointed out several problems in the implementation of FRA. Wrongful rejections of claims happen due to lack of proper enquiries made by the officials.
4.11. RULES FOR AMENDED SC/ST ACT
Why in News?

 The Ministry of Social Justice and Empowerment recently notified the rules for the implementation of the amended SC/ ST Act of 1989.
Background
 The Centre had amended the SC/ ST (Prevention of Atrocities) Act of 1989, in December, 2015.
 The objective of the amendment was to speed up process of dispensation of justice to SC/ ST.
 And to liberalize and expedite access to relief for victims of atrocities, ensuring special sensitivity in cases of offenses against women.
Important Provisions
 Amended provision increases relief package from 75000 to 7,50,000 and 85000 to 8,50,000 depending on the nature of offence.  Also provides for admissible relief to SC/ST women for offences of grievous nature, on conclusion of trial, even though they may not have ended in conviction.
 Regular reviews of the scheme in assessing justice at the state, district and sub-divisional level committees in their meetings.
 Completing investigation and filing a charge sheet within sixty days.
 Provision of relief within seven days to victims, their family members and dependents.
 Also for the first time provision of relief for rape and gang rape.
 No medical examination will be needed to seek relief for non-invasive offenses such as sexual harassment, gestures or acts intended to insult the modesty of women.
 Adds newer offences to the list of atrocities including denying access to irrigation facilities, forest rights etc.

4.12. ALLOWING FOREIGN UNIVERSITIES IN INDIA
Why in news?
NITI Aayog recently submitted a report to the PMO and MHRD in favour of foreign universities setting up campuses in India.
Highlights of the Report
 It has suggested three routes for the entry of foreign education providers in India:
 A new law to regulate the operation of such universities in the country
 An amendment to the UGC Act of 1956 and deemed university regulations to let them in as deemed universities
 Tweaking UGC and AICTE regulations to permit joint ventures between Indian and foreign institutions.
 India stands to gain immensely by foreign institutions in India in terms of human and financial resources, teaching methodology and research and innovation.
 It will help meet the demand for higher education in India, increase competition and subsequently improve standards of higher education in India.
 To the argument that it will increase the cost of education in India rendering it out of reach for large parts of the population, the report says that financial assistance should be made available to deserving students on the basis of merit cum means.
4.13. LIQUOR BAN IN BIHAR
Why in News
 On April 6th, Bihar government announced a prohibition law on liquor.
 It bans the sale and consumption of country liquor and foreign made liquor in the state with immediate effect.
 Government also intends to take responsibility of de-addiction of alcoholics as part of which has set up 39 de-addiction centres across the state.

Significance
 Obvious health benefits from reduction in alcoholism.
 Reduction in domestic violence where women and children are victims of violence.
 Could lead to reduction in crimes and crime rate in general.
 Productivity of labor could increase.
Challenges
 Immense power in the hands of police and other officials could be misused.
 Difficulty in implementation of the ban.
 Could lead to smuggling and increase in illicit trade.
 Revenue loss, estimated 4000 crore, could put significant burden on the ailing state.
 Liquor transport from neighboring states could also be a challenge.
 Displacement of people making their livelihood through liquor trade. However, govt. has announced Sudha dairy parlours for affected.