Q.1. Pneumatophores or breathing roots occur in [CPMT 1984, 93; BHU 1984, 90; RPMT 1985; AIIMS 1985; APMEE 1999]
(a) Hydrophytes
(b) Epiphytes
(c) Xerophytes
(d) Mangrove plants
Ans: d
Solution:
Pneumatophores are respiratory roots belonging to Mangrove plants.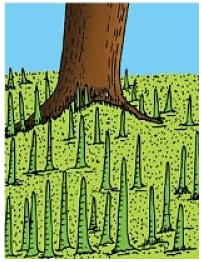 Q.2. Haustoria or sucking roots occur in [CPMT 1978; BHU 1996; DPMT 1999; JIPMER 1999; Pb. PMT 1999]
(a) Betel
(b) Orchids
(c) Cuscuta
(d) Tinospora
Ans: c
Solution:
The parasitic plant produces some knob like roots at the point of attachment with the host plant known as haustoria which penetrate into the host plant and draws nourishment.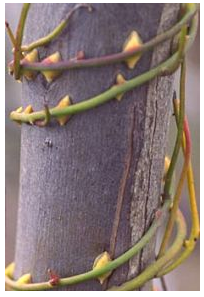 Q.3. Ginger is a stem which can be differentiated from root because it [CPMT 1978; 83; AFMC 1978, 85; BHU 1981; DPMT 1982; JIPMER 1986]
(a) Grows parallel to ground
(b) Stores food
(c) Lacks chlorophyll
(d) Has nodes and internodes
Ans: d
Solution:
A rhizome is a thick horizontally growing stem. It usually stores food material. It has nodes and internodes as well as scale leaves, axillary buds, adventitious roots and a terminal bud.