Question 1: Compound (A),C8H9Br , gives white precipitate when warmed with alcoholic AgNO3. Oxidation of (A) gives an acid (B), C8H6O4 .(B) easily forms anhydride on heating. Identify the compound (A). (IIT-JEE 2013)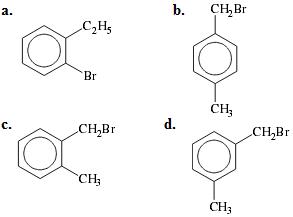 Answer: c
Solution: It is clear from the molecular formula and also from the given options that the compound contains benzene ring. As it gives white ppt on heating with alcoholic AgNO3, the Br atom must be linked to a sp3 hybridised carbon i.e. it is not linked directly with benzene ring. Further the formation of anhydride indicates that the two carboxylic groups and therefore two alkyl groups are present at adjacent positions. So, the only possible structure is C.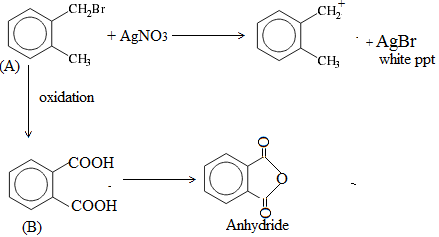 Hence, the correct option is C.
Question 2: The synthesis of 3-octyne is achieved by adding a bromoalkane into a mixture of sodium amine and an alkyne. The bromoalkane and alkyne respectively are (IIT-JEE 2010)
(a) BrCH2CH2CH2CH2CH3 and CH3CH2C≡CH
(b) BrCH2CH2CH3 andCH3CH2CH2C≡CH
(c) BrCH2CH2CH2CH2CH3 and CH3C≡CH
(d) BrCH2CH2CH2CH3 andCH3CH2C≡CH
Answer: d
Solution: 3-octyne contains a triple bond at carbon number 3. This indicates that both the reacting molecules must contain four carbon atoms. The only option in which both the molecules have four carbon atoms is d. Reactions involved are
CH3CH2C≡CH+NaNH2 →CH3CH2C≡CNa
CH3CH2C≡CNa +BrCH2CH2CH2CH3 →CH3CH2C≡CCH2CH2CH3
Question 3: The total number of alkenes possible by dehydrobromination of 3-bromo-3 -cyclopentylhexane using alcoholic KOH is: (IIT-JEE 2011)
Answer: 5
Solution: Dehydrobromination of 3-bromo-3-cyclopentylhexane using alcoholic KOH results in beta elimination. The given molecules contain three c atoms at beta position to Br atom. Hence, three products are formed.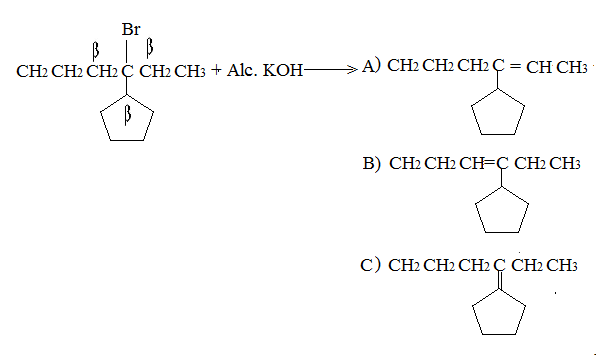 Out of these three products , A and B exist in two isomeric form each i.e. E and Z forms. So the total number of possible products is 5.