SPORTS
India improve to world no 96 in FIFA rankings
On 16th August 2018, Indian football team improved a rank and secured 96th position in the latest FIFA world rankings.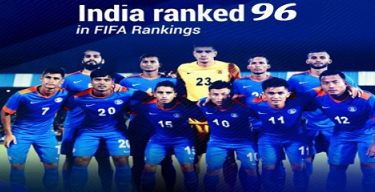 India – 96th rank in FIFA rankings:
i. Indian football team was ranked 97th in the previous week. In the latest FIFA rankings, they share the 96th position with Georgia.
ii. India's improvement in the ranking is seen after the introduction of a new ranking system called ELO by FIFA.
iii. As per ELO, points will be added or subtracted to a national team's already existing total before a match.
iv. Top five positions in the latest FIFA rankings:
| | |
| --- | --- |
| Rank | Country |
| 1 | France |
| 2 | Belgium |
| 3 | Brazil |
| 4 | Croatia |
| 5 | Uruguay |
v. Currently, the Indian football team is coached by Stephen Constantine.
About FIFA (Fédération Internationale de Football Association):
♦ President – Gianni Infantino
♦ Headquarters – Zürich, Switzerland
Emirates Cricket Board to host 2018 Asia Cup: BCCI
On August 17, 2018, BCCI officially handed over its hosting rights to the Emirates Cricket Board for the upcoming Asia Cup 2018.
i. The Board of Control for Cricket in India (BCCI) and the Emirates Cricket Board signed an agreement for this purpose.
ii. It was signed between:
Amitabh Chaudharyand CEO Rahul Johri from BCCI's side and
Sheikh Nahyan bin Mubarak Al Nahyan, the chairman of the Emirates Cricket Board.
iii. This decision was taken by the Asian Cricket Council (ACC).
About Asian Cup:
i. This tournament would be held from September 15 to 28 in Abu Dhabi and Dubai.
ii. Countries participating in the event are :Afghanistan, Bangladesh, India, Pakistan and Sri Lanka .They will be joined by a sixth team — the winner of the Asian Cricket Council qualifier event.
iii. The major attraction of this tournament is two assured Indo-Pakistan clashes.
Background:
The event was originally scheduled in India with BCCI playing the hosts but Pakistan's participation was an issue considering the prevailing political situation between the neighbouring countries.
Asian Cricket Council (ACC).
♦ Headquarters: Kuala Lumpur, Malaysia.
♦ Founded: 1983.
♦ Member Countries: 25 .
Nihal Sarin becomes India's 53rd Grandmaster
On 14th August 2018, Nihal Sarin became India's 53rd Grandmaster (GM) after finishing his third and final GM-norm in the Abu Dhabi Masters.
Nihal Sarin – India's 53rd Grandmaster:
i. Nihal Sarin had already reached the stipulated rating of 2500. In the 8th round of the Abu Dhabi Masters, he reached 5.5 points and sealed the norm.
ii. Even though he lost the final round to Hungary's GM Richard Rapport, his minimum rating performance of 2626 was enough to secure the title-winning norm.
iii. Nihal Sarin is 14 years old. He hails from Thrissur.
India's Esow Alben wins silver at 2018 UCI Junior Track Cycling World Championships
Indian cyclist Esow Alben has won India's first medal (a silver medal) at the 2018 UCI Junior Track Cycling World Championships in Aigle, Switzerland.
Esow Alben – silver at 2018 UCI Junior Track Cycling World Championships:
i. In the Men's Keirin event, Czech Republic's Jakub Stastny won gold medal. Esow Alben finished 0.017 seconds behind him and won silver medal. Kazakhstan's Andrey Chugay won the bronze medal.
ii. Esow Alben also participated in the men's team sprint event with Mayur Pawar and James Keithellakpam Singh. But the team did not qualify for the finals.
iii. Esow Alben is 17 years old. He hails from Andaman and Nicobar islands. He trains at the Sports Authority of India's National Cycling Academy in Delhi.
iv.He became the world no 1 in junior sprint category after his performance in the Asian Championships and 2018 Cottbuser Sprint Cup 2, GP Brno Track Cycling competitions.
About 2018 UCI (Union Cycliste Internationale) Junior Track Cycling World Championships:
♦ Dates – 15th to 19th August 2018
♦ Location – Aigle, Switzerland
♦ Participating countries – 44
OBITUARY
US singer Aretha Franklin dies at 76
On 16th August 2018, US singer Aretha Franklin passed away after fighting pancreatic cancer at her residence in Detroit, the United States of America.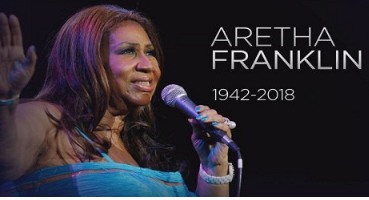 Death of Aretha Franklin:
i. Aretha Franklin was 76 years old. She was born in Memphis, Tennessee, US. She made her debut performance in 1961.
ii. In the late 1960s, she earned the title "Queen of Soul". Some of her hit songs are: "Respect", "Natural Woman" and "Chain of Fools."
iii. She won the Grammy Award 18 times. She was the first female vocalist to be inducted into the Rock & Roll Hall of Fame. In 2006, she received the Presidential Medal of Freedom.
iv. She performed at the inaugurations of three US Presidents: Jimmy Carter, Bill Clinton, and Barack Obama.