Sports
North Korea to host 2019 Asian youth weightlifting championships from Oct 27, 2019
On August 27, 2018, North Korea announced that it would be the host for the 2019 Asian Youth and Junior Weightlifting Championships that will commence from October 27, 2019.
i. The Asian Weightlifting Federation and North Korea's Sports Minister Kim Il Guk signed an agreement for the championship to be held in capital Pyongyang.
ii. Earlier in September 2013, the Asian Cup and Interclub Junior and Senior Weightlifting Championship was held in North Korea.
Background:
After the UN Security Council barring North Korea over its nuclear weapons and ballistic missile programmes, it lost the right to hold the 2018 Junior World Weightlifting Championships.
The Youth Junior World Judo Championships were also pulled off.
North Korea:
♦ Capital: Pyongyang.
♦ Currency: North Korean won.
♦ Supreme Leader: Kim Jong-un.
Pakistan's Mohammed Irfan bowls 23 Dot Balls, sets record for Most Economical Spell in T20 history
On August 27, 2018, Pakistani fast bowler Mohammad Irfan set the world record for the most economical four-over bowling figures in the history of T20 cricket.
i. This feat was achieved while playing for Barbados Tridents in the Caribbean Premier League 2018.
ii. He bowled 23 dot balls in a row, picking two wickets in the process.
iii. This record was previously shared by South Africa's Chris Morris and Sri Lanka's Chanaka Welegedara
Obituary
Neil Simon, Broadway's master of comedy, dies at 91
On 26th August 2018, Neil Simon, a playwright and Broadway's master of comedy, died following complications from pneumonia in Manhattan, United States.

i. Neil Simon was 91 years old. He was a playwright and had also written for movies.
ii. He had received: 4 Tony Awards, the Pulitzer Prize, the Kennedy Center honors (1995), 4 Writers Guild of America Awards, an American Comedy Awards Lifetime Achievement honor, Mark Twain Prize for American Humor (2006).
iii. In 1983, a Broadway theater was named after him as the Neil Simon Theatre.
iv. Some of his important works are: Barefoot in the Park, The Odd Couple, Plaza Suite, The Prisoner of Second Avenue, The Sunshine Boys etc.
John McCain, US senator and former presidential candidate, dies at 81
ON 25th August 2018, US senator John McCain passed away after fighting glioblastoma, a form of brain cancer, in United States.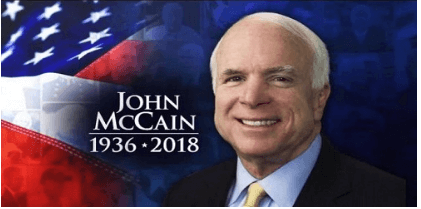 i. He was 81 years old. He was a 6-term Republican senator and presidential nominee. He had spent more than 30 years in the Senate. He was elected to the House of Representatives in 1983.
ii. He was one of the most influential US politicians of his generation. Before entering politics in 1980s, he served as a pilot in the US Navy. He was held as a prisoner of war camp for 6 years during the Vietnam War.