Industrial catalytic processes
Industrial catalytic processes can be broadly classified into five major sector as shown in the Fig. 1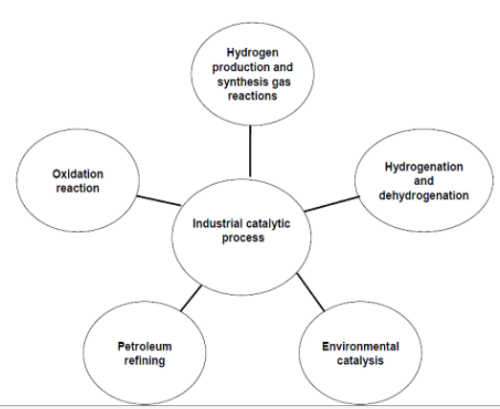 Fig. 1. Classification of industrial catalytic processes
In this section few representative processes will be discussed emphasizing on the catalyst used, reaction kinetics and catalyst deactivation, if any.
Steam reforming
Synthesis gas or hydrogen is produced most commonly by steam reforming of hydrocarbons. Feed is mostly natural gas or naphtha. Overall process involves mainly six catalytic steps:
1. Purification of hydrocarbons
2. Primary steam reforming
.3 Secondary steam reforming
4. High temperature water gas shift reaction
5. Low temperature water gas shift reaction
6. Methanation

Fig 2 shows the schematic flow diagram for hydrogen production by steam reforming of natural gas. The various catalytic steps are discussed below.
Purifications of hydrocarbons
Sulfur and chloride compounds in the feed act as catalyst poisons. Therefore, before the reforming process, feed is treated to remove these compounds. Sulfur is removed by desulphurization followed by scrubbing by ZnO adsorbent. By this process, sulfur is reduced to less than 0.01 ppm

Chloride is removed by scrubbing using alkali treated alumina to 5 ppb level.

Fig. 2. Schematic flow diagram for hydrogen production from steam reforming of natural gas
Primary steam reforming
For steam reforming of natural gas which mostly consist of methane, the overall reaction is given as:


This reaction is always accompanied with methanation and water gas shift reaction.

The overall process is endothermic and heat is supplied to the reformer. Relative amount of H2 and CO can be adjusted by process conditions. Since the overall steam reforming reaction is highly endothermic and the product volume is greater than that of the reactants, equilibrium favors the forward reaction at high temperature and low pressure. High steam to methane ratio and high temperature favors conversion of CH4. As temperature is lowered, the slightly exothermic WGS reaction becomes increasingly more favorable. Higher steam to methane ratios at lower temperature result in lower CO concentration. The H2 to CO ratio thus depends on operating temperature for steam reforming and water gas shift reactions.
Process
A schematic diagram depicting the typical reaction conditions in primary steam reforming is shown in Fig. 3. For primary steam reforming, the outlet temperature is limited to about 8000C to prevent damage to the reactor. Though the reaction is thermodynamically favored at low pressure, a higher pressure is used to increase the reaction rate and throughput, thereby minimizing the reactor volume.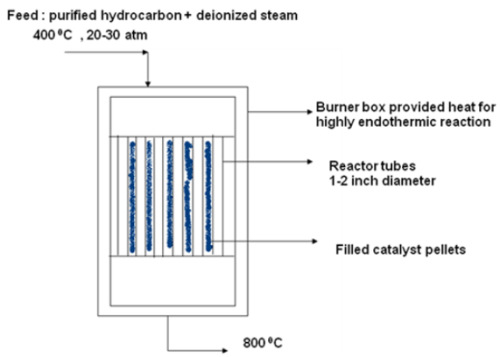 Fig. 3. Schematic diagram showing steam reforming reaction conditions
Operating condition for methane and naphtha steam reforming are very different. For methane steam reforming the reformer exit temperature is typically 800 -9000C and H2O : CH4 ratio is 1.8 -3. In naphtha steam reforming exit temperature is lower 600-8000C and H2O : C ratio is higher 2.5-4.5. In both cases pressure is maintained at 20-30 atm.
Catalysts
Bifunctional catalysts are needed for steam reforming reaction. Two catalytic functions are :
– Metal site for dissociative adsorption of hydrocarbon
– Oxide site for diss ociative adsorption of water
Oxide sites are generally located on the surface of the supports. Support also stabilizes the well dispersed metallic phase. Because of the severe high temperature reaction conditions, catalyst must have high thermal stability. The typical decreasing activity order for metals is Rh, Ru > Ni > Pd, Pt >Ni-Cu >Co. This order varies with hydrocarbon. Pt and Pd are less active than Ni for steam reforming of naphtha, however are more active than Ni for steam reforming of toluene. Noble metals are more resistant to carbon deposition and more tolerant to sulfur poisoning than Ni. However, b ecause of greater availability and lower cost, Ni is the preferred metal catalyst for commercial applications. Thermally stable supports of low acidity are needed to prevent deactivation by sintering and carbon depositions.
The order of decreasing acidity of supports:

Thus CaO, MgO are most desirable supports to prevent carbon depositions. These are also among most thermally stable supports. Promoters such as potassium alumino - silicate lowers the acidity of supports & catalyze carbon gasification with steam.
Typical catalysts for steam reforming consist of NiO/Ca Al2O4 or NiO/Al2O3. Steam reforming catalysts are chemically and mechanically rugged to maintain physical and chemical integrity in harsh high temperature and high steam environment. Surface area of carrier is low, typically 5-50 m2/g but adequate for dispersing NiO and maintaining thermal stability. Support is impregnated with nickel nitrate solution a number of times to achieve proper loading. Active catalyst is metallic Ni. Therefore NiO after calcination is reduced by H2 prior to reaction. Catalysts are formed into relatively large raschig rings, grooved pellets, wheels etc for low pressure drop and minimum pore diffusion limitations.
Table 1. Activation energies reported for steam reforming process over various catalysts

Kinetics and mechanism
Mechanistically steam reforming involves decomposition of hydrocarbons on metal surface to hydrocarbon fragments. Water undergoes dissociative adsorption to adsorb oxygen atoms and molecular hydrogen. Adsorbed oxygen atom combine with adsorbed hydrocarbon to form CO. The kinetic model proposed by Rostrup and Nielsen [4] is as follows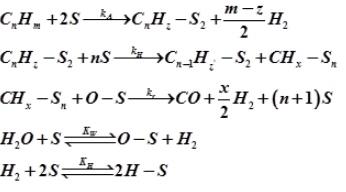 The corresponding rate was derived as

Industrial steam reforming reaction is strongly influenced by pore diffusion resistance and therefore apparent activation energies are lower compared to surface reaction controlled system. Activation energy for nickel based catalyst for steam reforming reaction 106 kJ/mol and that for water gas shift reaction 55 kJ/mol [5]. The effectiveness factor is in the range of 0.05- 0.65 [5]
Deactivation
Sulfur and chlorides act as catalyst poisons. As mentioned earlier, the feed is initially pretreated for sulfur and chloride removal. Another major source of deactivation is coke deposition on the catalyst. Formation of carbon occurs by decomposition of hydrocarbon and CO on the surface of catalysts

Gas phase non catalytic pyrolysis of hydrocarbons also contributes to coke deposition. All of these processes are favored at high temperature. High temperature also results in sintering, growth of metal crystallites and collapse of catalysts support which can cause decrease in activity.
Carbon can be removed by steam gasification. Carbon deposition can be avoided by operating at sufficiently high H2O to C ratio.
Secondary steam reforming
The exit gas from the primary reformer contains about 10-13 % CH4 which is further reformed in secondary reformer. Inlet temperature is 8000C and the outlet temperature is 900-10000C. These high temperatures drive the forward reaction and reduce the CH4 content to less than 1%. Outlet CO concentration is 10-13 %. Reactor is lined with ceramic material to prevent damage.
Catalysts
Catalyst must be able to withstand the severe high temperature. Typical catalysts are Ni supported on alumina or CaO substituted alumina. Potassium is not added due to volatility at this high temperature. Total BET surface area and surface area of active nickel for secondary reforming catalysts are smaller than that of primary reforming catalysts. This is because they are initially calcined at high temperature so that they are thermally stable at process conditions.

Water gas shift reaction
Water gas shift reactions are carried out at conditions of high and low temperature. For the water gas shift reaction, the equilibrium favors the reaction at lower temperature. However, copper based catalyst, active at low temperature, is highly sensitive to residual sulfur or chloride compounds which have passed through the pre-purification steps. Hence, initially the reaction is carried out over catalyst composed of Fe2O3 and Cr2O3 which is relatively inexpensive, resistant to sintering and tolerant to sulfur and chloride poisoning. However, at low temperature Fe3O4 is not sufficiently active hence, the reaction has to be carried out at higher temperature. The high temperature catalyst adsorbs the residual sulfur or chloride compounds thereby, protecting the low temperature copper based shift catalyst from exposure to these compounds. The high temperature process is followed by shift reaction at thermodynamically favorable lower temperature of 200°C over copper based catalyst.
High temperature water gas shift reaction
Gas from the secondary reformer contain 10-13 % CO and is further processed to increase the H2concentration. The high temperature water gas shift reaction lowers the CO concentration to about 2-3 % in a fixed bed reactor.

Process is operated at 350-5000C and 20 -30 atm. Since equilibrium favors the WGS at lower temperature, the feed gas is cooled to 350-4000C before entering the reactor.
Catalysts:
A typical catalyst is composed of 90 % Fe3O4 and 10 % Fe2O3. Fe3O4 acts as the active metal while Fe2O3 acts as a stabilizer to minimize sintering of the active iron oxides. The catalysts are prepared by precipitation.
Kinetics
The rate expression from Langmuir Hinshelwood model proposed is given as [4] :

k is the rate constant and Ki's the respective adsorption constants. The 'i' represents the chemical species.
Activation energy for the water gas shift reaction on iron oxide/chromia is in the range of 122 kJ/mol. Reaction over small pellets (5 x 4 mm) operates with an effectiveness factor of unity below 3700C and 31 atm.
Deactivation
The catalyst is deactivated by adsorption of residual S or Cl containing compounds that escape the initial purification steps.
Low temperature water gas shift
The CO concentration of the existing gas from high temperature WGS is 2-3 % and further reduced to below 0.2 % by low temperature water gas shift reaction. The WGS reaction as favored at low temperature, operating temperature is maintained at 2000C, the minimum temperature at which steam is not condensed and operating pressure at 10-30 atm.
Catalysts
A typical catalyst is composed of CuO/ ZnO/Fe2O3 and prepared by co-precipitation method. The catalyst is highly selective for shift reaction with low activity for methanation reaction. CuO is the catalytically active metal and ZnO minimize sintering of Cu. Cu is highly sensitive to poisoning by S or Cl compounds even at very low level of 1 ppm. ZnO & Fe2O3 also scavenge the S or Cl compounds protecting Cu which is highly sensitive to poisoning by these compounds. Catalyst is reduced very carefully by H2 and the bed temperature is never allowed to rise above 2300C to avoid sintering of Cu. The high temperature shift catalyst also protects the low temperature catalyst from these poisons.
Kinetics
Kinetic m odel is based on surface redox mechanism involving dissociation of water to OH radicals which further dissociate to atomic oxygen. The rate expression as proposed by Ovensen et al.[2] is

A= pre-exponential factor; Ea= activation energies; m, n, x, y = respective reaction orders; β defined as approach to equilibrium and KWGS is equilibrium constant for WGS reaction.
Final CO/CO2 removal by methanation
After low temperature WGS, the CO content in hydrogen stream is 0.2-0.5 % and must be reduced to 5 ppm level for using the H2 for ammonia synthesis. The CO is further reacted with hydrogen and converted to methane. The catalyst is typically Ni/Al2O3. MgO is sometimes used as a promoter to minimize sintering of Ni. The process is carried out at 300 -3500C and at 30 atm pressure. Care must be taken to avoid formation of poisonous Ni(CO)6 which occurs below 2000C at partial pressure of CO greater than ~ 0.2 atm.