STEREOCHEMISTRY

"Branch of chemistry which deals with three dimensional structures of molecules and their effects on physical-chemical properties"
Chiral Centre :
"A carbon atom bonded tetrahedral to four different substituents in a molecule is termed as chiral centre. It is not necessary all the time that the chiral centre is tetrahedral in shape; trigonal centers are also present in case of alkenes or unsaturated compounds".

Achiral : "Objects and molecules which are superimposable on its mirror image are called achiral or symmetric. A ball is achiral. An internal plane of symmetry is a hypothetical plane which bisects the molecule or object into two equal halves. An object or molecule possessing this internal plane is achiral".
Chirality : "A molecule is said to be chiral if it cannot be superimposable on its mirror image and if it does not possess an alternating axis of symmetry".
When the molecule has a centre of symmetry (i) or a plane of symmetry (σ) then it is said to be achiral. All molecules which lack all the elements of symmetry but for C1. Then these molecules are called asymmetric. A carbon atom which has four different groups around it is always asymmetric.
On the other hand when a molecule has only a simple axis of symmetry and no other symmetry elements are present then the molecule is termed as dissymmetric. Thus chiral molecules are dissymmetric.
To find out Chirality
1. Observe if Chiral centre is present or not. If present then the mo lecule is Chiral and if no Chiral centre then it is achiral.
2. Observe the plane of symmetry
(i) If plane of symmetry is present – molecule is achiral.
(ii) If no plane of symmetry – Chiral (allenes).
Examples:-
1.

Achiral due to plane of symmetry.
2.

Achiral – Plane of symmetry
3.

Achiral - presence of plane of symmetry.
4.

Achiral – plane of symmetry is present. If Br is replaced by any other atom or
it is present below the plane then it becomes chiral. If O, OH are replaced then it also becomes chiral.




All are chiral- no element of symmetry is present.

Flying–wedge representation (3-D representation)
Solid wedge (thick line)- bond above the plane of paper
Broken wedge (dashed line) – a bond below the plane of the paper
Continuous lines (so lid lines)- bonds in the plane of the paper



Fischer projection (2-D representation)
Horizontal bonds- Points towards the observer
Vertical bonds- Points away from the observer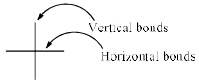 Rules : In order to find out whether the two structures are identical or not these projections can be manipulated only in specific ways. The following rules must be obeyed.
1. For comparison a fischer project ion may be rotated 180° in the plane of the paper mo lecule remains same.



2. One interchange in the fischer project ion leads to the enant io mers. Configurat ion at the stereocenter changes from (S) to (R) or (R) to (S).

3. Two or any other even number of interchanges of the ligands at the chiral centre don't changes the configuration.


4. A 900 rotation of the fischer project ion formula about the chiral centre inverts the configuration.



5. It is not permitted lift pro ject ion formulae out of the plane of the paper and flip them over or vie w them from the opposite side of the paper. These operations, if done, are the same as breaking a bond to change the configuration of the original molecule. For Example:



6. Fischer project ion can be manipulated by rotating a group of any three ligands in a clockwise or anticlockwise direction; the fourth ligand doesn't change its position (Such a manipulation is equivalent to two interchanges):