SORTING MATERIALS INTO GROUPS:
• All things are made of one or more materials.
• Same things can be made from different types of materials.
• It may be man-made or naturally occurring.
• Materials occupy space.
• Materials have mass.
• Materials can be classified on the basis of many criteria.
• Materials can be classified on the basis of physical state; as solid, liquid and gas.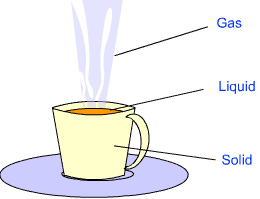 Solid: Solid Has Definite Shape And Definite Volume.
Examples: Stones, Wood, Plastic, Common Salt, Steel, Ice, Glass, Etc.
Liquid: Liquid Has Indefinite Shape But Definite Volume.
Examples: Water, Milk, Oil, Etc.
Gas: Gas Has Indefinite Shape And Indefinite Volume.
Examples: Oxygen, Nitrogen, Carbon Dioxide, Etc.

Other Criteria For Sorting Materials:
Appearance: Different materials look different from each other. The appearance depends on colour, hardness, texture, and lustre.
Hardness: hardness is another property of materials. Some materials are very hard while some are very soft.
Hard- Material which are difficult to compress are called hard, e.g. diamond, stone, wood, steel, etc. Diamond is the hardest natural substance.
Soft- Materials which can be compressed easily are called soft, e.g. chalk, cotton, rubber, etc.

Solubility or insolubility:
Soluble: Material which easily dissolves in water is called soluble, e.g. salt, sugar, alum, etc.
Insoluble: Material which does not dissolve in water is called insoluble, e.g. sand, chalk, iron, etc.
Note:
Since water is considered as universal solvent, so solubility in water is taken as standard in most of the definitions; related to solubility.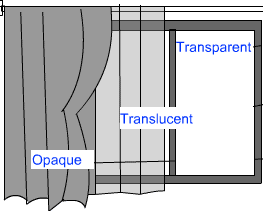 Transparency: The material which allows light to pass through it is called transparent, e.g. acrylic sheet, glass, water, air, etc.

Opaque: The material which does not allow light to pass through it is called opaque, e.g. wood, iron, asbestos, etc.

Translucent: The material through which light can pass partially is called translucent, e.g. butter paper, thin curtain, etc.

Metals: Materials which are hard, have such luster and are good conductors of heat and electricity are called metals, e.g. iron, copper, gold, etc.

Non-metal: Materials which are brittle, which don't have luster and are bad conductors of heat and electricity are called non-metals, e.g. coal, chalk, rubber, soil, etc.

Properties of Materials:
Objects are categorised on the basis of their shapes, the materials they are made up of, and the properties of these materials.
All objects around you have definite shapes. For example, eggs are oval and ice-cream cones are conical in shape. Objects can be classified on the basis of their shapes.
Objects can be made from many different kinds of material, such as plastic, wood, glass, metal, cotton, paper, leather, wool, rubber, and even soil. Therefore, all objects can be grouped on the basis of the material that they are made from.
Sometimes, the same object can be made from different materials.
For instance, a pen could be made from metal or plastic, your shoes could be made from leather or cloth, and even the tumbler that we drink from could be made from plastic, glass or metal. Bottles could be made from plastic or glass, and chairs could either be wooden, metallic or plastic.
Notebooks, greeting cards, newspapers and calendars are all made from paper.
Similarly, shoes, belts and bags that are made of leather form another group. So, objects can be grouped according to the materials they are made of.
Gold, copper, iron and aluminium look shiny, and are called lustrous materials.
Most metals have this property. Other materials like wood or plastic, are non-lustrous.
Metals like iron may react with the moisture in the air, which makes them lose their lustre and look dull.
Iron is a good example of a very hard material. Materials that are considered hard are difficult to compress, while those that can be compressed or scratched easily are called soft materials. Cotton and sponge are examples of soft materials.
Objects can be classified on the basis of properties of the materials that they are made from.
Solubility is another important property of a material. 'Substances that completely dissolve in water are said to be soluble in water'. Some gases can dissolve in water. For example, oxygen dissolved in water is useful for plants and animals that live underwater.
Substances like sand and sawdust do not dissolve in water even if you stir them very well. They are said to be insoluble in water.
Lighter materials like paper, leaves and wood float on the surface of water, while heavier objects, like those made from iron, sink in water.
Materials like glass or plastic are called transparent as you can see through them. Objects made from transparent materials allow you to easily see what they contain.
Materials like wood, cardboard and metal are opaque, as you cannot see through objects made from these materials. Some materials like plastic can be transparent or opaque, depending on the use for which the object is meant. For example, try spotting the jar that contains cookies from among these containers!
There are some materials that allow you to see through them, though not very clearly. Such materials are called translucent. Butter paper and frosted glass are examples of translucent material.