Objects Around Us
Our food, clothing, and other daily objects display a wide range of variety.
Objects surrounding us include chairs, bullock carts, cycles, kitchen utensils, books, clothes, toys, water, stones, and more.
These objects vary in shape, color, and purpose.
Some objects are round in shape, such as rubber balls, footballs, and glass marbles.
Other objects, while not perfectly round, resemble a round shape, like apples, oranges, and earthen pitchers.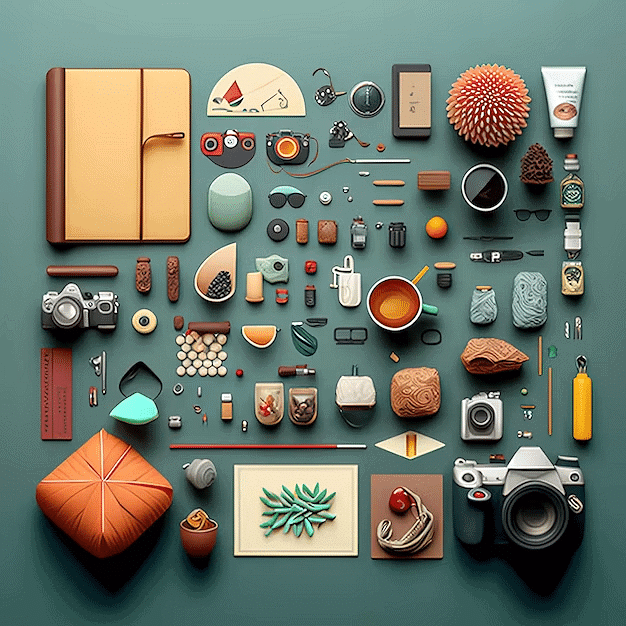 Different objects around us
We can categorize objects based on different criteria, such as the material they are made of.
For example, we can group objects made of plastic together, including buckets, lunch boxes, toys, water containers, and pipes.
Objects can be grouped in numerous ways, either by their shape or the materials they are made of.
All objects are made of one or more materials, such as glass, metal, plastics, wood, or cotton.
Question for Study Notes: Sorting Materials into Groups
Try yourself:
Which criterion can be used to categorize objects?
Properties of Materials
The selection of a material to create an object depends on its characteristics and the intended use of the object. The question arises about what characteristics of materials are significant for their application. Some of these important characteristics of materials are:
1. Appearance

Different materials typically have distinct appearances.
Wood, for instance, has a distinct look compared to iron. Iron also differs in appearance from copper and aluminium.
However, iron, copper, and aluminium may share some similarities not present in wood.
Materials with a shiny or lustrous appearance are generally metals. Examples of metals include iron, copper, aluminium, and gold.
Some metals can lose their shine and look dull due to exposure to air and moisture.
The shiny or lustrous quality of metals is often only visible on freshly cut surfaces.
2. Hardness

Different materials have different levels of compressibility and scratch resistance.
Some materials, like wood, aluminium, stone, nails, candles, chalk, etc., can be easily scratched with a metal key.
Other materials are more difficult to scratch. Materials that can be easily compressed or scratched are considered soft, while those that are difficult to compress are considered hard.
Examples of soft materials include cotton and sponge, while iron is an example of a hard material.
3. Soluble or Insoluble
Certain substances completely dissolve or vanish in water, making them soluble in water.
There are substances that do not blend with water, remaining undissolved even after extensive stirring. These substances are insoluble in water.
Water is crucial for our bodily functions due to its ability to dissolve numerous substances.
It is observed that some liquids fully blend with water, while others do not and separate when left undisturbed for a while.
Some gases are soluble in water, while others are not. Oxygen gas dissolved in water, for instance, is vital for aquatic animals and plants.
Since water is considered as universal solvent, so solubility in water is taken as standard in most of the definitions; related to solubility.
Question for Study Notes: Sorting Materials into Groups
Try yourself:Which of the following statements about solubility in water is correct?
4. Objects May Float or Sink in Water?
Lighter materials like paper, leaves and wood float on the surface of water, while heavier objects, like those made from iron, sink in water.
5. Transparency

The material which allows light to pass through it is called transparent. Examples of transparent materials include glass, water, air, and some plastics.
Shopkeepers use transparent containers for biscuits, sweets, and other eatables so that buyers can easily see them.
On the other hand, opaque materials do not allow you to see through them. Examples of opaque materials include wood, cardboard, and metals.
The material through which light can pass partially is called translucent, e.g. butter paper, thin curtain, etc.
Frequently Asked Questions (FAQs)
Q1: What is the difference between soft and hard material?
Ans: Soft materials are those which can be compressed or scratched easily.
Q2: Why some materials lose their shine and appear dull?
Ans: Some materials often lose their shine and appear dull because of the action of air and moisture on them.
Q3: What types of substances are soluble in water? Give example.
Ans: Substances that completely disappear or dissolve in water are soluble in water. For example-salt, sugar etc.